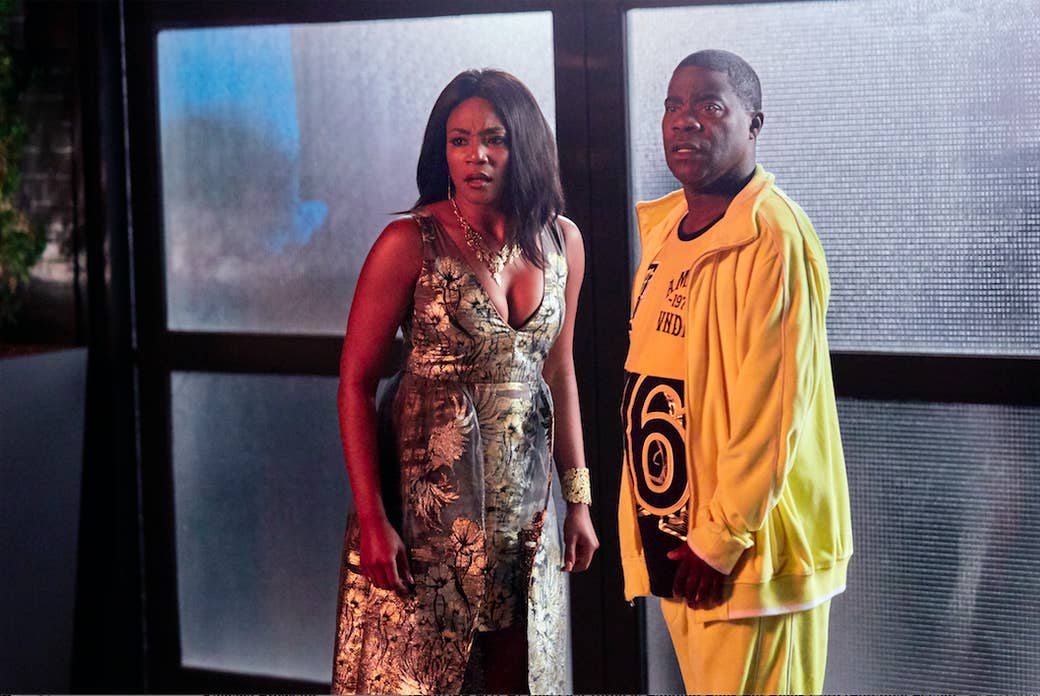 Here's a cursory glance at the base premise of The Last O.G.: After a 15-year prison stint, a black man returns home to his newly gentrified Brooklyn neighborhood to find that his girlfriend has moved on, he has two children he unknowingly abandoned, and the world repeatedly dismisses ex-convicts who are trying for a second chance. It's fair to assume, judging from that quick summary, that it's an Emmy-chasing emotional drama, right at home on Showtime or FX (which actually passed on the pilot). But in reality, it's a half-hour sitcom on TBS.
The Last O.G., which premieres on Tuesday night, is stacked with comedy heavyweights. Protagonist Tray is played by Tracy Morgan, the Saturday Night Live veteran and comedian powerhouse most famous for his role as the always-ridiculous and infectiously hilarious Tracy Jordan on all seven seasons of 30 Rock, and who is making his long-awaited return to sitcom TV following a 2014 car accident that left him in an eight-day coma. Comedian Tiffany Haddish costars as Shay (Tray's ex and mother of his children), cast while on The Carmichael Show but before she skyrocketed to stardom after the success of last summer's Girls Trip — and a combination of talk show appearances, Oscar announcements, and Beyoncé stories. Rounding out the cast is a third comedian: Cedric the Entertainer as Mullins, the head of the halfway house Tray now lives in. The people behind the scenes are just as impressive: Newly minted Oscar winner Jordan Peele is its co-creator and executive producer and the Lonely Island's Jorma Taccone, responsible for 2016's underrated comedy Popstar: Never Stop Never Stopping, directs the pilot episode.
This comic pedigree — and particularly the past work of its two leads — seems almost at odds with The Last O.G.'s darker logline, and it's certainly something that the show struggles to reconcile at times. The disconnect stems from narrative elements that would feel right at home in a hard-hitting drama, but instead are being explored through physical comedy and silly one-liners. But even though The Last O.G. hasn't quite ironed out the kinks yet, it still feels necessary that it attempt to blend these comedic and dramatic elements in order to tell its story.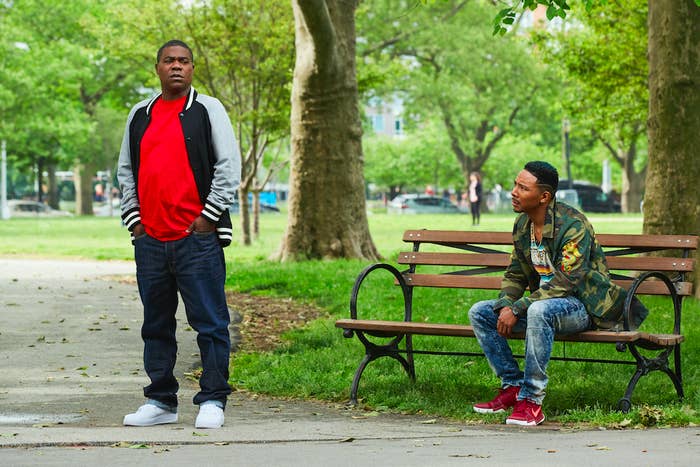 The Last O.G. doesn't quite fall into the genre of prestige dramedies like Amazon's Transparent, FXX's You're the Worst and FX's Better Things, which take on a variety of bleak, serious, and emotional topics (mental illness, gender identity, etc.) but are structured like a sitcom, allowing them to be full of tension-breakers that keep things lighter. Instead, The Last O.G. is part of a different subgenre: a new crop of socially conscious, black-led sitcoms that center the hardships of the black experience through comedy. These sitcoms — including ABC's Black-ish, Netflix's Dear White People, NBC's recently ended The Carmichael Show, and more — are, first and foremost, comedies. (The Carmichael Show even had a studio audience.) But they also focus heavily on dramatic truths specific to the black community and rely on the comedy to boost those ideas.
This approach itself isn't new. Many black sitcoms throughout the years have employed similar tactics, from hit shows like The Jeffersons and A Different World, to smaller '90s series like South Central and Roc, to the teen-centric Moesha.
There is a long history of the black community employing gallows humor as a filter for our racial trauma — and as a means to take down oppressors. As Glenda R. Carpio puts it in Laughing Fit to Kill: Black Humor in the Fictions of Slavery, "By most accounts, African American humor, like other humor that arises from oppression, has provided a balm, a release of anger and aggression, a way of coping with the painful consequences of racism." This is a running theme throughout these half-hour dramatic comedies: Black-ish often blends Dre's outlandishness with his touching monologues about being black in America; The Carmichael Show packed punchlines into episodes about police brutality; Atlanta occasionally uses surrealistic humor to elevate its stories of racism and poverty.
It's notable that The Last O.G. also uses this approach, even though the results are not quite as strong as its peers; it lacks the confidence of Atlanta, or the always-dueling viewpoints of The Carmichael Show. But that doesn't make The Last O.G. dead on arrival. Many of these tonal problems can be attributed to it still being a new show — I watched six of the season's 10 episodes, and it does get noticeably stronger in the fourth episode, "Swipe Right." It's clear that the writers are still trying to nail the balance between comedy and drama and, at its core, The Last O.G. has a specific and compelling story to tell.
When we first meet Tray, it's 2002 and he's rooting for Justin Guarini in the first season finale of American Idol. Sporting cornrows, he dips out from hanging with Shay to facilitate a drug deal — selling crack — and is nabbed by the police. Fifteen years later, Tray's out and has a mission: "This time, I'mma be a force for positive change" his voiceover proclaims. "This time I'mma do it right." Tray aims to return to his "ghetto" Brooklyn neighborhood — Morgan himself grew up in Bed-Stuy — and mentor younger black men, the boys on the street selling rock who need to be steered in the right direction. He wants them to learn from his own mistakes. But when he gets home, he's greeted by organic markets, selfie sticks, and kids eating seaweed. His boys aren't selling drugs; they're overcharging white folks for coffee. Even at the halfway house, Mullins mocks Tray's optimism and naïveté: "Everyone thinks they're Laurence Fishburne in Boyz n the Hood."
Throughout the first six episodes shared with critics, The Last O.G. explores this new world through the eyes of a black male ex-convict. The show touches on how most places won't hire ex-cons (Tray is only able to land a job at a coffee shop thanks to a past criminal connection) and depicts the frustration of adhering to the rules and curfews of a halfway house. Tray waxes poetic about the changing neighborhood; his housemates have a discussion about the effect of absentee fathers; he learns how white men steal and capitalize on the ideas of marginalized people; he mourns the death of a friend. Tray also struggles to connect with his teenage twins, Amira (Taylor Mosby) and Shazad (Dante Hoagland), whose upbringing Tray can't relate to at all. And though one episode finds Tray bonding with Shazad by teaching him how to be a "man" (with, admittedly, some stale humor), The Last O.G. makes sure to concern itself with the world of black women, too.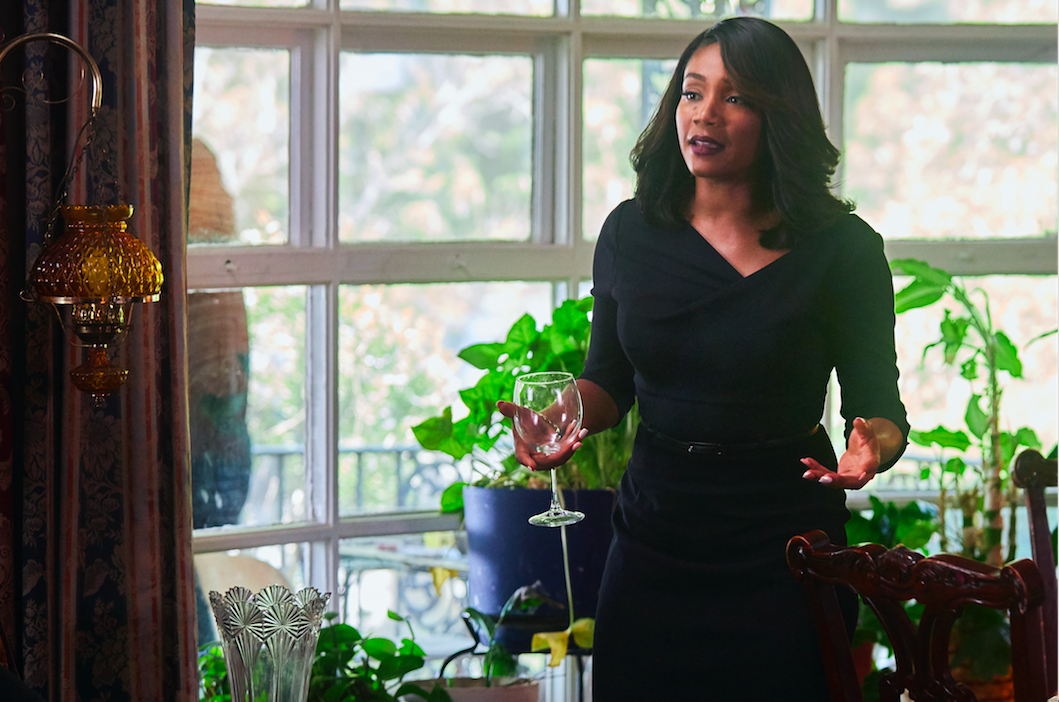 This is mostly shown through Shay — now going by Shannon — who, as Tray puts it, "pulled a George Jefferson and moved on up." Shannon worked hard to successfully pull herself out of the gutter, now financially comfortable and married to Josh, a white man who looks like "a Duke lacrosse player." She wants to do best by her children, and not get caught up in her past, but Tray's release upends her life too. Unfortunately, Shannon isn't the most-developed character (a true disservice to Haddish, who is great but not utilized as well as she should be), and the show often only gives her one note to play over and over. But what's most interesting is watching Shannon navigate the convergence of her past and present lives, straddling a line that finds her almost subconsciously reverting back to old habits. This code-switching goes deeper than just her name: In one moment, she's calm and poised while giving a speech to a room of majority-white attendees (one of whom commends her for being "articulate," a compliment all black people know is coded in racism); mere seconds later, when it's just Tray, she has her fists up and is peppering her speech with the word "nigga." It's telling when, in a later episode, her white husband visibly reacts and questions Shannon's use of the word — it's clear that she's had to stifle parts of her blackness as she navigates through this whiter world.
Though these thorny and emotionally driven issues often run parallel to the more comedic elements, it's a combination that doesn't always work. In one scene, Tray talks to a younger cousin, Bobby (Allen Maldonado), about the strangeness and confusion of being back in the real world after everything's moved on without him … and then punctuates it with a prison rape joke. It's no shade on Morgan's performance — because, while he does sometimes seem more hesitant than usual, he's still able to display a childlike innocence and vulnerability to his comedy. (This is no surprise; my favorite 30 Rock moment is when he poignantly encourages a pigeon.) The problem, then, is that The Last O.G. doesn't fully commit to being a dramedy: The punchlines sometimes fall flat or feel too retrograde, while the drama feels restrained and too fleeting to land. But it succeeds in telling a story not told enough — of a black man reckoning with his past while stabilizing himself to ensure a positive future for him and his children — with a healthy dose of humor to lighten the mood. ●
Pilot Viruet is a culture writer and teen drama expert based in New York City. A former editor at VICE, their writing has appeared in The New York Times, Vulture and The Atlantic.