Everyone assumed 11-year-old Jake couldn't be adopted, but when the Scholtzs took him in they found they learned how to love more deeply than ever.
In 2011, Brad and Staicey Scholtz of Vermilion, Ohio, adopted Jake, an eleven-and-a-half-year-old purebred yellow Lab. Jake had lived the first ten years of his life chained in a small yard behind a trailer home. In rain and snow and summer heat he was outside, caked in mud. Jake never knew the joy of a simple walk, let alone a run through the woods or a swim in a cool pond. A neighbor, who had watched Jake suffer year after year, finally persuaded his owner to surrender him to the rescue organization she ran.
That neighbor never expected Jake to find a forever home — he was too old and untrained — but the Scholtzes decided to meet Jake anyway.
"Jake came out and gave us a quick sniff," Staicey told me, "but you could tell he'd been alone all his life. He had no socialization, no training, and he'd never lived in a house, but he was beautiful and we took him on a trial basis. He was wild and crazy and very anxious. He bowled over everything. He was a freight train with fur. But there was something about him."

They made the commitment.
It wasn't easy. Jake had to be treated for heartworm (easy and inexpensive to prevent, but difficult and costly to treat). One day he scarfed down six chicken breasts and a bratwurst Brad left unattended briefly, and within the first two weeks ran away and was found nearly forty miles away in Cleveland. But Brad and Staicey came to believe Jake was "sent to us from above."
Despite all he had been through, and all he had suffered at human hands, Jake was a lover. "Brad said Jake taught him how to love," Staicey told me. "That you have to appreciate and be grateful for every day and have no bitterness. Every day is a new day."

When Anthony Everts adopted Jada, his unemployment was suddenly a lot more bearable.
Anthony Everts, his wife, Valerie, their son, A.J., sixteen, and their daughter, Allison, thirteen, adopted Jada, a purebred Lab, through the P.L.U.T.O. Rescue on Staten Island in 2013. It was Anthony's first dog.

"When we got Jada I was out of work and unsure it would work out," Anthony told me. "But she's my best friend and it happened very fast. Because I wasn't working we spent a lot of time together."
"I was stressed from being out of work and when we adopted Jada she calmed me. She taught me there's a lot to live for, and my family would definitely agree."
The calming influence of the dogs may be connected to what Anthony describes as "the unconditional love they have for me and that I have for them. Jada is so loyal and always wants to be with me. What I give to her I get in return one hundred percent. She understands when I've had a bad day. It's opened me up to how special the relationship with a dog can be."
When Allison Smith rescued Beau, she couldn't help being inspired by his goofy and joyous spirit.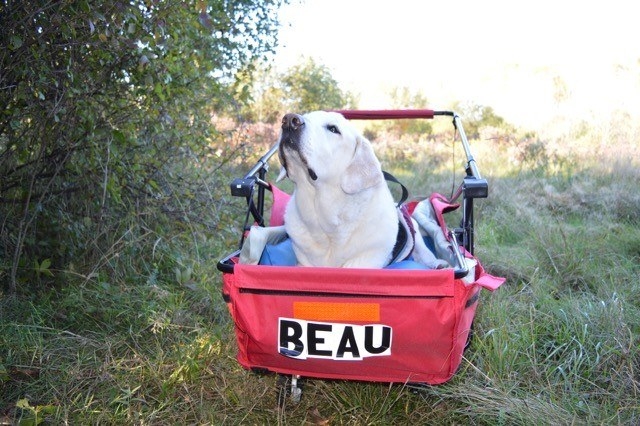 For Allison Smith, her many dogs have provided much-needed perspective "over and over.
"You just can't have a bad day around Beau," she said referring to her ailing twelve-a-half-year-old yellow Lab, adopted at age nine. "He has loved life and is simply joyous. He just makes you smile and laugh. He's so goofy, a clown in a dog suit. Even now that he's sick he's still that way. Our nine-year-old neighbor came over and he decided he couldn't just greet her with one stuffed animal in his mouth. It wasn't enough so he grabbed another. How do you not smile?"
Beau now has laryngeal paralysis that affects his breathing, and some neuropathy that has led to loss of some control over his hind legs. For unknown reasons he can barely stand on his front right leg. Despite it all he's still the happy clown he's always been. He has a little cart so the Smiths can take him to his favorite places, and he still likes learning new tricks.
"He is teaching us how to handle bad things with grace and humor," said Allison. And that, ultimately, is one of a dog's greatest gifts to us humans: teaching us to try and live in the moment and, no matter what the circumstances, to do so without rancor or bitterness.
And Trace, whose enthusiasm and energy aren't hampered by her missing front leg, inspired poetry in her human, Joanne Sebring.
Joanne Sebring of Stroudsburg, Pennsylvania, adopted a year-old black Lab named Tres from Louisiana in 2009. Tres is Spanish for "three" and Tres is missing his left front leg. He's what's known as a tripod. Tres (now Trace) arrived in Pennsylvania during a blizzard. Unlike most rescue dogs, Trace was driven north by his foster, who was on her way from Louisiana to Massachusetts to visit family.
"There was at least a foot of snow on the ground," Joanne told me, "and it was coming down fast." Because Joanne lives on a mountaintop, she drove into town to meet Trace and his foster in her truck. "When I arrived, southern boy Trace was romping in his first snow, making it fly here and there, eating it as fast as he could, and greeted me with a hug."
With four dogs now—Trace, Roxy, Ziggy, and Buddy—Joanne, who is 65, says the dogs keep her busy and "feeling young.
"I have to keep up my energy level to care for them," she told me. "They make me exercise."
Joanne sent me a short ode she wrote that reflects the youthful spirit that life with dogs can inspire:
Trace, my funny, loveable boy, teaches me—
Be cheerful in the face of adversity
When you fall down, shake yourself off and get back up
again
Snuggle every chance you get
Find the JOY in everything!
Meet the day with enthusiasm ●