Time Inc., the nation's largest magazine publisher, will soon be cast off as a standalone entity from the Time Warner mothership that it helped create. According to Time Warner Chief Executive Jeff Bewkes, the impending spin-off of Time Inc. is now set for the second quarter of 2014.
How Time Inc. will fare as an independent company is open to debate. Some observers believe that without the profit shield provided by Time Warner's cable networks business, the unit will suffer a slow, painful erosion. Others, however, like new CEO Joseph Ripp think the spin-off will help Time Inc. since it will now get to keep the cash it generates instead of having it flow to the parent company.
Whatever the future holds for Time Inc., the implied hope is that it is better than what it has experienced in the most recent past. As these two charts below illustrate, the magazine publisher has been caught in a downward financial spiral owed to the migration of readers to digital platforms. Over the last decade, more than $2 billion in revenue has vanished from Time Inc.'s coffers. Operating income has eroded similarly, though in recent years it has held steady thanks (somewhat cryptically) to asset sales and costs cuts, including massive rounds of layoffs.
(Editor's note: All figures pulled from Time Warner's annual 10-K filings.)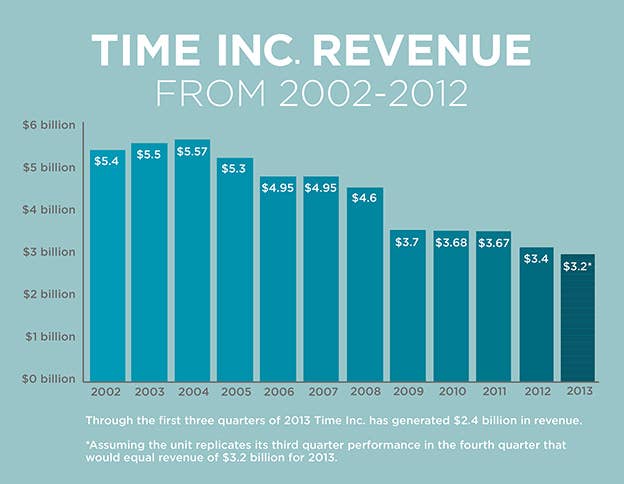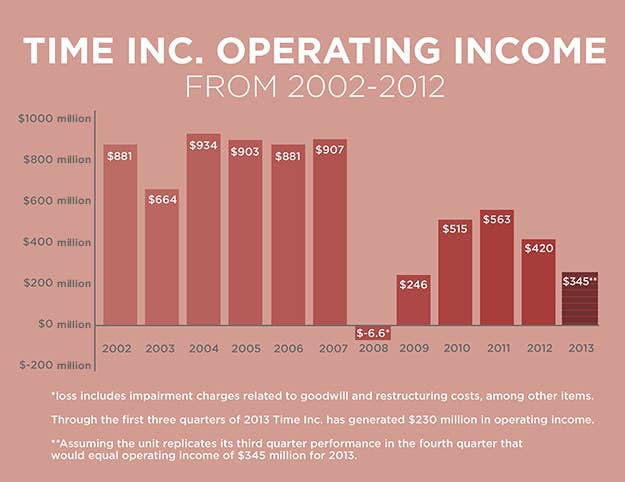 So far, through Sept. 30 of this year, Time Inc. has generated $2.4 billion in revenue and an operating income of $230 million. Assuming the division replicates in the fourth quarter the $818 million in revenue and $115 million operating income it recorded in the third quarter, that would equate to revenue of $3.2 billion and operating income of $345 million for the year. Or, put another way, yet another year of decline.