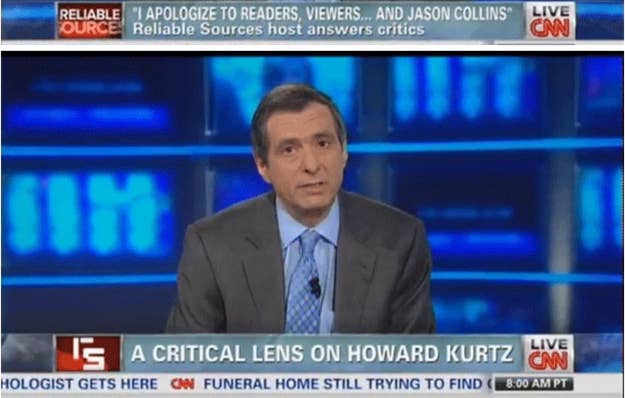 How many people do you think tuned in to watch Howard Kurtz's public shaming on Reliable Sources Sunday? Go on, take a guess. Two million? One million? Five hundred thousand?
Not even close. The actual number, according to Nielsen ratings data supplied to Buzzfeed by Brad Adgate of Horizon Media, was a paltry 359,000 total live plus same day viewers (which are viewers who watched the show on DVR playback later Sunday). The figure ranks as the show's lowest-rated broadcast since January 13, according to Nielsen data, and is well below the 752,000 and 518,000 total viewers it recorded the two weeks prior.
You'd be forgiven, however, for thinking the ratings were higher, particularly if you were on Twitter last Thursday when Kurtz got fired from The Daily Beast for, among other reasons, claiming the recently out basketball player Jason Collins hid the fact that he was once engaged to a woman . Collins had, in fact, disclosed that fact.
Media reporters like Politico's Dylan Byers (who was one of two reporters selected to interview Kurtz on Reliable Sources Sunday, along with NPR's David Folkenflik) and Huffington Post's Michael Calderone, academics such as NYU's Jay Rosen, and others in the industry lit up the social network with comments and reporting when the news broke.
But the low ratings lend credence to the claim that few people outside of the media world care about media reporting. That seems to be especially true among young people — a deeper dive into the ratings shows that the age of the average viewer for Sunday's show was 64.2 and that it scored a infinitesimal 0.6 ratings among viewers 18-49 years old — which equates to roughly 70,000 viewers.