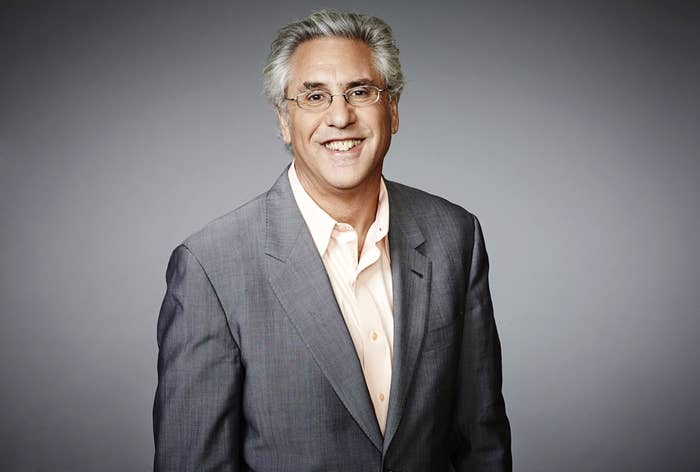 In the world of cable news networks, HLN is the low talker, barely audible over screaming competitors Fox News, MSNBC, and even sibling network CNN. And while HLN sometimes produces decent ratings — usually tied to coverage of a salacious legal trial — two things it doesn't generate for parent company Time Warner are respect and profits on par with those of its other cable networks.
But the unconventional new executive chosen to head the channel tells BuzzFeed — in his first interview since taking the job — that he plans to radically reimagine what used to be called CNN Headline News. Instead of battling for the traditional news viewer, Albie Hecht has chosen what may be an even more difficult fight: repositioning HLN around social media in a bid to attract young viewers who currently don't watch news on TV at all.
"Younger consumers have a very different perception of what news and information is," said Hecht. "For them, news is really made in the palm of their hands, in the iPhone prayer position. But they want every update in real time and nonstop and that's the space that is not on TV. Our headlines are going to be ripped from social media."
Hecht spoke over salad and sandwiches at one of the great temples of cable news, the Time Warner Center overlooking Manhattan's Central Park, where the three TVs in his office are tuned constantly to HLN, CNN, and ESPN.
The traditional cable news audience hasn't grown in years, leaving HLN and the flagship CNN fighting a bloody, often-losing battle each night with Fox News and MSNBC over the same 1 million swing viewers aged 25 to 54. While viewers tend to flock to CNN for breaking news coverage and Fox News and MSNBC attract audiences on opposite sides of the political aisle, nothing really defines HLN. It has found a bit of a niche with courtroom coverage of sensational trials such as Casey Anthony's, but as Brad Adgate, vice president of research for Horizon Media, said: "How many trials of the century can you have?"
What Hecht aims to do is package and present news culled from the media young viewers are actually consuming. While its competitors will be mining newspapers and magazines and broadcast news for headlines, HLN plans to instead curate blogs, Facebook and Tumblr posts, YouTube videos, tweets, and memes to give the things that are being traded and shared on the web a home on television. (HLN will also, of course, be active in creating and pushing out new content to various social media platforms and on tablets and mobile devices.)
"There is no one place someplace where all of this news that you share on the web is available," said Hecht, who was dressed corporate casual with a collared shirt and blazer, his silver hair matching the color of his wire-rimmed glasses. "By giving it a home, and saying clearly to the social media generation that this is for you, come here, when you watch TV, watch us, I think that's going to be a very exciting development for them and for the media."
That means talk shows on HLN, for instance, will now feature guests whose Tumblr just blew up or who created a viral video instead of the latest author shilling a book or actor promoting a movie. Instead of featuring the typical analysts or pundits, guests on commentary shows will be pulled from social media.
The strategy is firmly rooted in the belief that television is still the media's most powerful star-making machine, and that the ultimate goal of all web stars is eventually to become TV stars. Put another way, HLN basically plans to program in part to a generation of American teens who, according to a recent study by youth research firm the Cassandra Report, not only want to be famous, but also believe that they will be one day. Indeed, one of the potential tag lines Hecht is toying with for the network is "We're not the news, you are." HLN is already defining itself in Google searches as "a national television network that focuses on the 'must-see, must-share' stories of the day."
"It is a culture consumed by sharing and publishing about themselves and in their own little social circles they are famous, whether it is because a celebrity retweeted them or a prominent person followed them," said Jason Hirschhorn, a former colleague of Hecht's at Viacom and chief executive of media aggregator ReDef. "I expect a tremendous flow of those kinds of people making their way onto the network."
Hecht's makeover plan dovetails nicely with the mission of CNN's new president, Jeff Zucker, to "broaden the definition of news" on CNN with programming that skews away from hard newscasts and toward more general interest nonfiction shows built around sports, food, or documentaries featuring recognizable personalities like Rachel Nichols, Anthony Bourdain, and Morgan Spurlock. (Zucker and Hecht share a common bond over their love of documentaries.) Or, to use another network as a reference point, Hecht is trying to modernize HLN in a way that mirrors how the History Channel both redefined itself and made its programming more contemporary under the "History made every day" rubric.
Hecht, 60, took an unconventional path to his new job, and he wasn't exactly watching Nancy Grace when Zucker first called him about HLN last June. At the time, Hecht, who was still euphoric after his Oscar win for producing the documentary Innocente, was on his way to Thailand to begin production on a new film.
"Jeff wants to see you," Zucker's assistant told Hecht.
Zucker, the former CEO of NBC Universal, was calling to pick Hecht's brain about what to do about HLN, the bastard step-news network he was now overseeing after being named president of CNN Worldwide in November 2012.
While the two didn't have a personal relationship, NBC under Zucker had invested in Hecht's independent digital production company, Worldwide Biggies, and Hecht at one point took part with other NBC executives in a brainstorming session about how the network could develop a kids and family business. In a prior life, as president of Entertainment for Viacom's Nickelodeon, Nick at Nite, and TV Land, Hecht helped usher in the era of SpongeBob SquarePants and Dora the Explorer. On the other end of the demographic spectrum, he also created the testosterone-heavy Spike TV.
But that was the past. Hecht left old media and cutthroat corporate politics in 2007 to launch Worldwide Biggies, which in addition to producing digital entertainment programming for kids also featured a nonprofit documentary film unit focused on issues impacting children's well-being around the world.
Though getting back into corporate life was further from Hecht's mind than Thailand at the time, after two 90-minute meetings with Zucker he agreed to sign on as executive vice president of HLN.
"It was kind of like The Godfather, just when I thought I was out, they pulled me back in," said Hecht, who has been on the job for about 120 days.
One of the challenges Hecht's makeover of HLN confronts is creating a new presentation of the news that doesn't come off as a 2014 version of Current TV, a hodgepodge of user-generated clips thrown on the air with no structure or strategy. (Current TV, founded by Al Gore, went through several different programming iterations without success and was eventually sold in 2013 and turned into what is now Al Jazeera America.)
Hecht said the network will have half-hour and hour-long shows, game shows, episodic series shows, and nonfiction programming along with clips shows and user-generated content. Hints as to what the new HLN will look like are already showing up in its programming. Hecht cites as examples using the viral video of a motorist being beaten on New York's West Side Highway as a way to talk about violence on Dr. Drew on Call, a YouTube video of a Connecticut man giving a tour of his pot farm to discuss marijuana legalization on Nancy Grace's show, and having a reporter conduct interviews with Seattle Seahawks players via FaceTime during the Super Bowl Media Day. Rather than doing a live show for New Year's Eve, to cite another example, HLN aired an originally produced special called 50 States, 50 Stories that highlighted the stories behind the most shared videos of the year in each state based primarily on YouTube data.
And, on Monday, HLN plans to begin airing a new show called Right This Minute that will air two 30-minute episodes back-to-back Monday through Thursday evenings at 10 p.m. featuring four anchors who offer commentary on a selection of viral videos.
Overall, the new development slate will start small, with a maximum of four new shows this year, two to three of which will be HLN originals.
While HLN's primetime lineup will continue to be anchored by Jane Velez-Mitchell, Nancy Grace, and Dr. Drew Pinsky, Hecht does plan changes to the on-air and production staff. Specifically, he is looking for people who have personality, a digital DNA, and are part of the social media generation. More bluntly, what he wants is to hire a bunch of twentysomethings adept at mining the most obscure reaches of the web for material as associate producers and pair them with seasoned journalist who can take their findings and package them editorially for TV. Think of a network workforce populated with teams of Brian Stelters and David Carrs.
"He has to recruit kids to work at the network. The age of the people you have working for you is reflected in the content," Hirschhorn said. "He can't just have a bunch of old people interpreting what they think kids want. He has to have people at the center of the scene who know where things are going on a daily basis."
The good news for HLN is that 18- to 34-year-olds are watching more video than ever — they're just more likely doing it on something other than a television screen, and more often than not what they're watching is not a product of a traditional television network. As if that wasn't bad enough, Hecht is well aware that his makeover is going to be met with instant revulsion by these viewers. He knows they will jump all over HLN's programming if the tone isn't right, and that its credibility and authority will be under constant scrutiny.
"News shows that target that demo have a certain sensibility," said Adgate, citing The Daily Show with Jon Stewart and The Colbert Report as examples. "They have a tongue-in-cheek approach to presenting news. It is done with a wink that shows they are in on the joke." HLN, of course, needs to have appeal outside the Beltway and beyond the coasts. In Hecht's vernacular, the network is striving to develop "a voice and point of view that is more Austin and Boston," which in essence means more populist.
Winning over twentysomethings en mass is going to be a long-term proposition, which is why Hecht will initially define success by the number of what he describes as "millennial-minded" viewers he can convert.
Right now, the average age for HLN viewers is around 50 years old. Hecht's near-term goal is to shave between 12 to 15 years off that, resulting in an average viewer profile that is around 35 to 38 years old and skews 55% female.
"That's the generation that has a connection to both old and new media," said Hecht, adding that they participate in, but are not of, the social media generation.
Aging down the audience will require the institutional muscles of both CNN and parent company Time Warner. Though HLN's network peer group also includes FOX News and MSNBC, it is hard to overstate just how small it is compared to those networks. Consider, for instance, that while industry research firm SNL Kagan estimates FOX News will collect 99 cents per subscriber per month from pay-TV distributors, CNN 63 cents and MSNBC 22 cents, HLN gets nothing. The network is given away to pay-TV operators for free as part of a bundle with CNN and Time Warner's other cable networks, just tagging along with its big brothers like an annoying little one nobody wants to play with. According to SNL Kagan, on a cash flow basis FOX News is expected to generate $1.1 billion this year, CNN $337 million, and MSNBC $216 million. HLN, however, a paltry $73 million.
On its own, based on those financials, HLN is at an extreme disadvantage to its competitors in terms of newsgathering resources. And it is actually another factor in the decision to orient the network around social media. The economics of digital media production are different than traditional television production — more crudely, web producers, mobile producers, and app producers work cheap.
Hecht says he plans to operate HLN with a startup mentality, borrowing from his resource-rich corporate siblings whenever possible. The more money and talent CNN devotes to social media newsgathering, the more HLN can share and cross-promote that content to its audience. Outside of CNN, Adgate said he would expect the new look HLN to get heavy promotion on TNT and, in particular, TBS, which features a median viewer age in the thirties, one of the youngest in television, thanks to a programming lineup heavy on comedies like Men at Work, Cougar Town, and Conan.
Still, rebranding a network takes time and rarely goes smoothly.
"Smooth transitions are like science fiction, they don't exist," Hirschhorn said. "But you have to go in there, rip the Band-Aid off and weather the storm of criticism from the new viewers you are targeting and the old ones you are confusing."
Hecht can take solace in knowing that he's seen a network aimed at 20-year-olds overcome the heavy skepticism it was met with before. In 1981, Hecht was in his late twenties and working as an independent producer when MTV launched. Critics said it was going to fail because, even back then, they claimed twentysomething kids didn't watch TV.
"We didn't watch because it wasn't focused on us," Hecht said. "Once it was, we watched."