Fox To Time Warner: We Are Done
One day after withdrawing their offer to buy Time Warner, Rupert Murdoch and top deputy Chase Carey made clear they have moved on from the deal. In making those comments, which came as Fox reported fiscal fourth quarter 2014 earnings, the company puts the pressure squarely on Time Warner CEO Jeff Bewkes to perform.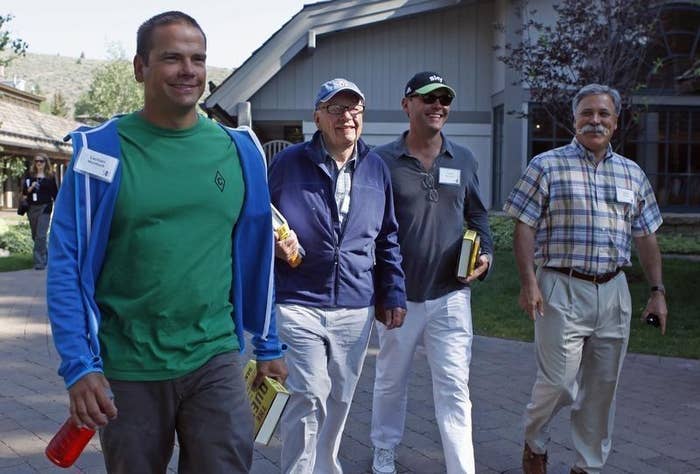 Rupert Murdoch, the chairman and CEO of 21st Century Fox, said the company was "resolute" in its decision to abort its pursuit of Time Warner. His top deputy, Chase Carey, was even more forceful, telling analysts on the company's fiscal fourth quarter conference call that with regard to a deal, "Let me be clear, we are done."
The fact that Murdoch himself was even on the call — he hasn't appeared on one since the phone-hacking scandal, leaving them instead to Carey, and, lately, his son James — signified the importance of it to the company and its investors after abandoning its roughly $80 billion offer for Time Warner.
Murdoch stunned the media industry yesterday by withdrawing his unsolicited takeover bid for Time Warner in part because the company had been unwilling to even engage in discussions about a deal. While Murdoch said in a statement that combining the two companies — which would have united such marquee cable networks as FX and Fox News with TBS and TNT and put unprecedented control over TV and movie production under one corporate roof — "had significant strategic merit and compelling financial rationale," sources said that he was particularly galled by Time Warner's hostility to what he viewed as a "friendly" approach.
Carey essentially confirmed that by noting that one of the reasons Fox pulled its offer was because the "highly defensive nature of Time Warner's actions stood in the way" of a deal. Time Warner, for instance, instituted a change to its corporate bylaws preventing the calling of a special meeting of shareholders, meaning Fox would have had to wait until next June to launch a proxy contest to unseat Time Warner directors.
From a public relations perspective, Fox's tough talk is actually brilliant corporate deal strategy. It ratchets up the pressure on Time Warner CEO Jeff Bewkes to execute a strategic plan to get Time Warner's stock price to the $85 per share level of Murdoch's bid on his own. It's a high-stakes game of brinksmanship that investors in both companies will be watching closely over the next few months.
To be sure, the more Fox emphasized that it was done with its pursuit, the more Time Warner shares declined in after-hours trading. The company's stock, which closed trading down 12.9%, or nearly $11, to $74.24 fell a further 84 cents during the course of Fox's conference call. Fox shares, by contrast, gained 3.3%, or just over a dollar, to close trading at $32.33 and gained an additional 4% in after-hours trading.
Given both the pending mergers of Comcast with Time Warner Cable and AT&T with DirecTV, and Murdoch's historical relentlessness in pursuing acquisition targets, analysts and industry observers assumed that a Fox-Time Warner deal was more and matter of when, not if. But, Murdoch and Carey not only said they were finished with Time Warner, but also reassured investors that they had no desire to buy anything else.
"We have no plans to pursue any other third-party content company as an alternative to Time Warner," Carey said.
Murdoch added that Fox built rather than bought all of its best businesses, citing Fox News as an example, and said the company had "no plans to go out on the acquisition trail."
Fox's earnings handily beat analysts's expectations on both a revenue and earnings per share basis. For its fiscal fourth quarter, Fox collected $8.4 billion in revenue, an increase of 17% over the prior year, and net income of $966 million, or 43 cents per share. Excluding one-time items, the company earned 42 cents per share. Analysts were expecting just under $8 billion in revenue and earnings per share of 38 cents.
A strong slate of theatrical movie releases also helped propel Fox's quarterly results. Specifically, the latest installment in the X-Men franchise, a sequel to the animated film Rio and The Fault in Our Stars led to a more than $750 million increase in film revenue to $2.8 billion and a tripling of operating income to $339 million.
Unlike Time Warner, whose Turner cable networks are struggling to grow advertising revenue, Fox doesn't appear to be having any such problem. Its stable of cable channels, which include Fox News, FX, YES, and a host of regional sports networks, increased advertising revenue 12% in the quarter. By contrast, advertising growth at Turner came in at just 1% primarily due to the airing of two men's college basketball Final Four games.
Earlier in the day Time Warner itself reported strong second-quarter earnings that seemed to justify its rejection of Fox's offer, posting a 3% gain in revenue to $6.8 billion and net income of $850 million, or 98 cents per share.
Time Warner CEO Jeff Bewkes spent much of his company's earnings call outlining a growth plan aimed at convincing investors that he can get its stock to the level of Murdoch's offer on his own. The four main pillars of his plan include: expanding and monetized its global kids business via its Cartoon Network and DC Comics properties; increased subscription fee revenue in new carriage deals for its Turner networks; international expansion of HBO (which will put it in direct competition with Netflix); and more TV and film production from its studios.
As if to counter Time Warner, Carey outlined three motivating factors for why Fox believed a deal between he two companies made sense. Among them were global scale in content, "the ability to mix and match the assets in sports/kids/news/general entertainment," and the opportunity to be in the driver's seat to create new digital distribution alternatives.
Bewkes and other executives declined to comment specifically about Fox on Time Warner's earnings call, but did talk around a potential deal in response to analysts's questions, noting that it isn't "a bad thing to add scale, eliminate redundancies" and that they "look at M&A opportunities as they present themselves." Those comments, and the fact that analysts didn't ask and executives didn't address potential regulatory obstacles to a deal, implicitly leave the door at least a little ajar in the event Murdoch comes back with a richer offer or another buyer emerges.
And even though Murdoch said Fox would remain "opportunistic and nimble" and to "never say never" with regard to acquisitions, for now a renewed run at Time Warner seems unlikely.