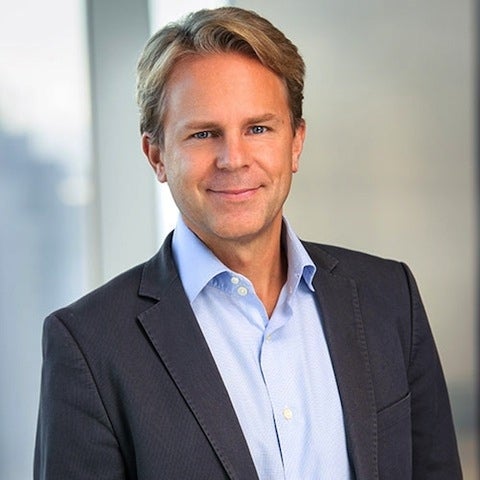 Bloomberg Media CEO Justin Smith and Bloomberg Businessweek Editor Josh Tyrangiel
When new Bloomberg Media Chief Executive Justin Smith announced just 12 days ago that he was temporarily pulling Josh Tyrangiel off of Bloomberg Businessweek to help him shape the company's TV content, several sources inside the operation told Buzzfeed that a collective flashback to 2009 ensued. That was the last time regime change was imposed on the TV side of the financial news behemoth that is Bloomberg, and it led to the very first round of layoffs in the company's history. Andy Lack, newly installed as head of Bloomberg's multimedia operations at the time, let go about 100 employees across its radio and TV teams, mostly in New York, in an effort to better compete with television business news leader CNBC.
The fear on Lexington Avenue is that history will be repeated, except this time on an even larger scale.
"Everyone is waiting for something to happen. There is a general feeling of unease as to what's next, and not a lot of specifics coming from management," said one Bloomberg staffer.
Heightening anxiety is a kind of crisis of confidence at an enterprise that — like its rival Reuters — is part media company, part financial service firm. That tension is at the root of accusations that Bloomberg spiked a negative story about a Chinese tycoon in deference to its business objectives in the country. Not unlike Reuters, layoffs also hit Bloomberg's wider newsroom, with 34 editorial employees let go this week. There's also the imminent return of founder Michael Bloomberg casting a shadow over the operation, not to mention the fact that cutbacks at banks and financial institutions in recent years could impact future growth of its lucrative terminal business, which already features a robust 315,000 subscribers paying around $20,000 a year and accounts for most of the company's roughly $8 billion in annual revenue.
According to sources, Smith, who last month embarked on a 100-day strategic review of Bloomberg's operations, has had little direct communication with the TV staff as a whole. While Smith set up his office across from Lack's among the TV staff — allowing for frequent "floor walks" — sources said that aside from a weekly staff note and a lone appearance on a recent daily TV editorial meeting a few weeks ago where he talked up the importance of linear television to Bloomberg's future, Smith has not addressed the staff en masse. Sources said about 30 executives from the TV group have been enlisted to advise Smith during his strategic review.
"To me that indicates that layoffs are coming," said a second Bloomberg source. "He doesn't want to rub elbows with any of us too quickly."
Already, rumors are swirling among producers and booking agents of a "massive round of layoffs" before the end of the year. Some evidence has already emerged to suggest the rumor isn't crazy — in addition to the 34 layoffs announced Monday, just last week the company said it would close the unit that produced 60-second market reports for 200 TV stations across the country, though it is looking to reassign rather than lay off its 10 employees.
"We are communicating incrementally and trying to be as transparent as possible. When thinking about something anew, it will inevitably cause some anxiety and concern," Smith said in an interview with Buzzfeed. He declined to comment directly on the possibility of layoffs, however.
For his part, Lack, who now holds the title of Chairman of Bloomberg Media, told Buzzfeed in a separate interview that, "Every five years you want to do a great recheck, and I'm turning to the new team to turbo charge the operation."
Insiders say the uncertainty is one reason why Bloomberg TV talent has been jumping ship in recent months. Included among the on-air talent to decamp to CNBC this year alone are Sara Eisen, Sheila Dharmarajan, Dominic Chu, and Josh Lipton.
While Lipton and Chu left before Smith's arrival and it is not unusual for TV talent to jump to a network with a bigger audience, the first Bloomberg staffer said the departures signaled a sentiment not uncommon of late that "if you have something solid somewhere else, take it because you don't know what's going to happen here."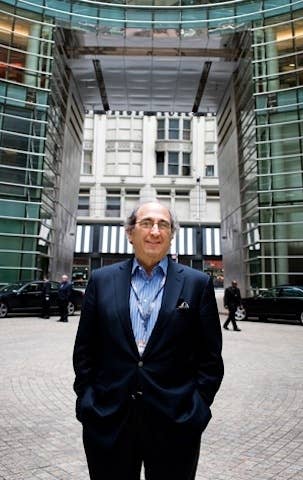 No Ratings, No Money
The TV division has always been something of an orphan asset inside Bloomberg. At best it ranks third in the hierarchy of importance, behind the almighty terminal and the news unit. According to Nielsen data, CNBC averaged 135,000 daily viewers year-over-year through November 10 while Fox Business averaged 46,000. By contrast, Bloomberg's audience is too small to be rated by Nielsen.
Unlike CNBC or Fox Business, Bloomberg TV is a lone cable network without sister channels with which to bundle and sell to cable distributors. As a result, according to figures provided by SNL Kagan, the network only collects 7 cents per subscriber per month from cable distributors for its roughly 75 million U.S. subscribers — much less than the 31 cents CNBC collects for its 97 million U.S. subscribers and the 13 cents Fox Business collects for its 70 million U.S. subscribers.
But Lack is quick to point out that ratings matter less and less in a converged digital world.
"Ratings are less important nowadays. More people are watching our content than ever before. More people are streaming our content and we have the biggest audience we've ever had," said Lack.
Both Lack and Smith cite advertising revenue as a better gauge of success for Bloomberg TV, and by that measure the unit is having its best year ever. SNL Kagan puts Bloomberg TV's gross advertising revenue this year at about $135 million, which dwarfs Fox Business's estimated $45 million but is still well behind CNBC's $252 million. They also point to recent success in digital video as another data point for success, saying that Bloomberg video content averages 35 million mobile streams per month.
While citing those statistics is meant to highlight the interplay of analog TV and digital video, what they actually more forcefully underscore is that Bloomberg's linear network, with its non-existent ratings and low subscriber fees, may be giving way to digital video, with its lower cost structure and higher growth potential. Indeed, even though Lack has doubled revenue and cut loses in half since joining Bloomberg in 2008, sources said the TV unit is still not profitable. Juxtaposing those division-specific trends against Bloomberg's larger organizational issues makes the case for the ascendence of digital video over linear TV even more compelling.
Or, to use Editor-in-Chief Matt Winkler's words in an internal memo he sent to Bloomberg staff in the wake of Monday's layoffs obtained by Buzzfeed: "When we announced the management reorganization a little more than a month ago, we said we wanted to be ideally positioned for growth, foster deeper collaboration, and develop our news products. Since then, we evaluated everything we're doing to determine what's working and what isn't, with the single aim to ensure all we do has maximum impact. One lesson we learned was that we must have the courage to say no to certain areas of coverage in order to have enough firepower in areas we want to own."
The second source said that, when applied to video content, that means "more mobile, digital, tablets and less linear TV."
Smith adamantly rejects this theory, saying emphatically that "linear TV is a big part of Bloomberg's future." That could certainly be true, if for no other reason than Bloomberg himself likes having a TV channel and upon his return his wishes alone could be enough to maintain its viability.
Tyrangiel In, Lack Out?
A frequent complaint aired among Bloomberg TV employees is that the audience the network is targeting has never been clearly defined. The viewers that it gets are easily identifiable — high net worth individuals, retirees, day traders, and corporate finance executives. But how the network broadens beyond that core group of viewers has never been clearly explained.
"How to take the network to the next level has been a consistent problem that several management teams haven't been able to answer," said a third Bloomberg source.
Lack readily agrees with this criticism, saying management hasn't articulated what audience Bloomberg TV is going after well.
"We need to be more direct about going after the general global business executive and chase them more vigorously and present them with ideas on how we will serve them in ways that have not been clear in the past," said Lack. "We haven't used our marketing muscle to tell that story as loudly as we could have."
Smith and Tyrangiel certainly have the chops to define the audience and tell them Bloomberg TV's story. The former came to Bloomberg after a hugely successful run at The Atlantic, where he helped transform the staid title into a digital powerhouse through ventures like The Atlantic Wire and Quartz while doubling revenue in the process. The latter came to Bloomberg after a decade at Time Inc. and is widely credited with not only saving Businessweek magazine, but also restoring it to prominence with beautifully designed covers and equally inspired editorial content.
While both men share solid digital content creation chops, they also both lack television experience. Lack, however, has that in abundance, having led both CBS News and NBC News, as well as Sony BMG Music, before landing at Bloomberg.
"With this new management team, we are hoping for some exciting things," said another Bloomberg source.
Implicit in that remark is one of the biggest questions among the staff surrounding the strategic review: is Lack long for the Chairman role or it is just an honorary title meant to smooth his path out the door once plans for the TV — or perhaps "video" is more apt — unit are finalized.
Staffers described Lack's move to the Chairman post as involuntary, and said he has been taking a more active role since Smith's arrival in an attempt to assert his power.
"We've been getting more frequent emails being like, 'Hey, Andy is watching today,'" said the second source.
Still, in the parlance of TV, history has shown that being moved up is often a prelude to being moved out. If that's the case, Lack appears intent on bucking the past.
"I'm delighted to be chairman, I think the right guy is CEO and I'm happy to be behind him," Lack said.
CORRECTION: An earlier version of this item misstated Bloomberg's terminal pricing. (11/19/13)