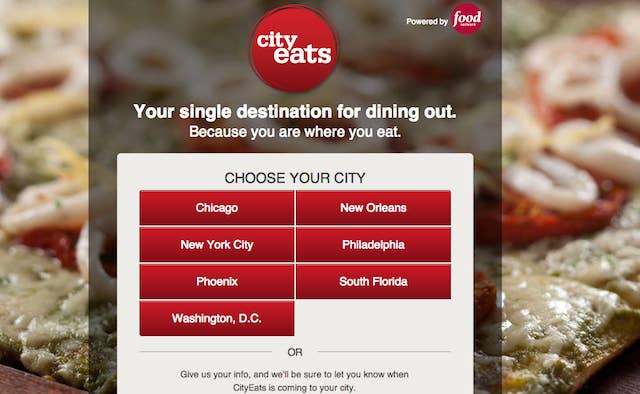 CityEats, the online reservation service launched in 2011 as a competitor to OpenTable, is close to a sale, according to a source familiar with the situation.
This source said parent company Scripps Network Interactive has pumped about $15 million into the service over the last few years but has lost faith in its ability to effectively compete against OpenTable. Though partnering with Scripps cable channels Food Network, Cooking Channel, and Travel Channel was supposed to give CityEats an advantage, the source said the service was never fully supported or integrated into those properties.
A Scripps representative declined to comment. In a 2012 Wall Street Journal article, however, Scripps executives expressed high hopes for the service and said it was part of a $30 million investment the company was making that year "to develop international, interactive, and digital businesses."
CityEats allows diners to book online reservations for restaurants in eight cities: Chicago; Washington, D.C.; Philadelphia; Phoenix; New Orleans; New York; and parts of South Florida. By contrast, OpenTable's reach not only extends nationwide, but also to Canada, China, Mexico, the U.K., and other international cities. Its homepage says it is "trusted by 31,000 restaurants and 575 million diners."
Sale discussions are most active with "a technology company, not a media company," according to the source, who declined to be more specific.
Given that, it is worth noting that the same year Scripps launched CityEats, Google bought Zagat for a reported $100 million to $200 million.