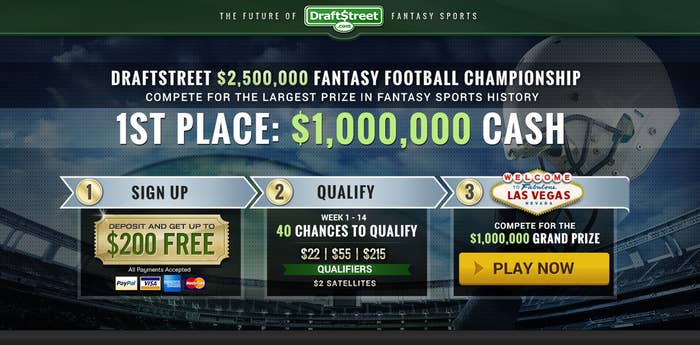 Forget the lottery — if you want a chance to become a millionaire, play fantasy football.
DraftStreet, which offers a twist on traditional fantasy sports leagues by allowing users to pick new teams on a daily or weekly basis as opposed to keeping one team for the entire season, is holding a competition timed to the kickoff of the NFL season that will culminate with a 40-player tournament in which the winner gets a million dollars. The $1 million grand prize purse represents the largest single guaranteed award in fantasy sports, according to DraftStreet CEO Brian Schwartz.
DraftStreet ran a similar contest last year with a $100,000 top prize. The company was able to raise the ante by a factor of 10 thanks in part to the growth in its user base. But also in part because DraftStreet in May secured what Schwartz describes as a "large" investment from Barry Diller's IAC.
Schwartz declined to provide the precise amount of IAC's investment, and an IAC representative would say only that DraftStreet "won't be consolidated" on the company's balance sheet, which means that IAC's investment does not give it a controlling stake in the company.
IAC's investment comes on top of around $3 million in venture capital DraftStreet raised from angel investors (i.e., wealthy individuals as opposed to firms) through multiple fundraising rounds between 2010 and 2012.
DraftStreet isn't the first daily–weekly fantasy sports league to attract big media attention. The venture capital arm of Comcast, the nation's largest cable operator and the owner of NBC Universal, put money into an $11 million funding round for DraftStreet competitor FanDuel.
Wall Street money is increasingly getting in on the trend as well. According to a Wall Street Journal article, the investment bank Cantor Fitzgerald started its own daily fantasy sports service last year, and publicly traded company MGT Capital Investments acquired a 65% stake in FanThrowdown.com for about $3 million in cash and stock.
The interest stems from the growth trajectory of these types of fantasy sports leagues, dubbed "challenge games" by the industry. According to the Fantasy Sports Trade Association, challenge games generated $492 million last year, or about $15 per player.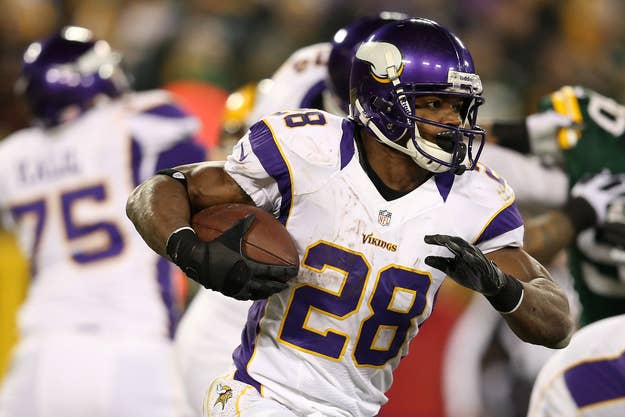 About 35 million people participate in a fantasy sports league of some kind, according to statistics compiled by the Fantasy Sports Trade Association. The average fantasy sports player is a college-educated, 33-year-old white male who spends about $470 per year playing in different leagues. In total, the Fantasy Sports Trade Association estimates that league fees alone generate around $1.2 billion annually. Professional football is the fantasy sports player's gateway league, with 72% of all players participating in a football league, nearly twice the size of the next largest sport, baseball, at 37%.
Most of those players, however, are involved in full-season leagues run by big media companies like Yahoo, ESPN, or CBS. Schwartz describes daily–weekly fantasy sports leagues, which have been around for about three years, as an "untapped" market. DraftStreet has about 270,000 registered users, he said.
"I'm happy when people tell me they haven't heard about it," said Schwartz, noting that it speaks to the upside potential to attract players to this kind of fantasy sports league.
DraftStreet leagues run the gamut in both entry price and size, from as little as $2 and two players to $22 and 3,000 players. The more players in a league, the more upside for the winner. DraftStreet's biggest league features 3,000 players and costs $22 to join. Its most expensive league costs $420 and features 130 players.
The company, which doesn't sell advertising, derives its revenue from league fees. More than 90% of the fees DraftStreet collects are disbursed to winners as prizes. This year, Schwartz said, more than 25 players will earn six figures from their winnings, many of them thanks to the million dollar contest.
Here's how it works: Every week for the first 14 weeks of the NFL season, DraftStreet will designate two to three "qualifying leagues," which will be marked with a Q on the company's website and cost between $22 and $420 to join. Qualifying league sizes will be capped between 150 and 3,000 people based on the entry fee. Anyone can choose to compete in one of the 40 qualifying leagues, with the winner of each receiving an all-expenses paid trip to Las Vegas, including accommodations at the The Palazzo hotel to face off in the company's competition. The one-day league tournament is scheduled for Week 15 (Sunday, Dec. 15). Schwartz said the competition is taking place on Week 15 instead of the final week of the year to maintain a level playing field and guard against teams sitting out players for the playoffs and other factors that could alter the integrity of the contest.
The entire prize pool amounts to $1.75 million, and Schwartz said all 40 players will receive a monetary prize, ranging from $250,000 for second place to $7,000 for last place.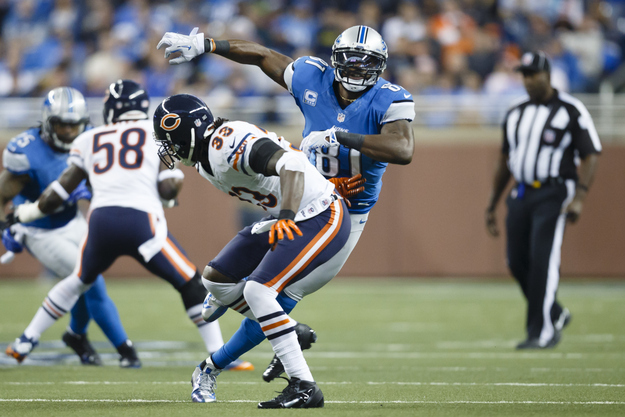 The contest represents a huge marketing opportunity for DraftStreet to showcase its proprietary algorithm devised by Schwartz and Mark Nerenberg, another one of the company's four co-founders. Nerenberg, 28, graduated with a finance degree from the University of Maryland and worked as a derivatives trader at Citigroup before deciding to leave Wall Street and launch DraftStreet. The company's other two co-founders are Jeremey Elbaum and Michael Kibort.
Schwartz said the ability to leverage the algorithm to pick a new team every week allows DraftStreet to attract a different type of fantasy sports player. He describes the traditional fantasy sports leagues as attracting casual players who are most likely competing against their friends or family or, perhaps, colleagues. By contrast, he said DraftStreet's players are hyper-competitive and "analytical, quant types." They are attracted to the fact that they aren't stuck with the same team for a full season and can go over the numbers, create spreadsheets, and refine their teams as much as they want. (Players are not assigned leagues, however, and can simply play with friends or in leagues that are more casual and not for money if they want.)
The weekly league format also allows players the flexibility to play an entire season or only during certain weeks. Instead of being stuck with a bad team all season, DraftStreet's players can take advantage of the latest player news, such as injuries or matchups, and create a new team that gives them a better chance to win each week.
Still, wagering in DraftStreet leagues is considered legal and not gambling because selecting players and teams is considered a "skill" and not open to chance like, say, roulette. But as an added protection, DraftStreet players are not allowed to carry a negative balance or owe money.