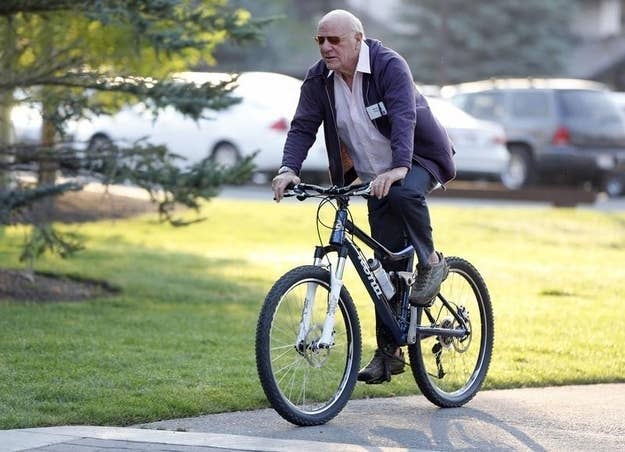 Less than a year after announcing that it would cease publishing in print, the remaining assets of Newsweek have been sold to IBT Media, publishers of the International Business Times.
The deal, announced Saturday afternoon, brings an end to the joint venture media mogul Barry Diller established in 2010 for Newsweek and The Daily Beast. Diller, a longtime movie and TV executive whose IAC owns a portfolio of assets ranging from dating site Match.com and search engine Ask to production companies College Humor and Electus, has regretted buying Newsweek pretty much since day one. In April, he told Bloomberg that running the magazine was a "fool's errand" and that buying it was a "mistake."
Last week a report in the New York Post suggested that Penske Media, which owns Variety and Deadline.com, had emerged as a contender to buy Newsweek, but sources told BuzzFeed that information was inaccurate.
Terms of the deal were not disclosed.
IBT, a digital-only media company established in 2006, reaches more than 7 million readers in the United States and 13 million people globally through a network of news sites that operate in 10 countries and seven different languages. Despite that reach, the company is largely unknown, and outside of the International Business Times has kept a low profile.
In an interview with BuzzFeed, IBT co-founders Etienne Uzac and Johnathan Davis said they had been thinking about acquiring Newsweek over the last two years, pretty much right after the company ironically moved into the magazine's offices at 7 Hanover St. in New York's financial district after Newsweek moved into the lavish, Frank Gehry-designed IAC building. The deal gives the company control of the Newsweek brand and its online operations, not including The Daily Beast, which Tina Brown will continue to lead for Diller's IAC. The transaction is expected to close in the coming days, after which IAC will continue to operate the property for a transition period of up to 60 days. Foreign license agreements to publish Newsweek in international markets will remain in place. The Newsweek.com website, which was folded as part of the merger with The Daily Beast, will go live again under IBT.
In an internal memo circulated Saturday, Newsweek Daily Beast Company interim CEO Rhona Murphey said that IBT will be talking to staff "about potential job opportunities," which implies that some layoffs will occur as part of the deal. Uzac and Davis would not comment on that possibility, except to say that it was "too early to tell" and that they had to "see where synergies are" and "evaluate staff." The pair said they believed the Newsweek brand still had "a lot of cachet" and that they planned to invest in the property to grow out its editorial operations. Newsweek, they said, would operate as a standalone product with a separate team from IBT's other publications.
After almost 80 years in print — Newsweek's first issue came out in 1933 and its last was dated Dec. 31, 2012 — and 49 years under the control of The Washington Post Co., Newsweek has experienced a extremely turbulent three years.
Some of that is owed to macro issues faced by the magazine industry as a result of the shift to digital consumption of media, particularly on mobile devices, which has eroded advertising and circulation revenue for print titles. Weeklies in general, and news weeklies specifically, have been among the hardest hit categories as the pace in which news moves has quickened thanks to services like Twitter and 24-hour cable news networks.
But some of Newsweek's troubles were self-inflicted as well, such as an ill-conceived rebranding to commentary and opinion that fell flat with readers.
Taken together, Newsweek has transformed from a magazine that earned $30 million in 2007 to one that was losing the same amount by 2009.
It was three years ago this month that billionaire Sidney Harman bought Newsweek from the Washington Post Co. for $1 plus the assumption of the magazine's roughly $50 million in liabilities at the time as, in his words, a philanthropic rather than business endeavor. Just three months later, in November 2010, Diller and Harman announced that they planned to merge Newsweek with The Daily Beast in an effort to combine audiences and cross-sell advertising at both publications.
That idea didn't go as planned, with the combined company still falling under the category of unprofitable, though IAC sources said the venture's losses have been cut significantly. Harman, who made his fortune as the founder of audio equipment giant Harman International Industries, died in 2011 at the age of 92. Last July, his estate stopping investing in the joint venture and IAC took over majority control.
Not unlike the magazine itself, Newsweek's new owners come with some baggage. Reports have suggested that IBT has ties to controversial Southeast Asian preacher David Jang, who reportedly leads a group that encourages the belief that he is the second coming of Christ. An article in Christianity Today from September 2012, in which Davis is quoted in, suggests that IBT is owned Jang.
Both Uzac and Davis denied to BuzzFeed that Jang has any ownership or financial stake in IBT, however, and said that the Christianity Today implication was inaccurate. They said that they owned IBT outright and that the company had no other financial backers.
They conceded that they had a working relationship with Olivet University, which was founded by Jang. The relationship involves such things are placing students in internships, using the school's servers, and getting design assistance.
"That's as far as it goes," said Davis, who likened the arrangement to how Stanford funnels students to Silicon Valley companies like Google.
Uzac said he has been to Olivet several times and has met and knows Jang. He added that IBT has had a "great working relationship with" Olivet so far and would continue to explore opportunities with the university just as it would with other organizations.