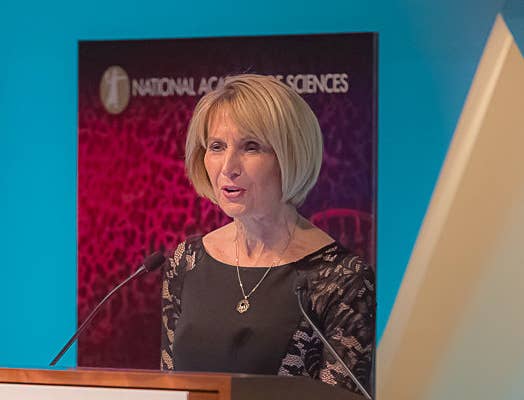 SAN FRANCISCO — At the world's largest gathering of Earth and climate scientists, one of nation's leading science officials pledged to raise private funds, if necessary, to keep climate change research afloat.
"If there are cuts to the science budget for climate change at the federal level, we can work to get private funding to step in," Marcia McNutt, president of the National Academy of Sciences, told reporters at the American Geophysical Union meeting in San Francisco. "And already we've heard from a lot of foundations who want to make sure that happens."
McNutt told BuzzFeed News that she is in contact with people who have the connections to raise "billions of dollars," if the incoming administration of president-elect Donald Trump and Congress cut funding.
But she stressed that backing the research is the government's responsibility. And she doesn't want fears about climate science being cut by the incoming administration to become a self-fulfilling prophesy.
"I'm saying hold off," she said. "I don't want to give them the excuse."
McNutt's comments followed a passionate speech on at the meeting on Wednesday morning from California governor Jerry Brown, who said that the nation's most populous state would "launch its own damn satellite" if the Trump administration stopped collecting data on climate change.
Asked whether McNutt's proposed alternative to federal science funding would provoke lawmakers, George Washington University science policy expert Al Teich told BuzzFeed News: "I wouldn't worry about displeasing Congress at this point."
"The views of many in Congress are so far from those of mainstream science that almost anything the Academy, or AAAS (American Association for the Advancement of Science), or leading scientists say or do is not going to be well received," he said by email.
Established by President Abraham Lincoln in 1863, the National Academy promotes excellence in science. Becoming a member is one of the most prestigious honors for a scientist. Together with the academies of medicine and engineering, it regularly advises the federal government on scientific issues — including on senior government appointments.
McNutt said that the academies have supplied president-elect Donald Trump's transition team with a list of names for key positions in the new administration.
BuzzFeed News also asked McNutt what she thought about scientists who are reportedly archiving climate data on private computer servers, fearing that it might be trashed by the incoming administration. She said that rules on scientific and data integrity should prevent that from happening: "But I don't see any reason why, if people want to copy this data to back it up one more time, … that they shouldn't do it."
However, McNutt warned scientists about the danger of "freaking out" about what the new administration may bring, before its policies are known.
"I would say that is exactly what those who want to disrupt science are hoping to achieve," she said. "And the best we as scientists can do is continue to do the very best science we've ever done, make sure that American science remains strong, and don't let the psychological part of this be our own worst enemy. Because freaking out is not going to get us anywhere."