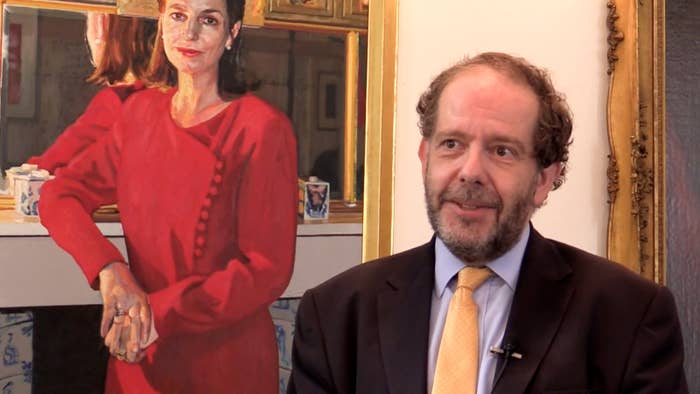 David Latchman, a leading geneticist and one of the highest-paid university leaders in the UK, was last year found responsible for failing to properly supervise a lab in which widespread scientific fraud occurred over many years.
Two investigation reports found data falsification in a total of nine scientific papers published by members of a lab Latchman ran at University College London, according to documents released to BuzzFeed News under a Freedom of Information request.
Latchman did not have direct involvement in the manipulation and reuse of images to falsify scientific results, investigators found.
But both reports faulted Latchman for his "failure to manage the laboratory appropriately." This, together with his involvement as an author on the papers, amounted to "recklessness ... which facilitated the misconduct in research." Both reports decided that his behavior qualified as misconduct.
The documents also show that an earlier panel of UCL investigators in 2015 found "prima facie evidence of research misconduct" in another eight scientific papers.
"In light of the seriousness of the matter," that report concluded, "the Panel considered that the matter should be referred directly to UCL's relevant disciplinary process or other internal process and bypass the Formal Investigation stage."
Yet in neither 2015 nor 2018 did Latchman face any punishment. "Two separate disciplinary processes into Professor Latchman found that there was no deliberate intention to commit misconduct in research and, therefore, there were insufficient grounds for dismissal," UCL said in a statement released with the documents Monday.
Another scientist involved had already left UCL, the university said, so UCL wasn't able to take disciplinary action against them either.
The fact that UCL took five years to investigate the allegations, and then issued no disciplinary sanctions against anyone despite widespread evidence of scientific fraud, will add to lawmakers' concerns that Britain's universities are failing to adequately police research misconduct.
UCL declined to comment on why it did not take any disciplinary action against Latchman. "We will not be adding anything further," UCL spokesperson Kirsty Walker told BuzzFeed News by email.
Shimon Cohen, a reputation management specialist working for Latchman, told BuzzFeed News by email that Latchman rejected the assertions made in the investigation reports.
"The nature of the manipulation identified in the UCL investigation was such that any fraud would only be apparent to a reviewer who was actively looking for such deception," Cohen wrote. "To subject all research to this disproportionate scrutiny is not reasonable, to then make the assertion that to overlook such deception is 'inattentive' or 'reckless' is unjust."
Latchman made his name studying the genetics of heart disease and cancer and has published hundreds of research papers. In 2003, he was made head of Birkbeck, part of the University of London. But he kept control of his lab at UCL, just a few blocks away, under a part-time appointment.

News that there were problems in Latchman's lab emerged in January 2015 with a retraction, without explanation, of a paper published in 2002. A second retraction two months later conceded "misrepresentation" of images in a paper published in 2005 and their "misuse and re-use" to represent different scientific results.
Anastasis Stephanou, who led a team in Latchman's lab studying the biology of heart disease, seemed to take responsibility for the misrepresented images in the second paper: "The corresponding author, A.S., regrets the inappropriate figure manipulations of which the co-authors were completely unaware," the retraction notice said.
The newly released documents from UCL show that in December 2013, an anonymous whistleblower alleged misconduct in 28 papers from Latchman's lab, dating as far back as 1997.
After an initial review by a senior UCL professor, a panel of UCL scientists was set up to consider the allegations more thoroughly. The panel delivered a damning report in March 2015, concluding that there was "prima facie evidence of research misconduct."
It recommended that all eight papers be retracted. Only two have been so far.
Stephanou's name is redacted from the 2015 report. But the statement from UCL said: "A formal disciplinary process was initiated against a member of Professor Latchman's research group. The individual resigned and left UCL before these proceedings could be completed."
Stephanou, now at the European University Cyprus in Nicosia, denies any responsibility for the fraud. "I was not involved directly in any of the [images] that were flagged up," he told BuzzFeed News.
After the first two papers were retracted by spring 2015, comments pointing out other potential problems in the Latchman group's published work started to accumulate on PubPeer, an influential website where scientists anonymously pick apart contentious studies. Later in 2015, a second set of allegations involving 32 papers published between 1990 and 2013 were packaged together and sent to UCL administrators by a pseudonymous whistleblower.
The university in 2016 received a third set of allegations, involving "data fabrication, falsification, manipulation and plagiarism" in seven papers published between 2002 and 2008. The sender's name is redacted in the documents. (The name of the accused scientist is also redacted, but the subsequent investigation expanded the scope to consider Latchman's role.)
These new sets of allegations were reviewed by two separate screening panels of UCL academics. One of these panels concluded that there were serious problems in the working culture of Latchman's lab that extended beyond one rogue scientist.
"In the panel's view the evidence clearly indicates that the researchers in the laboratory had developed a culture outside the accepted standards of research integrity," the panel's report said, noting that "such activities appeared to have been taking place over an extended period of time and, based on the authorship lists, to involve more than one individual."
Both screening panels concluded that misconduct had occurred, and referred the matter to a formal investigation to determine who was responsible. The two resulting investigation reports, one for each set of allegations, concluded that Latchman was not directly involved in the data fraud, but faulted him for being "insufficiently attentive in the management of the laboratory." The reports recommended that UCL consider referring the findings to its disciplinary process.
There was a disciplinary hearing, but Latchman was again cleared. According to Cohen, his PR consultant, Latchman "was given no opportunity to refute these allegations" during the investigations. "When given the opportunity at the subsequent disciplinary hearing, he successfully refuted this," Cohen added.
"I am very pleased with this news," Latchman said, in a statement issued by Birkbeck shortly after the disciplinary hearing. "The hearing clearly recognised that issues such as those identified in the investigations may be difficult to detect even in well run teams."
So far a total of six papers from Latchman's lab have been retracted out of 67 that have been questioned on PubPeer.