Forensic genealogy has cracked a second major case less than a month after the arrest of Joseph James DeAngelo, alleged to be the Golden State Killer.
At 11 a.m. PT in Washington state, the Snohomish County Sheriff announced the arrest of a 55-year-old man from the Seattle area for the 1987 double murder of a young Canadian couple, Jay Cook and Tanya Van Cuylenborg. He is William Earl Talbott II, a local truck driver.
On Nov. 18, 1987, Cook, 20, and Van Cuylenborg, 18, drove from Saanich, British Columbia, to the Seattle area in a van owned by Cook's father. It was supposed to be an overnight trip, and when they didn't return, they were reported missing.
Then, on Nov. 24, Van Cuylenborg's body was found in a ditch in rural Skagit County, Washington. She had been raped and shot. Cook's body was found two days later more than 50 miles away, covered with a blue blanket. He had been strangled and beaten.
On Thursday, BuzzFeed News reported that a company called Parabon NanoLabs had loaded DNA data from about 100 crime scenes into a public genealogy database called GEDmatch — finding matches with people estimated to be a suspect's third cousins or even closer in about 20 cases.
From that search, a DNA sample from Van Cuylenborg's murder scene gave especially promising leads. "The significant matches were at about the second cousin level," CeCe Moore, the genealogist working with Parabon, told reporters at a press conference to announce Talbott's arrest.
This meant that Moore had to draw family trees back to the great-grandparents of the people whose DNA profiles matched with the crime scene sample. Then, looking at descendants of these people, she found that the family trees converged on a couple who had only one son.
That was Talbott. His DNA has since been shown to match the crime scene sample.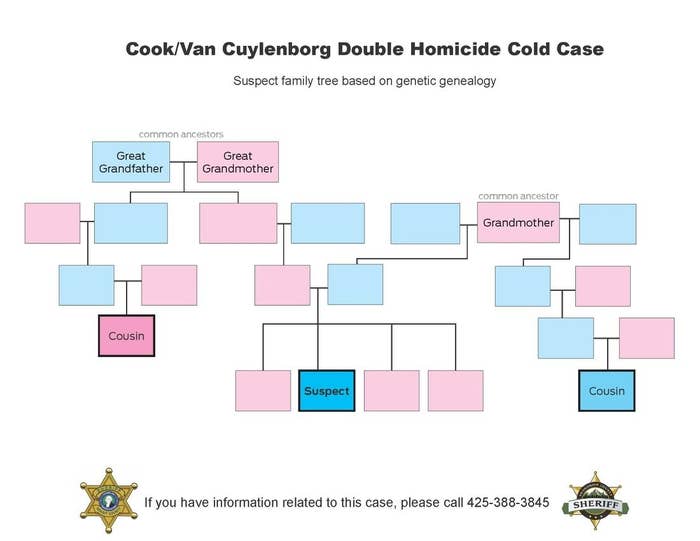 "Detective work has sure come a long way in 30 years," said Laura Baanstra, Cook's sister.
Investigators said that they still don't know the motive, or how Talbott met the couple. They appealed for help from anyone who knew Talbott at the time, or may have seen him in November 1987 in the stolen van or with Van Cuylenborg's camera. "The investigation still has more work to be done," Snohomish County Sheriff Ty Trenary told reporters.
Family members of the victims said they were relieved that the alleged killer is finally in custody.
"It's a sense of some justice that's starting to happen here," said John Van Cuylenborg, Tanya's elder brother.