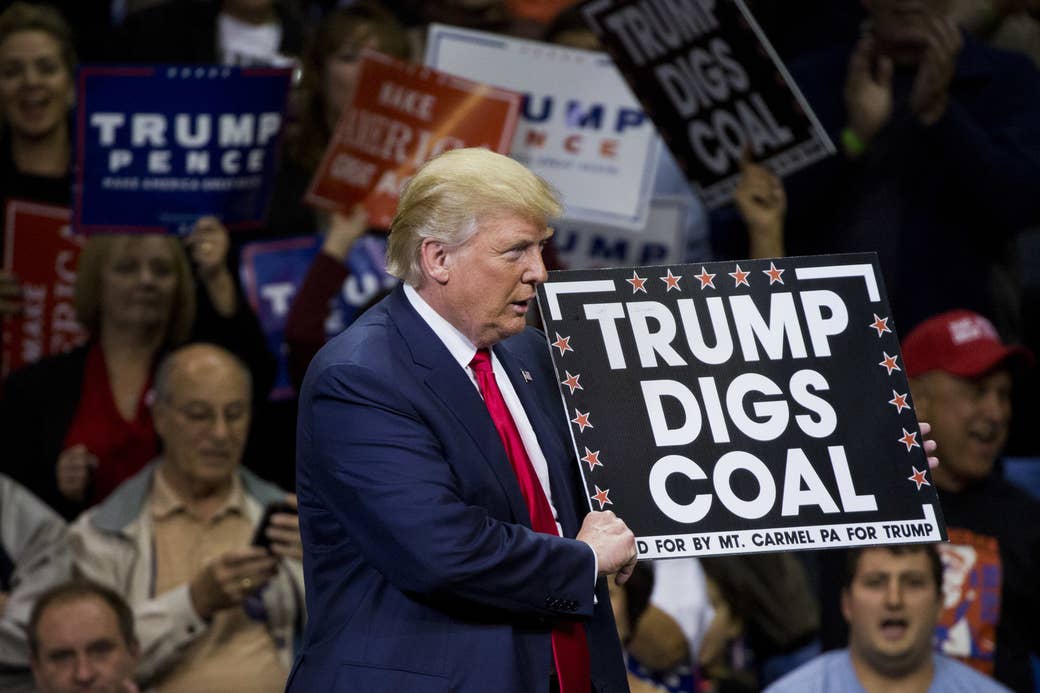 Donald Trump loves coal, and has promised to put American miners back to work. On Twitter, he has called climate change a "hoax" invented by China. And he has vowed to "cancel" the Paris Agreement — the international pact under which more than 190 countries have pledged to reduce their greenhouse gas emissions.
So the realization that Trump now holds the cards on US energy and climate policy has sent a collective shudder through climate scientists and policymakers across the globe.
"I fear for this country and I fear for the planet," Michael Mann, a leading climate scientist at Pennsylvania State University, told BuzzFeed News by email.
The Paris agreement was thrashed out almost one year ago. Its goal was to limit global warming to 2 degrees Celsius above pre-industrial temperatures — an ambitious target, given that we're already halfway there.
Legally speaking, Trump can't immediately walk away from the Paris deal. It came into force on November 4. Three years from now, nations can withdraw with one year's notice. But Trump could also deploy the "nuclear option" of withdrawing from the UN Framework Convention on Climate Change, signed in 1992, under which the Paris deal was negotiated. Only one year's notice is required to withdraw from that umbrella agreement, which would effectively end US involvement in the Paris accord.
And if Trump delivers on his stated goal to extract more domestic fossil fuels, the legal niceties of withdrawal will be moot, as the US will already be heading in the opposite direction from its Paris pledge to cut emissions by 28% from 2005 levels by 2025.
Like many of Trump's policies, the details of what he'll do, or not do, about climate change and energy are largely unclear. His "America First Energy Plan" did give some hints, promising to "unleash America's $50 trillion in untapped shale, oil, and natural gas reserves, plus hundreds of years in clean coal reserves."
Trump has also said he would repeal President Barack Obama's Clean Power Plan — already under legal challenge — under which the Environmental Protection Agency has set strict standards for electricity generation, to reduce greenhouse gas emissions from the power sector by 32%, compared to 2005 levels, by 2030. (Even that wouldn't guarantee that the US met its Paris pledge, according to an analysis from scientists at the University of California, Berkeley, published in September.)
As the election neared, leading scientists released an open letter expressing "great concern" that the Republican nominee for president wanted to back out of the Paris accord. In the letter, 376 members of the National Academy of Sciences warned that this would send a chilling signal: "The United States does not care about the global problem of human-caused climate change. You are on your own."
Right now, climate policymakers from the world's nations are meeting in Morocco at a meeting that's supposed to start turning the promises made in Paris into action. The whole idea of individual countries making their own pledges to cut emissions, rather than trying to tie all nations to common targets, was led by the US and China. So Chinese leadership will now be crucial.
"It's quite possible that the Chinese are going to remain committed, and could emerge as the intellectual leaders of the process."
"It's quite possible that the Chinese are going to remain committed, and could emerge as the intellectual leaders of the process," David Victor, director of the Laboratory on International Law and Regulation at the University of California, San Diego, told BuzzFeed News.
On both the international and domestic sides, some experts are hopeful that Trump will take a more pragmatic view as he prepares for power and the realities of climate change, energy policy, and international relations sink in.
"If he is trying to negotiate new trade deals, he may find it more difficult to do that if the US is perceived not to be constructive on climate change," Bob Ward, policy and communications director at the London School of Economics Grantham Research Institute on Climate Change and the Environment, told BuzzFeed News.
"Mr Trump's election to the Presidency doesn't change the laws of physics or the laws of economics," Ken Kimmell, president of the Union of Concerned Scientists, told BuzzFeed News. "Climate change is happening, and the impacts are being felt in the United States every day."
Kimmel noted that the costs of wind and solar power are dropping rapidly, natural gas is already cheap, and the economics of coal production don't look so good even if the Clean Power Plan falls. He argued that scientists and engineers now need to convince the incoming administration that it makes sense to invest in cleaner energy as part of Trump's promised spending on new infrastructure.
"There is a way to put people to work and to respond to this cry for people to be included in the economy while helping protect the environment," Kimmell said.