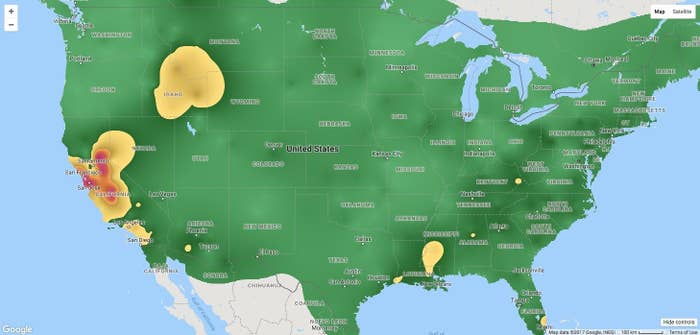 Thursday morning in San Francisco, the air quality was as bad as in Beijing, China's notoriously polluted capital. Since Bay Area residents woke on Monday to news that California's wine country was ablaze, much of the region has been shrouded in smoke. Schools are keeping kids inside during recess. Some adults are wearing face masks as they walk or cycle to work.
The problems with air quality in San Francisco, Oakland, and San Jose bear little comparison to the scenes of utter devastation in Sonoma and Napa counties to the north. But the pall of smoke that hangs over the region's cities affects millions of people.
The main danger from wildfire smoke is known as PM2.5 — particles of soot less than 2.5 micrometers across that can cause lung and heart disease. PM2.5 is bad for everyone, but particularly for people who already have conditions like asthma or emphysema, and for children whose lungs are still developing. Long-term studies by the University of Southern California's Children's Health Study have found that kids who are regularly exposed to high levels of PM2.5 are more likely to develop lung disease as adults.
Experts contacted by BuzzFeed News say that residents of the San Francisco Bay Area shouldn't panic, but should take precautions to minimize exposure.
The experts' advice: Stay indoors with the windows closed, if you can. Definitely don't do any strenuous exercise outside. Children, the elderly, and anyone with respiratory or heart problems should be particularly careful. And if you need to be outside and want to wear a mask, make sure it can filter out PM2.5.
"Everyone should be taking precautions, even if you don't have chronic respiratory conditions," Rachel Morello-Frosch of the University of California, Berkeley, who studies air pollution and public health, told BuzzFeed News.
Northern California usually has pretty good air quality, but this prolonged pollution event — which the Bay Area Air Quality Management District calls "unprecedented" — would be unusual in most parts of the country.
"It's very rare for it to get this bad anywhere in the United States," Elizabeth Muller, executive director of the Berkeley Earth project, which operates a near-real-time air quality map, fed with data from sensors across the globe, told BuzzFeed News.
Another important piece of advice: Don't rush outside for a run or a hike, even if the air seems to temporarily clear. Conditions have been changing by the hour as the winds shift, as this animation of Berkeley Earth's map shows.
Over the past couple of days, the Air Quality Index in parts of the Bay Area has reached "unhealthy" levels, which means that even active, healthy adults should limit prolonged outdoor exertion. According to Muller, spending 24 hours outdoors when the air quality gets this bad is about as bad for your health as smoking five cigarettes.
For the Bay Area, this is new. But many cities worldwide — including in China, where industrial pollution and coal-fired power stations are the main culprits — regularly have to deal with air that is this bad.
The effects of short-term exposure to PM2.5 are less clear. But previous severe wildfires, such as those that burned in Southern California in October 2003, have caused measurable spikes in lung disease. A team led by Ralph Delfino of the University of California, Irvine, looked at the medical records of 40,000 people admitted to hospital with cardiovascular conditions during the 2003 fires, and found that they were more likely to come from zip codes that were badly hit by smoke. Heavy smoke exposure increased asthma admissions by about one-third, Delfino's team concluded, with children and the elderly the worst affected.
It's too early to determine the health effects of the current fires. "We haven't yet seen a really noticeable uptick in respiratory issues," Brent Andrew, spokesperson for the Zuckerberg San Francisco General Hospital and Trauma Center told BuzzFeed News. "But this is the type of thing where we may see a trailing effect, after several days."
The smoke will stick around for awhile. According to the current five-day forecast from the Bay Area Air Quality Management District, air quality is expected to remain poor across most of the region through the weekend.