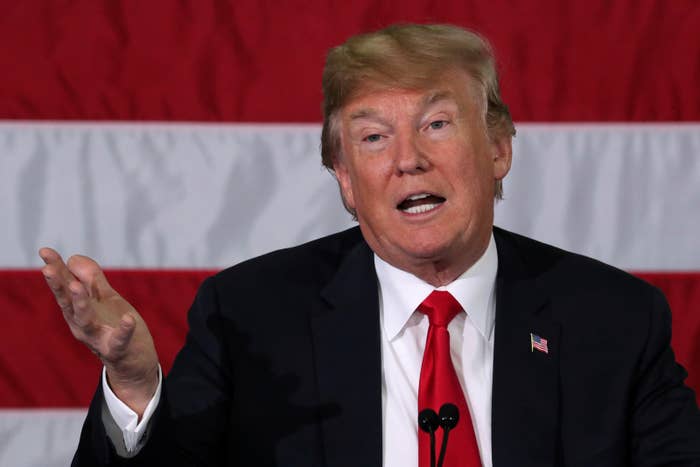 The immigration debate has once again fallen into chaos and likely failure in the House of Representatives, with a tweet from President Trump serving as the final nail in the coffin.
Republicans had been trying to work out an immigration bill they could pass next week. Some conservatives had been looking for "air cover" from the president in the form of a strong endorsement that would help them defend the controversial legislation to their constituents.
Trump did initially support the bill, but, as he is wont to do, he changed his mind Friday.
"Republicans should stop wasting their time on Immigration until after we elect more Senators and Congressmen/women in November," Trump tweeted.
Some in Congress saw this as a death knell to the so-called compromise immigration bill being negotiated among Republicans. The bill was "Torpedoed by tweet. tweet-pedoed," according to Rep. Ryan Costello.

Still, Republicans are continuing to negotiate and say the plan is still to go ahead with a vote next week.
Negotiators are currently debating whether to add mandatory e-verify to the bill, which would require employers to check the citizenship status of their workers. This would be accompanied by the creation of new agricultural work permits. Republicans tended to throw up their hands when asked if Trump would support the modified bill.
"Just this week it was 'change the laws! Change the laws!' Now it's 'hey, let's do it after the red wave' ... it's such a schizoid, policy-making by tweets. What you say on Monday may not last 'til Friday," said Republican Rep. Ileana Ros-Lehtinen.
Trump's endorsement was seen as crucial because of fears about the politically loaded term "amnesty." The GOP compromise bill contains many conservative priorities, such as funding a US–Mexico border wall and cutting legal immigration streams. It also provides a pathway to citizenship for DACA recipients, people who were brought into the country as children without documentation.
Rep. Steve King had already denounced the legislation as "Paul Ryan's amnesty bill." There was speculation that several members would be hesitant to sign off on the legislation unless they knew Trump wasn't going to turn around and denounce it as an amnesty bill right after.
This is not the first time Trump has killed an immigration bill by publicly denouncing it.
Republicans now have to decide what to do next. Speaker Paul Ryan could pull the bill rather than have it go down in defeat. But doing that risks setting off another moderate revolt. Republicans who want an immigration bill had threatened to overrule Ryan with a discharge petition and force a series of votes. Ryan narrowly avoided that fate by promising a vote on the compromise bill instead.
Rep. Thomas Massie, a conservative critic of Ryan, said there is discontent with his leadership within the Republican conference, and letting the bills fail is Ryan's way of mitigating that.
"It forestalls the discharge petition and lets them maintain the appearance of control," he said. "This is all about managing that discontent rather than getting a bill passed."
This is likely the last chance to pass a solution to the DACA situation before the midterm elections this fall. That leaves about 700,000 people in legal limbo, protected from deportation only by court injunctions.
But the Senate may try to take up the other most heated immigration issue — the separation of families at the border. The Trump administration has temporarily halted the practice, but it is seen as only a temporary fix to buy time for legislative change. Senate Republicans say they are working on a bill to permanently solve the problem, but no one seems to have a sense yet of how to get a Republican-controlled House, at least 10 Democrats in the Senate, and President Trump to all back the same bill.