Trump's Health Secretary Pick Denies Calling Pre-Existing Condition Coverage A "Terrible Idea"
Rep. Tom Price was once an opponent of a ban on pre-existing conditions and one of the main forces in Congress pushing for block granting Medicaid to the states. On Tuesday, he backed away from both policies during a confirmation hearing.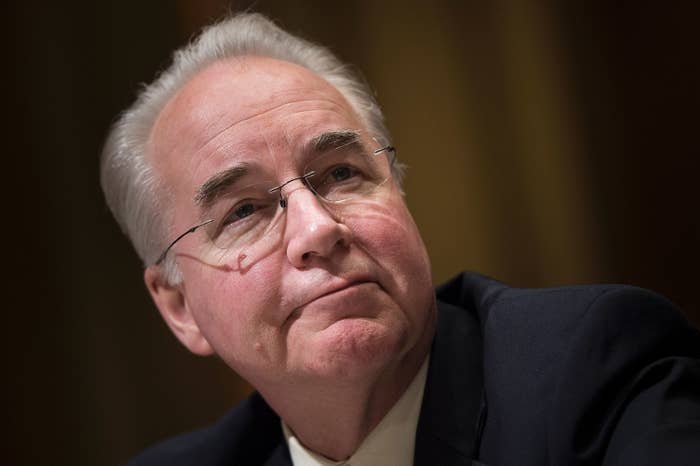 WASHINGTON — Trump's nominee for health secretary would not commit Tuesday to his past stances opposing the Affordable Care Act's ban on insurers from denying coverage to people with pre-existing conditions and supporting block granting Medicaid to the states.
During his second confirmation hearing, this time before the Senate Finance Committee, Georgia Rep. Tom Price seemed surprised when confronted by his past quote that the Affordable Care Act's ban on denying coverage to people who have pre-existing conditions was "a terrible idea."
"Well I'm not sure where you're getting that quote from," said Price.
Democratic Sen. Bill Nelson cited a 2012 story from Politico.
"Oh, now, well there's a reliable source," Price quipped. (BuzzFeed News can report one Politico reporter in the room responded with an audible "aww.")
Questioned again, Price said he did not believe he ever made that statement and his position has always been that no one should be priced out of the market because of a diagnosis. However, at another point in the hearing, Price said "I think there are other options" for ensuring sick people are covered than barring insurance companies from denying coverage.
Price also would not commit, under repeated questioning from Democrats, to pursuing his former policy goal of block granting Medicaid to the states. Price helped write a budget that would have implementing block granting when he was chairman of the House Budget Committee.
Block granting is popular among some Republicans because it would cap costs to the federal government. Rather than being an entitlement program, wherein anyone who meets the criteria for Medicaid can receive it, block granting would provide a set amount of funding to the states and let them set their own rules.
Price said his new job is not to set that direction but to implement the decisions made by the president and Congress.
"If I'm given the privilege of serving as Secretary of Health and Human Services, I understand that's a completely different role than as a legislator," he said.
That didn't satisfy Democrats, who accused him of running away from his record. "I'm not asking you about the difference in your roles. I'm asking you what do you believe in," said Missouri Sen. Claire McCaskill.
But Price insisted repeatedly said what he believes in is giving the maximum amount of people quality health coverage. He said that he will look at health outcomes as the measure of success, rather than dollars spent.
Price also rejected the ideas of privatizing Medicaid or bringing in a voucher system to replace Medicare.

"My commitment to you is to make sure that we're measuring the right things," he said. Price said Trump had said he's not interested in modifying Medicare and Price said he had no reason to believe that position has changed.
While Price did not commit to pursuing any specific policy, he did say patient choice will be a key part of the Obamacare replacement plan and said replacement will happen in lockstep with repeal.