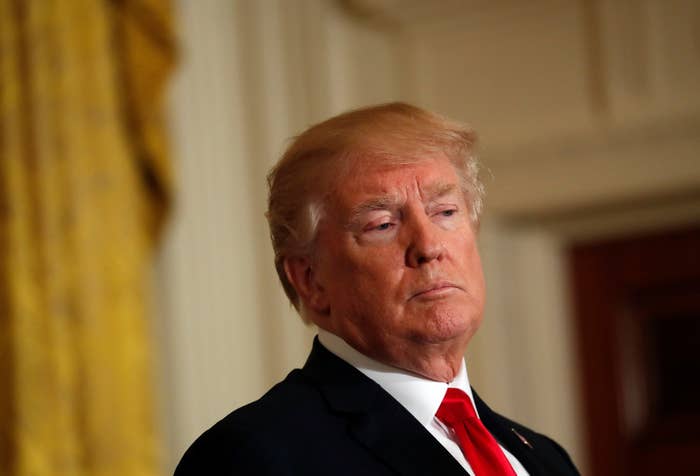 Canada and Europe are coordinating potential retaliatory moves against the United States as the world waits to see whether President Donald Trump kicks off a trade war.
Trump is set to announce heavy new tariffs of 25% on steel imports and 10% on aluminum imports, over the objection of Republican lawmakers and the resignation of his top economic adviser Gary Cohn.
Details are up in the air. On Wednesday afternoon White House press secretary Sarah Huckabee Sanders said "there are potential carve-outs for Mexico and Canada" and exemptions would be handled on a country-by-country basis. But on Wednesday evening the Washington Post reported those exemptions would only last 30 days.
Bracing for the worst, the US's trade allies are already preparing to strike back. Canada and the European Union are in communication and sharing their respective plans on how they will level tariffs against American products, according to a source with knowledge of the discussions. Mexico has also vowed to retaliate, though it is not part of those talks.
A full-blown trade war would hit the US at both ends. Prices on a slew of products would rise for consumers as cheap imports are halted, and American exports would fall as trading partners place new taxes on American goods. Industry groups are warning that thousands of jobs could be at stake. But Trump has said the pain would be temporary, and that trade wars are "good and easy to win."
As a starting point, American exports containing steel would be hit with new tariffs. The EU says it is also planning to target American bourbon, orange juice, and peanut butter, among other things. Canada, one of the US's largest trading partners, has not released its list of targets yet, but a source says it is even broader than the European list.
A temporary exemption would, as Trump has explicitly said in the past, essentially be an attempt at leveraging concessions out of Canada and Mexico on a renegotiated North American Free Trade Agreement. But tying tariffs to the trade deal is a nonstarter in NAFTA talks, which have dragged on for over a year now with little to show for it.
Even setting aside retaliation, a wide variety of industries are pushing back against new levies on steel and aluminum. Automakers warned the tariffs would raise the price of cars "substantially" while the beer industry said it may have to lay off thousands of workers due to the increased price of aluminum cans.
Republicans have desperately lobbied Trump to abandon the tariffs altogether or limit them to targeting China, which produces almost as much steel in a month as the US does in a year, and is the main cause of the world's oversupply. "The reality is tariffs are insanely stupid and nobody ever wins a trade war," said Nebraska Sen. Ben Sasse.
South Dakota Sen. John Thune, a member of Senate leadership, summed up the situation as "I think right now everybody is sort of hoping he'll reconsider."
But Trump's position has won support from an unusual corner — some Democrats. Vermont Sen. Bernie Sanders said he supports Trump's move to protect manufacturing jobs, though he said the only way to do that is to take a more comprehensive look at trade. "His concern is legitimate and right, his approach is not right," said Sanders.
Ohio Sen. Sherrod Brown, whose state has over 20,000 people employed in the steel industry, praised Trump's decision. "I've asked the president to be aggressive on this. I think when you look at what's happened to the steel industry it's right," said Brown.
The Trump administration insists the tariffs are necessary to revive the nation's steel industry. The Commerce Department projects the tariffs will raise the US's steel production from its current rate of 73% up to 80%, the minimum for the industry to be viable long-term.
China is the administration's main target. Of the 1.6 billion metric tons of crude steel produced in 2016, half was made in China. It has flooded the market with so much cheap, excess steel that prices have fallen and in turn American steel factories have shuttered.
The problem is that while the US is the largest steel importer in the world, it hardly imports any of that from China. So giving a boost to the domestic industry therefore means leveling broad tariffs that affect allies. The largest steel importers to the US are Canada, Brazil, South Korea, and Mexico.
One wrinkle in the story is that Trump is enacting the tariffs through an obscure method — clause 232 of the Trade Expansion Act of 1962. This allows the administration to unilaterally set tariffs in the name of national security. As Republicans themselves have been quick to point out, it is hard to make the case that steel imports are a national security issue when Trump is simultaneously offering to waive them if NAFTA is renegotiated. "Tariffs on Steel and Aluminum will only come off if new & fair NAFTA agreement is signed," the president tweeted.
Several Senate Republicans said this week that Congress has given too much leeway to the White House when it comes to setting tariffs.
"I'm highly concerned. If this is just a negotiating strategy it's a very risky strategy. He may be right in the end, we may be able to 'win' a trade war, but like any wars there's an awful lot of collateral damage," said Wisconsin Sen. Ron Johnson.
Johnson said that Congress has "ceded way too much authority to presidents when it comes to trade tariffs," but he doesn't see any action being taken right now.
Congress could pass legislation to rein in presidential powers. In fact, Sen. Mike Lee of Utah introduced just such a bill in January. But it would require two-thirds support in each chamber of Congress to override a presidential veto.
By Tuesday afternoon it became clear that there was no momentum among Senate Republicans to pursue such a plan. In the meantime they continue to wait and hope that Trump can be successfully lobbied to change his mind.
"This idea that we can exit out [of NAFTA] and somehow get a better deal is just crazy. The markets will push back and that's what I think will put some guardrails around what the president does," said Arizona Sen. Jeff Flake.
"He's certainly testing that right now."