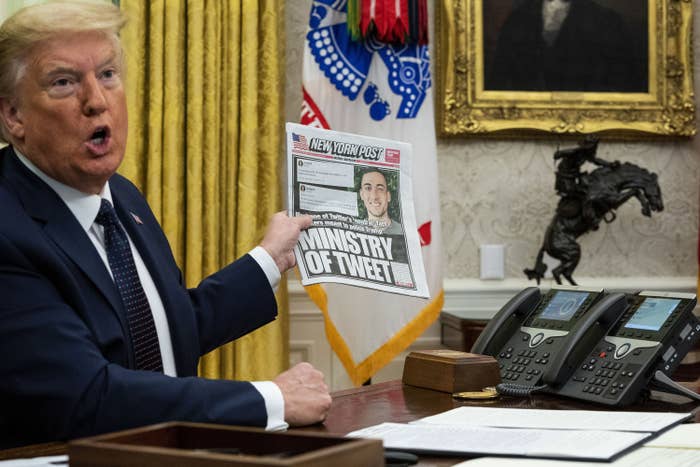 WASHINGTON — President Donald Trump signed an executive order targeting social media companies Thursday, but despite a lengthy Oval Office diatribe, it's not clear whether it will actually do anything.
"It isn't going to meaningfully change anything, and I think it's not serious," Sarah Miller, executive director of the American Economic Liberties Project, an anti-monopoly think tank, told BuzzFeed News.
But Miller said a "much more important and serious" conversation was going on elsewhere in the government: how to use antitrust laws to rein in big tech companies.
Federal regulators mostly sat back as companies like Google and Facebook gobbled up competitors and grew into massive platforms. But now a growing number of lawmakers from both parties are arguing that these platforms have become akin to public utilities that need oversight — or something more drastic.
Their motivations don't always align. Democratic concerns center on social media platforms monetizing the spread of disinformation and corroding the public discourse. Republicans have accused Facebook and Twitter of silencing conservatives.
But in both cases, the solution involves the government checking the powers of the tech companies. The results could range from new restrictions on how companies can exploit the personal data of their users, a rewriting of liability laws, or antitrust lawsuits to split the largest companies apart.
Advocates in this unusual bipartisan alliance range from progressive leaders like Sen. Elizabeth Warren and Rep. Pramila Jayapal to Trump's strongest loyalists.
"We have tools, though, to fight back. I would like to see the Department of Justice become a lot more active in the enforcement of antitrust laws in this country."
"[Tech companies are] getting too much power. That might not be the most libertarian thing in the world to say," said Republican Rep. Matt Gaetz on a podcast with Steve Bannon, Trump's former chief strategist, this week. "We have tools, though, to fight back. I would like to see the Department of Justice become a lot more active in the enforcement of antitrust laws in this country."
Earlier this month, the Wall Street Journal reported that the Department of Justice and state attorneys general are likely to file lawsuits against Google this summer. It would likely be the biggest antitrust fight with a tech company since the United States v. Microsoft Corporation case two decades ago, an antitrust action that ended in a settlement in 2004.
At the state level, New York is leading an investigation into Facebook, while Texas is leading an investigation into Google.
Backed by Republicans, Rep. David Cicilline, chair of the House Antitrust Subcommittee, is investigating whether digital ad markets are illegally anticompetitive. Even presumptive Democratic nominee Joe Biden has called for social media platforms to lose their immunity from liability for statements posted by their users.

Any one of these efforts could end up having more impact than Trump's executive order, which could be challenged in court. Around the same time as the president's signing, Republican Sen. Josh Hawley was online calling for much deeper reforms. Hawley said the government needed to step in to stop the business model in which tech companies have broad power to take users' personal data to create lucrative, personalized advertising machines.
"If you care about the #BigTech's monopoly power and all it leads to - violation of personal property rights, privacy violations, suppression of competition, control of news, control of speech, harm to kids - gotta go after the underlying business model that drives it," Hawley tweeted.