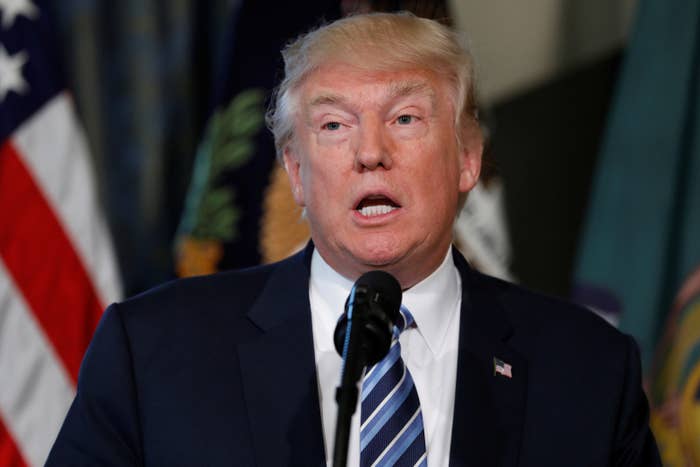 The Trump administration is asking Congress for $627 billion in new Medicaid cuts over the next decade in a plan that would allow states to restrict access to the program, according to a budget document that was published, apparently mistakenly, online on Monday.

The budget plan calls for tightening Medicaid eligibility beyond what is already contained in the Republican health care plan currently being debated in Congress. It also contains a long list of cuts to science and public health agencies dedicated to cancer research, child health, drug abuse, mental health, and diseases.
The budget is set to be officially unveiled Tuesday morning, but a copy of the Health and Human Services budget was put online late Monday afternoon. It was deleted shortly after.
The budget plan would need to be approved by Congress, which typically writes its own budget using the White House's suggestions as negotiating points. Even with Republicans controlling both chambers, it is far from certain that the plan would pass as-is. But it does show how the Trump administration hopes to handle the health entitlements.
The version of the American Health Care Act passed by the House and currently before the Senate would cap Medicaid payments to the states and roll back the broader eligibility introduced by Obamacare. This would cut about $830 billion in payments over 10 years, according to the Congressional Budget Office.
Currently the program is open to anyone who qualifies — children and citizens who are disabled or have low income. And under the AHCA even people who gained access under Obamacare expansion will be grandfathered in until they lose eligibility.
But while states cannot boot people off of Medicaid under the ACHA, the Trump budget plan goes further by giving states new powers to restrict access to Medicaid. It projects $627 billion in new savings over the next decade by letting states restrict access or even kick people off Medicaid rolls.
This is a major departure from Trump's promise on the campaign trail to preserve entitlement programs. The budget is not explicit on what the new changes will be.
"This proposal will free States to advance solutions that best serve their unique populations — for example, encouraging work, promoting personal responsibility, and meeting the spectrum of diverse needs of their Medicaid populations," according to the budget document.

The "encouraging work" section likely alludes to the idea of introducing work requirements to Medicaid eligibility, which has long been popular in Republican circles. All able-bodied people who are unemployed would be required to find work or be kicked off of Medicaid under the proposal.
The plan also talks about reforming medical liability laws, cracking down on Medicaid fraud, and promoting systems where physicians provide services to patients at a fixed cost outside of the insurance system.
Medicaid cuts, if they are passed into law, are still a few years away. In terms of fiscal year 2018, which begins in October, the budget proposes $14 billion in cuts from last year's $1.126 trillion HHS budget. Much of that (almost $6 billion) comes from the National Institutes of Health and its various agencies.
This includes cuts to:
The National Cancer Institute; $1.03 billion, 19% of the agency's budget

National Heart, Lung and Blood Institute; $575 million, 18% of the agency's budget.

National Institute of Diabetes & Digestive & Kidney Disease; $355 million, 18% of the agency's budget

National Institute of Neurological Disorders and Stroke; $337 million, 20% of the agency's budget

National Institute of Allergy and Infectious Diseases; $838 million, 18% of the agency's budget

National Institute of Child Health and Human Development; $305 million, 23% of the agency's budget

National Institute on Aging; $294 million, 18% of the agency's budget

National Institute of Mental Health; $301 billion, 19% of the agency's budget

National Institute on Drug Abuse; $210 million, 20% of the agency's budget

National Institute on Alcohol Abuse and Alcoholism; $105 million, 22% of the agency's budget