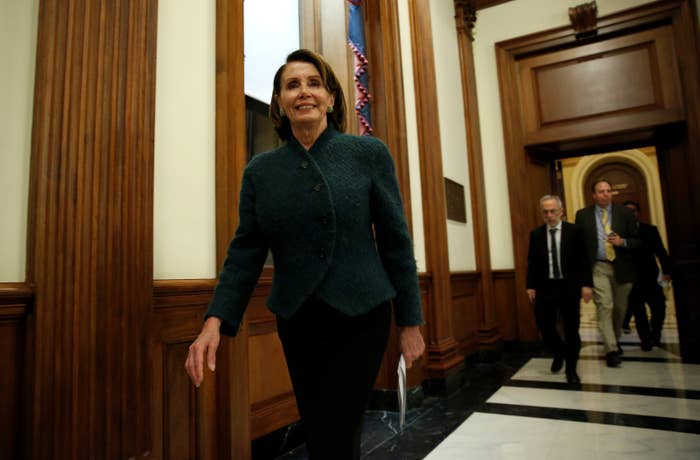 Another government shutdown came and went Friday without a DACA deal, but Democrats say the fight will continue at a chaotic and unpredictable Senate vote next week.
House Democrats led by Nancy Pelosi had threatened to defeat a funding bill and shutter the government unless House Speaker Paul Ryan committed to put a bipartisan DACA bill to a floor vote. The DACA program is set to expire March 5, at which point 700,000 undocumented people who were brought to the country as children will lose their ability to live and work in the United States.
In the end there was a brief government shutdown, but it was caused by Sen. Rand Paul delaying a funding bill well into the night. Though Pelosi voted against the bill, 73 House Democrats supported it and government services were restored later Friday morning.
Democrats failed to win any immigration commitment from Ryan, but after the shutdown Pelosi said in a statement "the fight in the House to protect Dreamers is not over."
The way forward in the Senate doesn't seem any less tumultuous. The party leaders officially tasked with coming up with a DACA deal have gotten nowhere. "We've had 10 meetings, the principles and staff, and agreed on nothing," said Democratic whip Sen. Dick Durbin. So instead they are planning a contest on the Senate floor where the immigration plan that can get to 60 votes wins.
In a rare move, Senate Majority Leader Mitch McConnell has said he will put forward a shell bill for a vote early next week and let senators propose their own plans via amendment. A slew of proposals are expected and whichever one — or combination of ones — manages to meet the filibuster-proof 60-vote threshold will be sent over to the House.
A bipartisan group of 20 to 30 mostly moderate senators that dub themselves the "common sense coalition" has been meeting near daily to hammer out a proposal. If they can join together behind one plan they would be a significant voting bloc. But after a coalition meeting Thursday, senators revealed that factions within the group were drafting competing amendments.
"There are a number of different members who are drafting different ideas," said Democratic Sen. Chris Coons. Republican Sen. Susan Collins, who hosts the meetings, said "there'll probably be more than one [proposal] but it's too early to tell right now."
Some senators said that they still believe the coalition has time to coalesce around a single proposal, which would make them a powerful united voting bloc. But others stuck to a hard line.
Republican Sen. Marco Rubio, who has taken part in the meetings, said it would be a waste of precious floor debate time for the Senate to pass a bill that doesn't align with the White House's framework. That proposal is beyond the pale for Democrats because it significantly transforms America's immigration system without doing anything to address the estimated 11 million undocumented people currently in the country.
Several Democrats, and some Republicans, are pushing for a narrow deal that addresses DACA and border security, but little else. This proposal does not align with President Donald Trump's plan, but Democrats argue he has majorly swung his stance on issues in the past and likely will again. Rubio, however, said he doesn't see this happening.
"There are a lot of things the president has shown flexibility on; I don't think immigration and the wall in particular is one of them he can or will," he said.
Before any Senate-approved plan can even get to Trump's desk it needs to go through the House, which is itself a major hurdle. A key problem for Senate negotiators is winning over enough Republicans to make a compelling case for the "bipartisan" label. A bill that includes border security funding plus a pathway to citizenship for DACA recipients would have a good shot at getting 60 votes, but it would be heavily skewed toward Democrats. Ryan has said he will not put such a bill to a vote on the floor of the House, and it may take a significant amount of Republican support to sway him.
As a fallback, Republican Sen. Jeff Flake is proposing a three-year DACA extension tied to three years of border security funding. Others have floated a one-year extension. But many, including Flake, have said that Congress will have failed if it does not sort out a permanent solution within the next month.
Asked if he was optimistic that a DACA deal could pass the Senate, the House, and be signed into law by Trump in time for the March 5 deadline, Durbin said that he was being realistic.
"Until Speaker Paul Ryan makes a commitment to allow the House of Representatives to take up this issue I cannot be optimistic," he said.