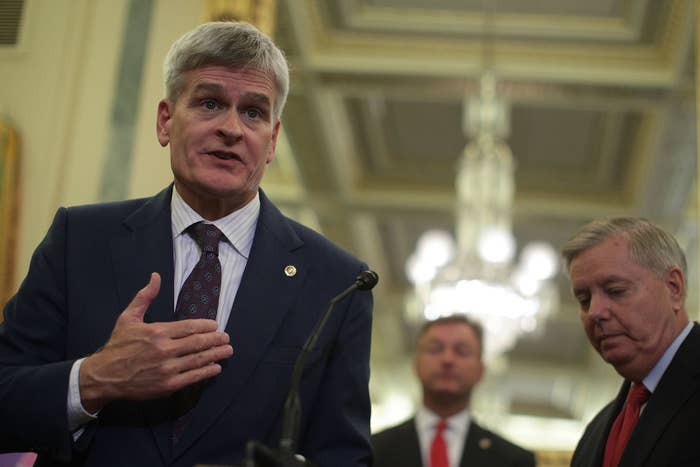 Millions of insurance plans could be put in jeopardy if Congress passes the new Obamacare repeal bill, thanks to a provision that prohibits existing individual plans from covering abortion. Already, California says it will sue the federal government to stop this from happening.

The newest GOP health care bill cosponsored by Republican Sens. Lindsey Graham and Bill Cassidy mandates that all individual insurance plans must drop abortion coverage by the new year — Jan. 1, 2018 — to be eligible for the tax credits the whole system is based on.
The provision directly contradicts state laws in California and New York, which mandate that all individual plans must provide abortion coverage. Millions of people would be caught between these contradictory laws.
And for individuals in other states whose plans cover abortion, it is still unclear what will happen to their coverage at the beginning of next year, should Graham-Cassidy become law.
Lawyers, insurance experts, and state insurance officers who spoke with BuzzFeed News agreed that this timeframe would cause "chaos and confusion" at best, and "simply cannot work," at worst.
It's far from certain that Republicans will be able to pass the bill through Congress before next week's deadline. But asked what California would do if Graham-Cassidy does become law, state officials are already saying they will fight it in the courts.
"We would continue enforcing the state law that requires abortion coverage and at the same time file suit against the federal government," said California Deputy Insurance Commissioner Janice Rocco.
Twenty-five states already ban insurance plans on the individual market from covering abortion services. Abortion coverage is mandatory in New York and California and available as an option in 17 other states and the District of Columbia. (Oregon recently passed a law to make abortion coverage mandatory, but that is not scheduled to take effect until 2019.)
If Graham-Cassidy were to pass, the individual markets in California, New York, and potentially Oregon would be plunged into chaos. Plans must cover abortions to be sold on the individual markets, but also could not be sold on the markets if they cover abortions.
But people will also be affected in states where abortion coverage is optional, rather than mandatory. Many people may not even know whether their plans cover abortion services and need to be rewritten before the end of the year. This has insurers warning it is not possible to pull off this nation-wide change within just three months.
"There are many parts of this bill that simply cannot work given the timeframe allotted," said Kristine Grow, spokeswoman for America's Health Insurance Plans. "States simply don't have time to implement. Doctors and hospitals don't have time to change. Health plans don't have time to respond. Patients don't have time to understand how these changes will impact their care and coverage."
New York insurance officials have not yet responded to a request for comment. Jake Sunderland of Oregon's Department of Consumer and Business Services told BuzzFeed News that it is "too early to speculate on how Oregon might respond to certain provisions within the bill," but that most of Oregon's plans cover abortion.
"We don't know exactly how it would work in practice if passed," Gretchen Borchelt, vice president for reproductive health at the National Women's Law Center said. "What we do know is Graham-Cassidy would take abortion coverage away from women by effectively banning plans from covering it."
As Borchelt put it, the provisions on abortion would put these states in "a terrible bind: either allow plans to violate state law by not covering abortion or force people in the state to forgo financial assistance for premiums."
Senate Republicans are trying to wrangle 50 votes to pass the bill by the end of the month. At that point, the Senate's special budget reconciliation process expires and passing a bill will require 60 votes, which means working with Democrats. Currently, Republicans appear to be short of the 50 votes they need to pass the bill on their own.