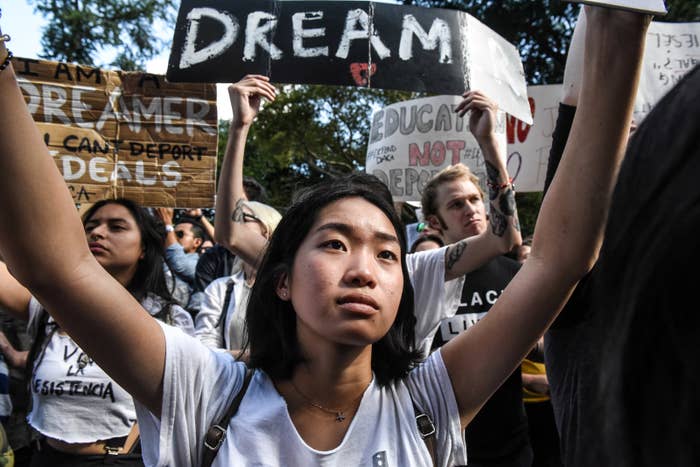 The Senate voted Thursday on four different plans to save the Deferred Action For Childhood Arrivals program, which protects the children of undocumented immigrants from deportation. They couldn't pass any of them.
It's unlikely now that senators will get a chance to try again. As part of a deal with Senate Majority Leader Mitch McConnell, Democrats were given this week to come up with a solution that could pass the Senate.
Senators plan to take next week off and McConnell has not indicated that he will allow further votes on DACA after that. President Donald Trump has scheduled the program to expire on March 5.
If Congress fails to act by that date, the 700,000 current DACA recipients would still have some protections. There are currently two court injunctions that would prevent the Trump administration from beginning to deport DACA recipients when their status expires.
A bipartisan group of moderate senators dubbing themselves the "common sense coalition" met for weeks to try to hammer out a deal that could reach 60 votes. That plan, which would have granted a path to citizenship for 1.8 million DREAMers while putting $25 billion toward border security, was seen as the only bill that had a realistic hope of passing.
But in the end it fell well short, in a vote of 54-45. Eight Republicans voted for the bill, as did all Democrats but three — Sens. Martin Heinrich and Tom Udall of New Mexico and Kamala Harris of California.
Many Republicans said they opposed the plan because it did not fulfill the White House's promise of a "four pillars" immigration plan — border funding, protection for DREAMers, dealing with "chain migration," and reforming the diversity visa lottery system.
The final two pillars proved to be too much for Democrats to swallow. The "chain migration" proposal would have significantly curtailed the family reunification leg of the American immigration system by limiting what family members a citizen can sponsor. Various independent analyses estimated this would affect half a million people per year.
Democrats also blocked changes to the diversity visa lottery, which brings in 55,000 people per year from countries with traditionally low rates of immigration to the US. Moderates hoped that a "two pillar" deal would win over enough Republicans, especially since it contained $25 billion in funding for a border wall over 10 years. But ultimately only eight Republicans supported it.
On a call with reporters before the vote, a White House official called the proposal "DOA," "spectacularly poorly drafted" and "reckless." The official said that not only had the president issued a veto threat, but that officials had also reached out to Senate offices asking them to withdraw their sponsorship. The official also repeatedly attacked South Carolina Sen. Lindsey Graham but declined to have his name attached to those comments.

In a statement announcing Trump's veto threat, White House press secretary Sarah Huckabee Sanders said the amendment "would drastically change our national immigration policy for the worse by weakening border security and undercutting existing immigration law."
"Specifically, preventing enforcement with respect to people who entered our country illegally before a date that is in the future would produce a flood of new illegal immigration in the coming months," Sanders said in the same statement. "The ["commonsense" bill] would undermine the safety and security of American families and impede economic growth for American workers."
The bipartisan bill initially would have prioritized deportation only of people who arrived in the country after June 30, 2018. The White House and other critics argued it would encourage a mass influx of undocumented immigrants to enter the country before that cutoff. But before the vote Thursday, Republican Sen. Susan Collins, a leader of the working group of moderates, agreed to amend the date to January 1, 2018.
After the vote, Senate Minority Leader Chuck Schumer blamed Trump directly, calling the president the "only" reason the Senate failed to pass a bill. "President Trump has stood in the way of every single proposal that could become law," he said on the Senate floor.
The preferred Republican bill, which was championed by the White House and would have significantly cut down on family migration, also failed by a vote of 39-60. That legislation, from Iowa Sen. Chuck Grassley, largely echoed Trump's proposed immigration plan.

Republican Sen. Mike Rounds, one of the authors of the bipartisan bill, said after the votes Thursday that he would keep working. "Sometimes it takes years to do things. We're trying to expedite this. We did this in a very short order. Good people, both sides of the aisle, had ideas about what to do. We're going to try to bring some folks together again and find some common ground that really does work for Republicans and Democrats," he said.

Graham, who also signed onto the bipartisan bill, said after the votes that he didn't "think the president helped very much, but the bottom line is the demagogues won again on the left and the right."
In a series of tweets a few minutes later, Graham said that he would also keep working toward a solution, saying he was proud that they had gotten 54 votes, but that the president would need to step in to get them over the finish line.
Georgia Sen. Johnny Isakson, another Republican co-sponsor of the bipartisan bill, said Thursday's failure doesn't necessarily say anything about the Senate's inability to get things done. "What it says is immigration is a very tough problem," he said.

Asked what is next for DACA, Grassley told reporters, "We wait for the House." The House currently has no plans to take up a DACA proposal and is also off next week.
Asked the same question, what comes next, Graham said simply, "I don't know."
Lissandra Villa contributed to this story.