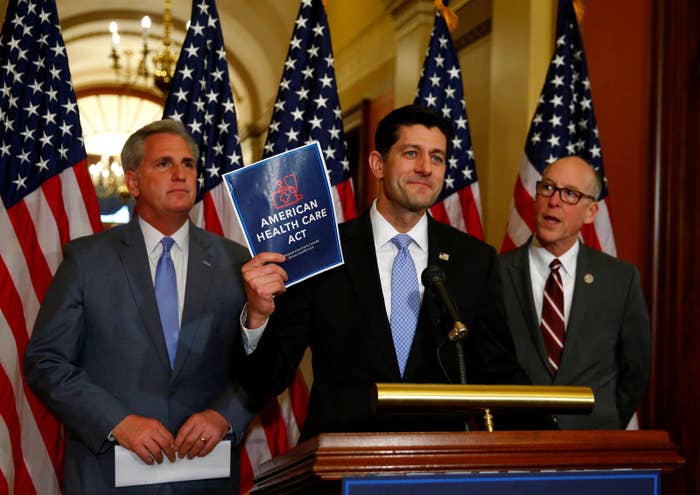 WASHINGTON — Speaker Paul Ryan vowed to guide the Affordable Health Care Act through the House of Representatives Tuesday as knives came out for the bill all around him.
Democrats, conservative Republicans, Obamacare critics, conservative groups, and hospitals are among those opposing the Republican healthcare plan announced Monday, albeit for very different reasons.
With Democrats united in fighting repeal, disagreement between moderate and far-right Republicans casts doubt on whether the AHCA can pass either the House or the Senate, let alone both.
So when Ryan faced the press Tuesday afternoon he was quickly asked whether he could do as Nancy Pelosi had done when she wrangled a divided Democratic caucus into passing the Affordable Care Act as speaker.
Ryan seemed to admit that he doesn't have the needed 218 votes in the House to pass the AHCA yet, but he promised that he would get them.
"This is the beginning of the legislative process. We've got a few weeks, " he said. "We will have 218 votes when this thing comes to the floor, I guarantee you that."
He has a couple things going for him. One is the support of President Donald Trump, who reportedly warned Republicans of an electoral bloodbath if they don't pass the bill..There's also the risk that if Republicans botch this attempt at Obamacare repeal they may never pull it off.
Earlier in the day the right-wing House Freedom Caucus, along with Senators Rand Paul and Mike Lee, held a joint press conference in opposition to Republican leadership. They blasted the AHCA as a step in the wrong direction and a betrayal of the promise to repeal Obamacare.
Among their objections are that the plan does not fully roll back Medicaid expansion and institutes advanced refundable tax credits that some conservatives view as a new entitlement program
They're already getting pressure to fall in line. Sen. Paul said Vice President Mike Pence and Health and Human Services Secretary Tom Price have called about a dozen conservative lawmakers to urge them to support the AHCA. At the White House on Tuesday, Price said that the bill was a "a work in progress," and they would continue to "work with the House" on changes. That's likely good news to Paul and others who are demanding changes are made.
"If they have 218 votes we won't get any changes. If they don't have 218 votes there will be a negotiation and conservatives will get a seat at the table," said Paul.
"The House Freedom Caucus will have enormous power if they stay together, so will conservatives in the Senate."
The group proposed an alternative plan. They are re-introducing a 2015 repeal bill already passed by the House and Senate, but vetoed by President Obama. Paul said Republicans should pass a "clean" repeal and separately duke it out over the three different replacement plans (here, here, and here). Both bills would be signed simultaneously.
"The only way I think this gets done is to separate the issues," said Paul.

The Freedom Caucus is claiming unity on pushing back, despite having not taken an official position on the bill. They meet Tuesday evening, and if 80% agree then voting against the bill will become the official policy.
Ryan spent much of his pitch appealing to conservatives. In particular he is touting the AHCA's provision to reform Medicaid from an open-ended entitlement to a program with a per-capita cap. He calls it the "biggest entitlement reform anyone has seen in decades."
But so far that's not enough. Freedom Caucus member Rep. David Brat predicted the caucus will stick together and he expected that President Trump — who praised the AHCA as "wonderful" — will eventually agree with their plan.
But if Trump doesn't, is the Freedom Caucus willing to defy the president?
"You guys get so dramatic on 'defy' or whatever," Brat said to reporters. "You just wait. I'm optimistic, there's no defiance, I love everybody."