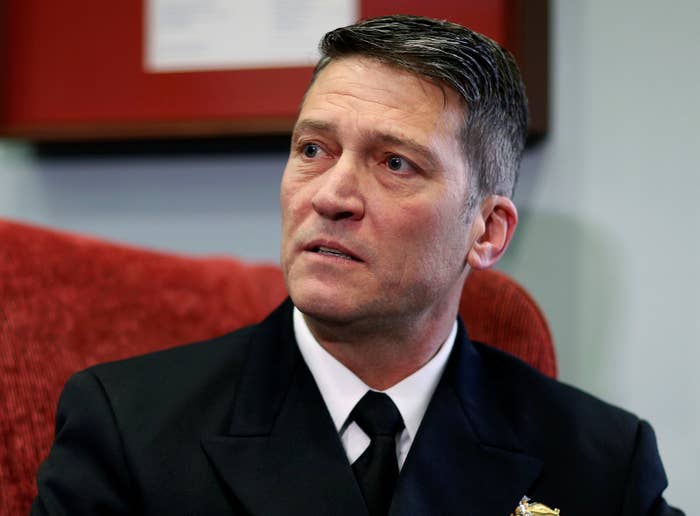 Senators on both sides of the aisle say they're concerned about the White House's vetting process for cabinet secretaries, after another nomination has fallen into turmoil.
Over the past week, members of the Senate Veterans Affairs Committee heard allegations against President Donald Trump's pick to run the Department of Veterans Affairs, White House physician Ronny Jackson. The allegations, according to several reports, include creating a hostile work environment, alcohol abuse, and overprescribing of drugs. The committee has delayed Jackson's confirmation hearing, which was originally scheduled for Wednesday.
Trump quickly nominated Jackson, a United States Navy rear admiral, with few top aides looped into the decision, which he announced on Twitter late last month. Jackson did not go through the full formal processes that usually take place before the president decides on a cabinet official — no interview and little vetting or opposition research — to ensure a smooth Senate confirmation.
Jackson has been well-liked by presidents from both parties, and Trump was pleased with the way Jackson touted the president's "excellent" health for more than an hour at a White House press briefing in January. Jackson stood at the podium answering repeated questions about Trump's physical and cognitive health, saying the president had "great genes."
Democrats believe it was this praise of Trump that won Jackson the VA job, despite a lack of qualifications.
"I assume the president liked the idea of him being at the VA, and his staff has learned over one bad appointment, one unqualified, one incompetent, one flawed appointment after another that there's no standing in the way," said Ohio Democratic Sen. Sherrod Brown.
But it was not just Democrats questioning the White House's due diligence. Several Republicans Tuesday had questions about the White House's vetting process.
Alaska Sen. Lisa Murkowski called it "a concern," while North Carolina Sen. Thom Tillis said if the allegations against Jackson are true, "then that is a vetting miss." Maine Sen. Susan Collins, a high-profile Republican moderate, wondered whether the White House was taking shortcuts when it came to checking background documents.
"I think the White House still seems to be feeling its way on the nomination process and does not fully appreciate how important it is to do a thorough vetting and background check on nominees," said Collins.
At a press conference, Trump himself insinuated Jackson may withdraw. The president said he was reluctant to put Jackson through the "ugly and disgusting" process to become secretary, which includes public confirmation hearings.
"I said to Dr. Jackson, 'What do you need it for?' So we'll see what happens. I don't want to put a man through who's not a political person," said Trump. "So we'll see what happens. He'll make a decision."
Jackson's confirmation problems are not the first time the lack of vetting has been an issue for the White House. Allegations of domestic abuse against then–White House staff secretary Rob Porter earlier this year revealed the lack of vetting by the administration for senior staff positions during and after the transition, several experts and staffers from previous administrations told BuzzFeed News at the time. Another lawyer, who specializes in vetting for presidential administrations, said the lack of procedure and vetting in Jackson's case, along with others, has been damaging to the administration and could be easily avoided.
The White House's first choice for Department of Labor secretary, Andy Puzder, had to withdraw his nomination last year after reports of domestic abuse allegations and employment of an undocumented worker surfaced.
Robert Kelner of Covington & Burling, who advises political appointees on the vetting and confirmation process, said the Trump administration still does an ethical vet, which includes disclosing financial holdings and is required by law, but has not focused that much on a political vetting, where some of the allegations that have surfaced against Jackson would have come up. "This administration sometimes does less political vetting than other presidents," Kelner said.
"It does put the Senate in a position of doing more of the vetting that in the past would have been done by the White House, and it also puts the nominees in a difficult position," he said. "In earlier years, things would have been flagged beforehand, now issues tend to pop up later on."
Some Republicans portrayed these cases as outliers, but damaging ones nonetheless.
"The White House is putting together a lot of good people," said Alaska Sen. Dan Sullivan. "But do I have concerns about what's happening there? Yeah."
Sen. John Thune, number three in Senate leadership, said in his experience the Trump administration's nominees have been well-vetted, but Jackson appears to be an exception. "Hopefully it won't become the rule when it comes to sending people up here, because it's going to create a lot of problems," he said.
This nomination battle comes at a particularly inconvenient time for Senate Republicans, as they are currently trying to speed up the timing of confirmations. While Democrats have not been successfully voting down Trump nominees, they have been using up most of the 30 hours of post-cloture debate time before each vote. That has clogged up the Senate floor schedule and created a backlog of nominations to confirm. That issue has only been exacerbated by a handful of new Trump nominees to replace cabinet officials the president either removed or shifted to another role — the Senate now is considering Jackson, secretary of state nominee Mike Pompeo, and CIA director nominee Gina Haspel.
Republicans have angrily denounced the Democrats' tactic as unprecedented obstruction and "procedural sabotage." Now they're trying to stop it. This week, the Senate Rules Committee will start markup on a bill from Sen. James Lankford that would place stricter time limits on how much floor time can be spent debating nominees.
Lankford argued his bill would have no impact on vetting, which is done at the committee level. "The floor [debate] is not really vetting, it's just argument," he said.
But Democrats have seized upon the Jackson nomination, along with ethics questions surrounding EPA administrator Scott Pruitt and general concern about Pompeo, to push back against any limiting of debate time.
Senate Minority Leader Chuck Schumer said these cases reveal a "quick, sloppy vetting process" that would be weakened further if debate is restricted. "The cabinet is turning into a sad game of musical chairs," said Schumer.