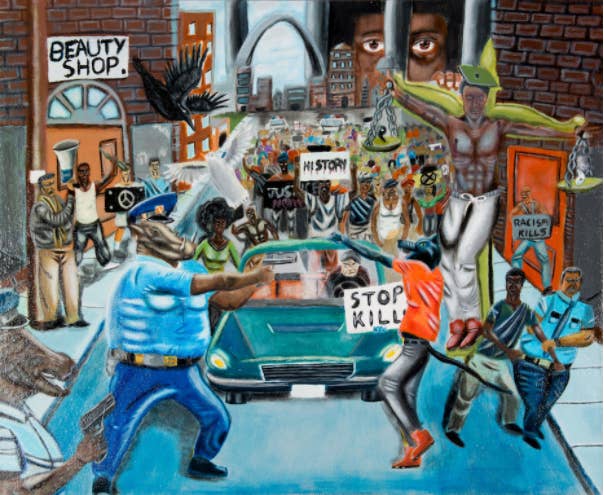 WASHINGTON — A Capitol Hill painting by a black teenager critiquing police will be taken down permanently Tuesday, according to a congressman who objected to it.
The painting was one of hundreds of winners of a high school art contest that have hung in a Capitol Hill hallway for months. But it recently became the subject of controversy in right wing media circles because it depicts a police officer as a pig.
The painting was physically taken down three times by four different Republican congressmen, only to be put back up each time by Missouri Rep. Lacy Clay. But now it appears the painting is being taken down for good.
Republican Dave Reichert appealed to the Architect of the Capitol that the painting broke office rules. The Architect agreed and will take the painting down when Congress reconvenes on Tuesday, Reichert said.
"With any competition there are rules, and these rules exist for a reason. This painting hung in clear defiance to those rules and was a slap in the face to the countless men and women who put their lives on the line everyday on behalf of our safety and freedom," said Reichart in a statement released late Friday.
Specifically, the rules of the contest stated that all art must adhere to the policies of the House Office Building Commission. That includes a ban on "depicting subjects of contemporary political controversy or a sensationalistic or gruesome nature."
The artist, David Pulphus, is from St. Louis and the painting was widely interpreted to be about the protests in nearby Ferguson after Michael Brown, an unarmed black teenager, was killed by police.
The Congressional Black Caucus has defended the painting on freedom of speech grounds. Clay, who had to hang the painting back up three times in one day last week after Republicans kept taking it down and bringing it to his office, could not be reached for comment Friday. But his chief of staff said "he will have much to say on Tuesday."
Earlier in the week, CBC chair Cedric Richmond blasted Republican leadership for focusing their energy on taking down a teenager's work of art.
"If this is something that Speaker Ryan thinks is one of his priorities in a new Congress, to pick on an 18-year-old art student who only depicts what he sees in his community, then I just think that that's sad," said Richmond.