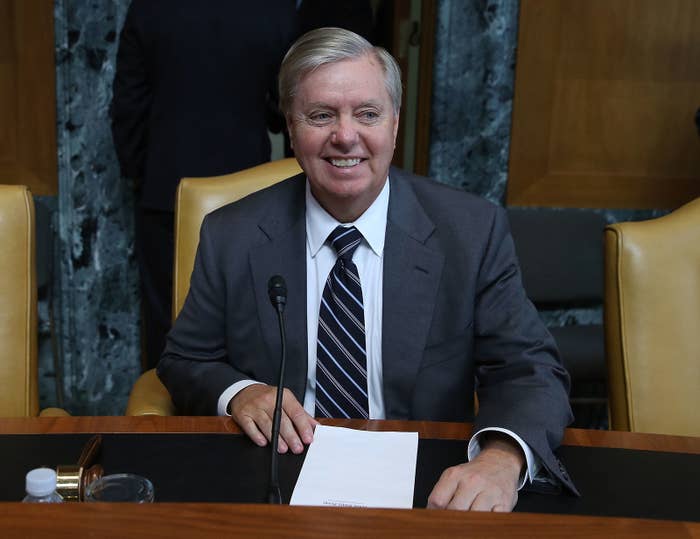 Republican's new Hail Mary plan to replace Obamacare would give states the power to repeal as much of it as they want — except for protections for people with pre-existing conditions.
But the plan, unveiled Wednesday by a group of Republican senators, faces long odds for passage and a tight-deadline.

Repeal hopes have been mostly dead in Congress since a crucial vote failed in the Senate in late July. But a group led by South Carolina Sen. Lindsey Graham and Louisiana Sen. Bill Cassidy released a repeal bill Wednesday morning that it says could still pass before the GOP's two-and-a-half week window of opportunity closes.
"If you believe repealing and replacing Obamacare is a good idea, this is your best and only chance to make it happen because everything else has failed," Graham told reporters during a press conference.
The bill, which is co-sponsored by Nevada Sen. Dean Heller and Wisconsin Sen. Ron Johnson, would largely center on giving the states the power to repeal as much of Obamacare as they want. The individual mandate to buy insurance would be repealed and states would be given broad powers to repeal whatever Obamacare rules they like, though it would require protections for people with pre-existing conditions to stay in place.

The bill would also give equal per-capita block grants of funding to states regardless of whether they expanded Medicaid under Obamacare or not. In effect, this would mean less money for expansion (mostly blue) states, and more money for non-expansion (mostly red) states. That may help win Republican votes, but one pill that will be tough for conservatives to swallow is the bill preserves most Obamacare taxes, though it does repeal the tax on medical devices.
Graham presented his bill as the main alternative to a universal health care plan to be released later Wednesday by Independent Sen. Bernie Sanders. Graham said that if his bill fails, the result will be "government control of health care from cradle to grave." Both bills, however, have extremely long odds to get passed into law.
One reason for optimism on the new plan among Republicans is that Graham is good friends with Arizona Sen. John McCain, one of the three no votes that killed the last repeal attempt. If Graham can win over his friend, this bill could in theory have enough votes to pass the Senate.
The plan also received some praise for President Trump. "I applaud the Senate for continuing to work toward a solution to relieve the disastrous Obamacare burden on the American people," Trump said in a statement issued by the White House Wednesday afternoon, adding, "I sincerely hope that Senators Graham and Cassidy have found a way to address the Obamacare crisis."
But there are countless reasons for pessimism. Obamacare repeal has already fallen off the front burner, and Republicans have little appetite to waste more valuable time only to come up empty handed once again. The bill has not been studied in committee, scored by the Congressional Budget Office, or evaluated on whether it complies with the Senate's procedural rules that would allow it to pass with a simple majority, and not be subject to a 60-vote threshold to defeat a potential filibuster.
The ability to use those rules, under a budget process known as reconciliation, expires at the end of the month for Obamacare repeal. And even if the Senate managed to bring repeal back from the dead before then, the House would need to vote for the bill as well, at a time when it's shifting focus to disaster relief and tax reform.
These long odds have some senators calling for a bipartisan approach to reforming Obamacare. But Graham insisted many of his colleagues have expressed to him that they want to take another crack at repeal now.
"This is our last and best shot for the Republican Party to show that we have ideas and our ideas are better than the other side," he said.