Republicans In Cleveland Give A Collective Yawn To Melania Plagiarism Story
People on the ground at the RNC are brushing the plagiarism story off as a manufactured media distraction.
Melania Trump's speech copying Michelle Obama was the biggest story out of day one of the Republican National Convention, but people on the street could hardly care less.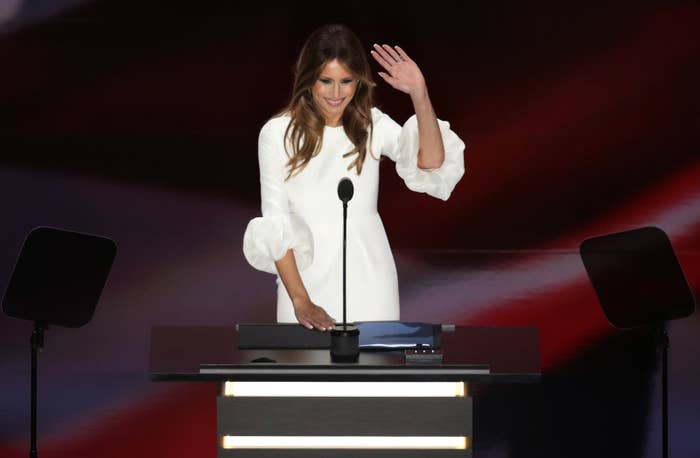 A couple delegates winced and described the story as "unfortunate," but for the most part Republicans in Cleveland have written the story off as media fluff.
"It's a great distraction. I think some of the more liberal media outlets, they want to take attention away from what's going on at the Republican convention," said Nick Cocca of Ohio.
Overwhelmingly, people walking around the streets of Cleveland shrugged off the supposed controversy. They largely praised Melania Trump as beautiful and eloquent, and noted she's not the nominee.
"I think it's just a diversion to try to take the focus off of the real issues of Hillary and what she's done," said Ruth, a Cleveland native.
Her friend Barb from Virginia echoed the same sentiment: "I'm more concerned about Hillary and the stuff she's getting away with."
Several people rejected the idea that the speech was plagiarized. But even those that did concede there were striking similarities were quick to point out that a speechwriter would be responsible.
"When you are the spouse of a candidate the message is always the same: He loves America, he's hard working. You can only say that in so many words," said one woman who didn't want to give her name.
"If you think that she wrote that speech, you're delusional."
The controversy dominated the media cycle Tuesday. But Edwin Taylor, a delegate from South Carolina said he hadn't even heard anyone talking about it.
Mary O'Donnell of Ohio described herself as a political junkie and said the number of similarities in the speech did bother her. But she laughed off the idea that the speech might change anyone's vote.
"There's a lot of similarities. But she did a great job up there and she's not the candidate," she said.
"Is that going to change anything? No."