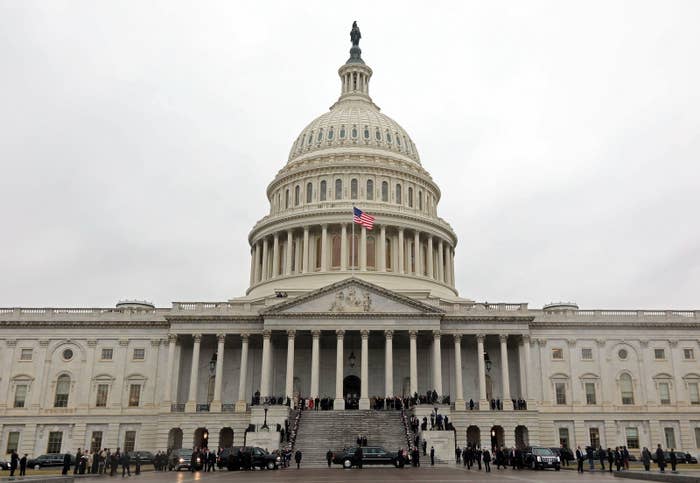 WASHINGTON — Members of the House Freedom Caucus are taking a hard line on Obamacare repeal and say they will not support a compromise plan put forward by Senate Republicans that would keep some of the health care law's popular provisions.
The Freedom Caucus, made up of about three-dozen far-right House members, voted unanimously Monday to refuse to support anything less than what was contained in a 2015 Affordable Care Act repeal bill.
That bill repealed the individual mandate, Medicaid expansion, and the ACA marketplaces. Asked if this plan includes cutting funding to Planned Parenthood, Rep. Jim Jordan replied "heck yeah."
In short, it's a wildly different approach than the one proposed by a group of moderate Republicans in the Senate. Whereas the Senate plan would preserve key splanks of Obamacare in an attempt to win support from Democrats, the Freedom Caucus has ruled out preserving any of the health care law's major policies.
The Freedom Caucus's plan would involve repealing large chunks of the ACA through the reconciliation process, thus avoiding a Senate filibuster — in other words, they could do this without a single Democratic vote. With that done, the plan would put a gun to the head of Congress to force Democrats and Republicans to come up with a replacement plan, which would require Democratic support in the Senate, before repeal takes effect.
"If we're just going to replace Obamacare with Obamacare light, that begs the question: were we just against Obamacare because it was proposed by Democrat?" asked Freedom Caucus member Rep. Raul Labrador.
"And if that's our position, we're very hypocritical."

But while the 2015 bill the Freedom Caucus is planning to push again passed through both the House and the Senate, it did so at a time that President Obama was certain to veto it. Republicans from states that risk losing Medicaid expansion subsidies may not vote the same way without that safeguard.
"From my perspective that was a negotiating tool with the White House to recognize that premiums had increased dramatically," Rep. Leonard Lance, a New Jersey Republican, said of Medicaid expansion repeal.

"I don't think states should be penalized for expanding Medicaid," he added.
Meanwhile, there is still no Republican agreement on a replacement plan, let alone bipartisan agreement. The Freedom Caucus says issues like Medicaid expansion will be addressed in their Obamacare replacement plan, but that plan is still being developed.
House Speaker Paul Ryan said Tuesday that leadership would take a "step-by-step" approach to repeal and replacement, "so people can see the changes that we are making so that they can see how they will help." Ryan also said they would work with Health and Human Services Secretary Tom Price to ensure "a stable transition where no one has the rug pulled out from under them while we work toward a better, more stable system."
President Donald Trump, meanwhile, has still not released a comprehensive plan. But on Tuesday morning Vice President Mike Pence met with the moderate House Republican "Tuesday Group," who are urging a more cautious approach.
"He [Pence] reaffirmed what the president has said publicly, they're committed to repealing and replacing simultaneously," said Tuesday Group co-chair Tom MacArthur.
"I urged him to please hold the line on that. That, I think, is the only way to get this done right."
— Alexis Levinson contributed reporting to this story.