A New Republican Immigration Bill Would Give Citizenship To DREAMers While Funding Trump's Wall
It's the party's best shot at passing an immigration bill, but still faces long odds of becoming law.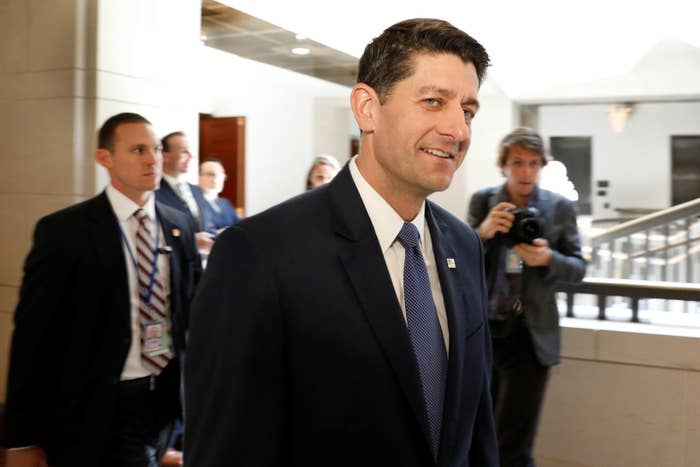 A new immigration bill from House Republicans would provide DREAMers a path to citizenship tied to $25 billion in funding for Trump's promised Mexican border wall.
The bill is the result of negotiations between different factions of the House Republican conference, and will likely get a vote next week. The bill represents the party's first true attempt to pass an immigration bill through the House under Speaker Paul Ryan, but it is still far from certain it will have enough votes.
Some conservatives will refuse to vote for the bill because it does not contain policies such as mandating that employers check the citizenship of their employees. Democrats were left out of the negotiations entirely, and none are expected to support it.
The bill would provide a six-year path to citizenship for DREAMers, who were brought to the US as children and lived here in legal limbo most of their lives. The bill sets stricter barriers around who can qualify compared to some other proposals. To be eligible, someone must have arrived in the US between 2007 and 2012 and been younger than 16 at the time. Other bills broadened this to under the age of 18.
The bill also authorizes construction of a wall along the Mexican border and approves the $25 billion the Trump administration had sought in border security funding.
The bill also:
• Raises the bar for people seeking asylum to a higher burden of proof.
• Gives Immigration and Customs Enforcement more authority to keep "dangerous criminal aliens" detained.
• Requires proof that a child who is coming to the US on a Special Immigrant Juvenile visa to be reunified with one parent, rather than both parents, cannot reunify with both parents due to abuse, neglect, or abandonment.
• Eliminates the diversity visa lottery, which brings in 55,000 people per year from countries that traditionally have low immigration rates to America. Those visa slots will be reallocated to a new merit-based program.
• Creates this merit-based system, wherein immigrants can move up the line by getting prioritization "points" for hitting higher education levels, English language proficiency, military service, and continued employment.
• Gives the secretary of Homeland Security broad new powers to turn away refugees without hearing their asylum claim if they are deemed to have come from a "safe third country." This applies when refugees first move from their home country to another nation, then come to the US. The US already has negotiated this arrangement with certain countries, such as Canada. But the bill would give the secretary the power to send refugees back to practically anywhere in the world, regardless of whether there is a bilateral agreement in place.
Ryan said the so-called compromise bill will go to a floor vote next week along with a more conservative immigration bill that even supporters concede has no chance of passing.

If the compromise bill does pass the House, it would then have to pass the Senate with the support of at least 10 Democrats. That will be a tall order given that the bill contains policies that are toxic to Democrats, such as funding the border wall and eliminating the diversity visa lottery program.