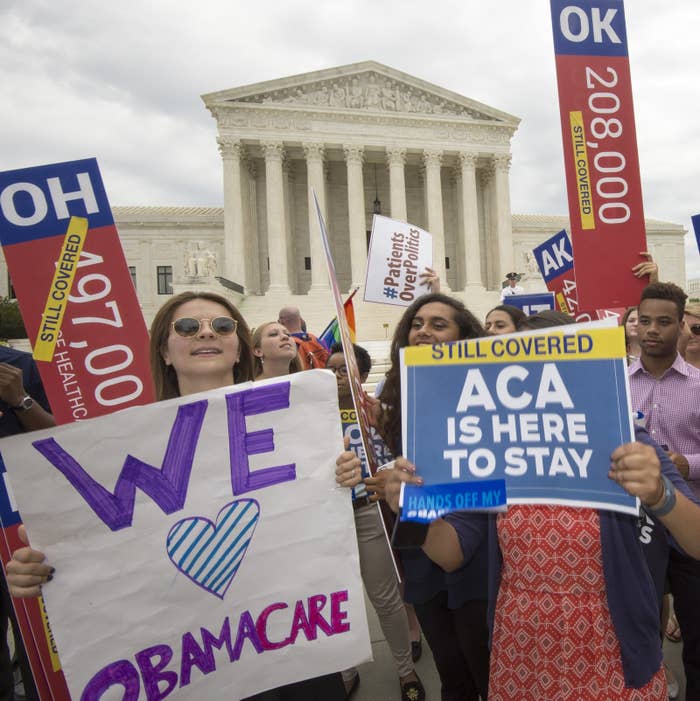 WASHINGTON — A coalition of groups that has spent years defending Obamacare is gearing back up for the repeal battle, and they have their sights set on at least 10 Republican senators.
Protect Our Care, a coalition of over a dozen progressive organizations, was a key player in defending the Affordable Care Act, commonly known as Obamacare, during its challenge at the Supreme Court. With Republicans controlling all three branches of government, they have vowed to make Obamacare repeal a top priority in 2017. But Protect Our Care is betting that many Republicans will have second thoughts when confronted with the impacts repealing the ACA may have on their constituents.
The group won't name which Senators, or say how much money is going into the effort. The Alliance for Healthcare Security, a separate entity that contains some of the same member organizations, has started seven-figure ad buy in the states of Alaska, Arizona, Maine, Nevada, and Tennessee.
Republicans currently hold 52 of 100 Senate seats, and just a few Republican Senators could cause major problems for repealers.
Maine Republican Senator Susan Collins has already said she is concerned about ACA repeal unless a suitable replacement plan is in place.
"They now own the system now. The disarray and chaos that will occur (following repeal) is on their watch," said Ron Pollack, executive director of coalition member Families USA.
The coalition warns of tens of millions of people losing insurance if the ACA is repealed, plus rising prices for those who remain insured.
Trump and Republican leaders have repeatedly promised a "repeal and replace" strategy for the ACA. But at this junction there's no clear idea of what the replacement plan will look like.
Republican governors are split on the issue. There are 18 states with Republican governors that accepted federal subsidies to expand Medicaid. They want those subsidies continued, while another 15 Republican-held states refused them.
Coalition members say any replacement plan similar to those pushed by House Speaker Paul Ryan or incoming HHS secretary Tom Price would cause damage to millions of Americans, in particular people with low incomes.
"This seems to be like a train that is running on its own without any understanding of the full implications of how this could explode in people's faces," said Rob Restuccia, executive director of Community Catalyst.
The first battle is an expected repeal vote in January or February. The legislation is widely expected among Republicans and Democrats to include phase-out timelines years into the future to give Congress time to craft a replacement plan. That means the full battle to replace Obamacare will play out over three or four years, if not beyond.
"It's totally irresponsible to repeal the Affordable Care Act without identifying what will replace it," said Pollack. "It's like the joke about how the right hand doesn't know what the far-right hand is doing."
The coalition members include the Center for American Progress, Center on Budget and Policy Priorities, Community Catalyst, Doctors for America, Families USA, NAACP, National Health Law Program, National Latina Institute for Reproductive Health, National Partnership for Women & Families, National Urban League, National Women's Law Center, SEIU, Voices for Progress, and Young Invincibles.