A Deal To Help DREAMers Looks As Far Away As Ever. Here's Where Things Stand.
After a chaotic few weeks where moderate Republicans revived the immigration debate, it now looks as likely as ever that Congress will fail to act before the last legal protections for DACA recipients run out.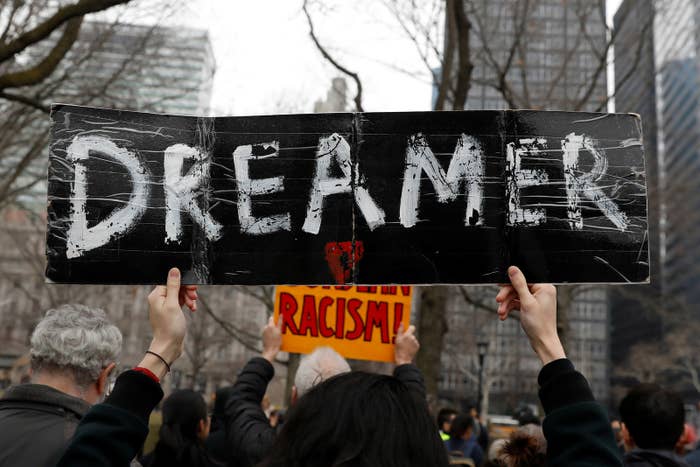 Republicans have killed the push for a new bipartisan immigration bill in Congress, leaving an unclear path to any reprieve for DREAMers.
After House Speaker Paul Ryan barely managed to suppress a push from within his own party for a possible bipartisan fix to the DACA crisis, Republicans have now turned back to negotiating their own bill.
Hanging in the balance is the fate of hundreds of thousands (or millions, depending on who gets counted) of DACA recipients and those in similar circumstances, who were brought to the country as children and now live in legal limbo. A large majority of Americans believe they should be allowed to stay. To make this happen, Republicans will have to pull off a practical miracle of writing a bill that can be supported by the bulk of the ultra-conservative House Freedom Caucus and also at least 10 Democratic senators.
The two main dueling factions of the Republican conference reached a deal on an immigration bill this week, then both emerged to say they won't support the deal until they see what's in it.
Freedom Caucus chair Mark Meadows said he doesn't expect text of the bill for a week, and he won't make a decision until he sees that text. "I think the details are very ambiguous at this point," said Meadows.
Asked how concrete the deal was between the Freedom Caucus and moderates, Meadows said, "the concrete has been poured in the forms. It has yet to set ... You can still make handprints in it, you can still write your name in it, but it is far from set."
The plan includes an 8-year path to citizenship for DREAMers if they meet conditions such as avoiding a criminal record. It also includes funding for a US–Mexico border wall. Not included is mandatory E-verify, a controversial policy requiring all employers to check the immigration status of their workers. That will cost some conservative votes.
Ryan has committed to putting the compromise bill to a vote next week. If it fails to reach 218 Republican votes — no Democrats are expected to support it — there will likely be no other attempt at legislation before the midterms this fall. That could mean DREAMers will face the prospect of mass deportations within a year. DACA technically expired in March, and DREAMers are currently protected by court injunctions. Challenges to DACA and to the Trump administration's efforts to end DACA continue in court.
Republican moderates had thrown the House into turmoil in recent weeks as they took their shot at a solution. The plan was to work with Democrats in the House to pass a bipartisan bill, get President Trump on board, then apply enough pressure that Senate Majority Leader Mitch McConnell puts it to a vote in the Senate where it passes with Democratic support.
It was always a long shot, given that Trump had previously torpedoed bipartisan efforts at a DACA bill and McConnell has no plans to go through that ordeal again. In the end, it never made it out of the gate. And even if either of the new bills happens to make it out of the House, it remains unlikely McConnell would take them up.
The moderates threatened to override the authority of House Speaker Paul Ryan via what's known as a discharge petition, which would have forced a series of immigration bills to the House floor for votes.
Every Democrat and two dozen Republicans had signed the petition. But Ryan and his whip team managed to prevent the final two signatures needed to get to the majority mark of 218. Those last two signatures were widely expected to be Reps. Dennis Ross and Dan Newhouse. But after conferring with both Ryan and moderates on the House floor hours before the Tuesday evening deadline, neither man signed.
Asked whether Ryan was able to convince the members not to sign the petition at the 11th hour, petition author Rep. Jeff Denham said, "leadership has made promises to some members."
Moderates say they are still holding out hope that they can pass a bill through the House that is viable in the Senate and could be signed by Trump.
"It's not my ideal place to be. My ideal option would be a bipartisan bill in the House. But it's the cards that we were dealt and we're trying to make good use of these cards," said Rep. Mario Díaz-Balart.