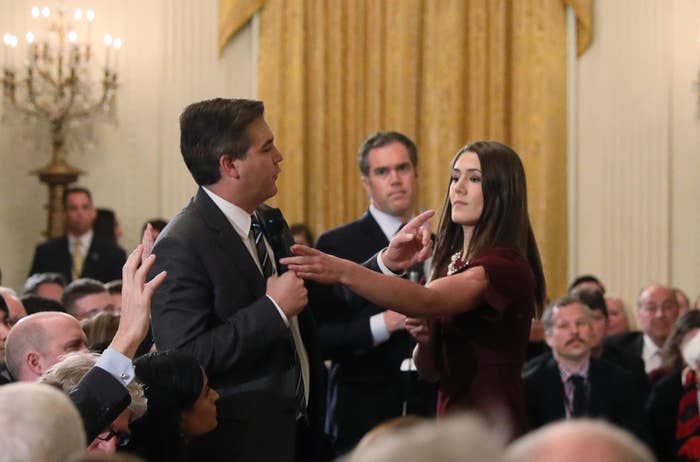 WASHINGTON — A federal judge on Friday ordered the White House to reinstate CNN chief White House correspondent Jim Acosta's full press credentials, which were revoked last week after a tense exchange between the reporter and President Donald Trump.
The ruling is a big win for the network in a case that represented a significant escalation of the bad blood between CNN and Trump, who has repeatedly and publicly singled out the network for criticism, calling it "fake news."
US District Judge Timothy Kelly announced his decision before a packed courtroom Friday morning. He heard arguments Nov. 13 and originally said he'd reveal his decision in court the next day, but later delayed the hearing without explanation.
Kelly's decision doesn't automatically end the case. He ruled on CNN's request for an immediate, temporary restraining order reinstating Acosta's credentials while the litigation goes forward. Kelly will now set a schedule for briefing on CNN's request for a more permanent ruling — a preliminary injunction — in the coming weeks.
The White House said Friday that they would "temporarily reinstate" Acosta's hard pass in line with the ruling. "Today, the court made clear that there is no absolute First Amendment right to access the White House," White House press secretary Sarah Huckabee Sanders said in a statement. "We will also further develop rules and processes to ensure fair and orderly press conferences in the future. There must be decorum at the White House."
Justice Department spokesperson Kelly Laco said in a statement that the government looks "forward to continuing to defend the White House's lawful actions."
"We are disappointed with the district court's decision. The President has broad authority to regulate access to the White House, including to ensure fair and orderly White House events and press conferences," Laco said.
While the judge did say Friday that no one has an absolute First Amendment right to have access to the White House, he then said when the president invites in some reporters but excludes others the First Amendment comes into play. However, because Kelly found that Acosta would likely be able to prove his Fifth Amendment rights to due process were violated, the judge did not move on to consider his First Amendment question of whether a single reporter can be barred from the White House.
Kelly found that Acosta was likely to succeed on Fifth Amendment grounds, saying Acosta had no meaningful opportunity to rebut the claims against him or challenge the government's actions.
"Indeed whatever process occurred within the government is still so shrouded in mystery that the government could not tell me at oral argument who made the initial decision to revoke Mr. Acosta's press pass," said Kelly.
The White House did provide written justification for revoking Acosta's press pass after the fact, but Kelly ruled "these belated efforts were hardly sufficient to satisfy due process."
The White House had argued it has the right to reject Acosta's access because he disrupted a press conference. But Kelly found that the harm in sustaining a violation of Acosta's due process rights outweighs the government's interest in orderly and respectful press conferences. The judge also found that Acosta was likely to suffer irreparable harm if his press pass was not restored.
After the ruling, Acosta said outside of the courthouse, "Let's get back to work."

Acosta's hard pass was revoked Nov. 7 after he refused to give up the microphone during a White House press conference with Trump. Acosta was trying to ask the president about the Russia investigation, and a White House intern went up to Acosta to take the microphone and move on to another reporter.

Acosta wouldn't sit down, however, and briefly made contact with the intern's arm as he tried to dodge her efforts to take the microphone from him. In a statement explaining the decision to revoke his hard pass, Sanders accused Acosta of "placing hands on a young woman just trying to do her job as a White House intern." The White House later dropped that as a rationale for the decision and focused on its contention that he had disrupted the press conference and been rude.
Trump frequently attacks the media, but he's especially focused his ire on CNN. Last year, Trump shared a tweet depicting a train with "TRUMP" written on the side hitting a person with the CNN logo over their body; he later deleted it.
CNN also argued that Acosta's First Amendment rights were violated because the administration's actions were based on objections to the "content" and "viewpoint" of his speech. During Thursday's hearing, CNN's lawyers pointed to Trump's history of verbal attacks. But the judge did not consider that argument, after ruling in favor of Acosta on Fifth Amendment grounds.
In court on Thursday, Justice Department official James Burnham said that the president had complete discretion to decide what access reporters had to the White House. Kelly asked if the White House could revoke a reporter's credentials because they didn't like their coverage. Burnham said yes. Burnham said the president could exclude all reporters from the White House and that would be within his lawful authority. Kelly asked if it mattered that the White House didn't have standards in writing. Burnham said no.
CNN was backed by amicus, or "friend of court," briefs filed by the White House Correspondents' Association and the Reporters Committee for Freedom of the Press, and supported by a coalition of other media organizations (including BuzzFeed News).
Lawyers for CNN and the government said they will spend the weekend consulting with their clients and return to court early next week with proposals to map out the next steps of the legal fight.
UPDATE
This story was updated with comment from the Justice Department.
UPDATE
This story was updated to include a statement from the White House.