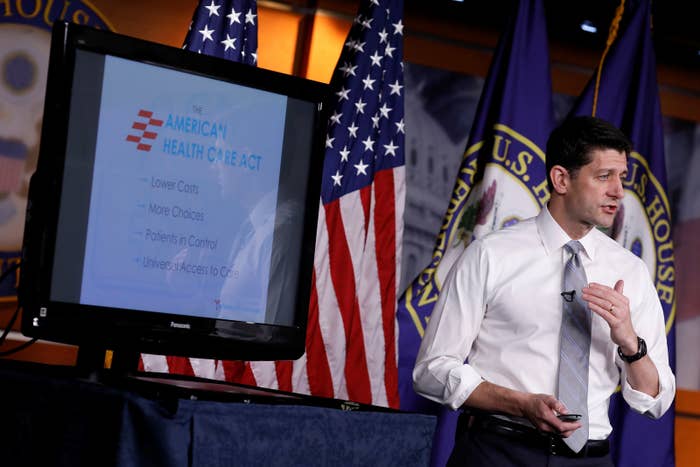 WASHINGTON — A proposed tax break on health insurance executive salaries included in the Republican health care bill would save top insurers tens of millions of dollars annually, according to an analysis by the Center for American Progress Action Fund.

The left-leaning group calculates that five top insurance companies would save $63 million combined from the tax change based on 2015 numbers, or an average of $12.6 million each.
President Obama's Affordable Care Act placed a deductions cap on the pay of health insurance executives. Whereas typically companies can deduct full employee salaries as a business expense, Obamacare capped the deductions for health insurance executive salaries at $500,000.
The American Health Care Act, which Republicans are now moving through Congress, would remove this cap and allow insurance companies to deduct the full amount.
American Progress went through public disclosures of compensation for the executives of the largest health insurance companies to come up with their figure. While the savings are small compared to the overall size of the companies, in an industry where CEOS can make in the range of $15 million per year the cumulative tax break can be substantial.
UnitedHealth Group CEO Stephen Hemsley made $14.5 million in total compensation in 2015 through a combination of salary, stock awards and other means, for example. American Progress calculates UnitedHealth's tax hit for those payments would fall from $4.9 million to $173,000.
When other executives are factored in, the group calculates UnitedHealth's total savings would reach $15.5 million.
"The fact that TrumpCare would provide a massive tax break for healthcare CEOs -- while causing premiums to skyrocket and millions of Americans to lose their insurance – is a slap in the face to working families," said American Progress Communications Director Chris Hayden.

Republicans say removing the cap will fairly apply the same tax rules to health insurance companies as everyone else.
"Unlike Obamacare, our legislation doesn't include policies that discriminate against specific industries," said a Republican aide.

Based on 2015 payments, American Progress's calculates the savings for the other major health insurance providers as:
UnitedHealth — $15.5 million
Aetna — $14.7 million

Cigna — $10.4 million

Humana — $12.8 million
Anthem — $9.7 million
All calculations assume a marginal tax rate of 35 percent.
The GOP health care bill is expected to go before the House budget committee this week. With opponents lining up on both the left and right, its passage seems far from certain.