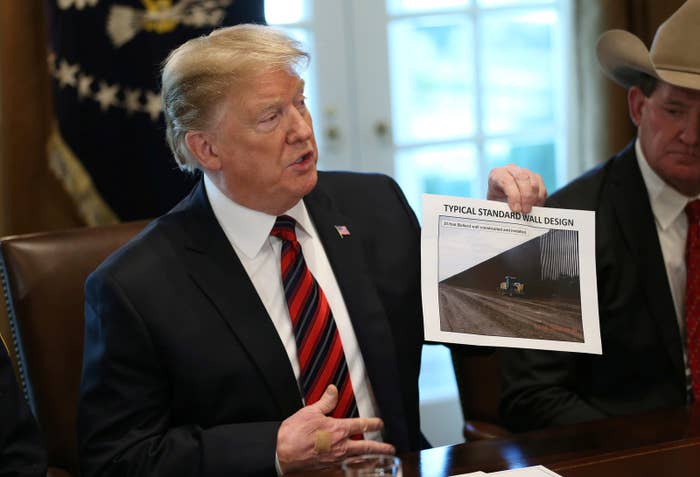 WASHINGTON — The ongoing government shutdown became the longest in United States history Saturday, and there is no end to the standoff in sight.
Saturday marks the 22nd day of the partial shutdown, breaking the previous record of 21 days set during Bill Clinton's presidency between December 1995 and January 1996. That shutdown affected only a third as many workers.
During the history-making moment, Congress was empty. Lawmakers had returned home for the weekend. President Donald Trump and Democratic leaders remain as divided as ever over funding for a southern border wall and spent Friday taking shots at each other from a distance.
"Let's give [Trump] time to think it through," said House Speaker Nancy Pelosi Friday. "Oh, 'think'? Did I say 'think'? Let's see what happens next."
Friday was supposed to be payday for government workers. Around 800,000 people — roughly half of whom are furloughed, half of whom are deemed essential and must work without pay — missed their first paycheck since the shutdown began.
Cracks are already starting to show. TSA workers are calling in sick in droves. Low-wage subcontractors are losing wages they'll likely never get back. Even the organization tasked with stabilizing the spike in asylum claims at the southern border has been largely shut down.
Now the head of the union that represents federal prison guards is warning that guards are increasingly fearful of wholesale uprisings from prisoners. The Federal Bureau of Prisons is providing only IOUs to contractors in exchange for food and supplies, said Eric Young, president of the American Federation of Government Employees' Council of Prison Locals C-33.
While vendors have continued to serve prisons so far, Young said that many rural suppliers are smaller mom-and-pop businesses and their workers are terrified about what will happen if those businesses stop providing food without any payment.
"It's going to be a national crisis. Inmates don't play about their food," said Young. "They will burn up every fucking prison in America. It's a serious situation."
Despite this, lawmakers have not treated this situation with the same urgency as past shutdowns. This is in part because it is not a full government shutdown. Several departments had their funding approved earlier in 2018, before the wall disagreement ground talks to a halt. Still, nine of 15 federal departments are currently without funding.
The core disagreement between Trump and Democrats is whether to spend about $5 billion in 2019 on border wall funding. It is a decision that has major political ramifications, if not financial ones — the contested amount is about one-tenth of one percent of the US government's $4 trillion annual budget.
Trump has been hinting that he would declare a national state of emergency to fund the wall without congressional approval. But he told reporters ahead of a meeting Friday afternoon that he was not planning to declare a national emergency anytime soon.

"What we're not looking to do right now is national emergency," he said.
"It's the easy way out."
Trump insisted that although he had the right to do it legally, he didn't want to do it "so fast" and called on Congress "to do its job." Legal scholars say it's unclear if Trump could legally use national emergency powers to build the wall, and expect any such effort to be challenged in court.
His comments on Friday come as he continues his PR efforts to build support for the wall, sell the government shutdown, and shift blame on Democrats rather than negotiate a deal to reopen the government.
In recent days, he's held a Rose Garden press conference, given a primetime Oval Office address, made a trip to the border, and hosted roundtable discussions on border security.
Those close to the administration told BuzzFeed News they remain unsure of how or when the shutdown will end, but they think Democrats won't entirely be shielded from the political repercussions the longer the shutdown drags on.
Virginia Sen. Tim Kaine threatened to keep the Senate open through the evening Thursday. In exchange for his cooperation, Mitch McConnell agreed to passage of a bill that guarantees federal workers will receive back pay when the shutdown ends. In the past, Congress had approved back pay after shutdowns ended, but workers had no guarantee this would happen. The bill passed both chambers of Congress, and Trump said he would sign it into law.
But no one knows when that relief will come as the shutdown heads into its fourth week with no conclusion seeming imminent. On the bright side, the shutdown did trigger raises for senior administration officials.