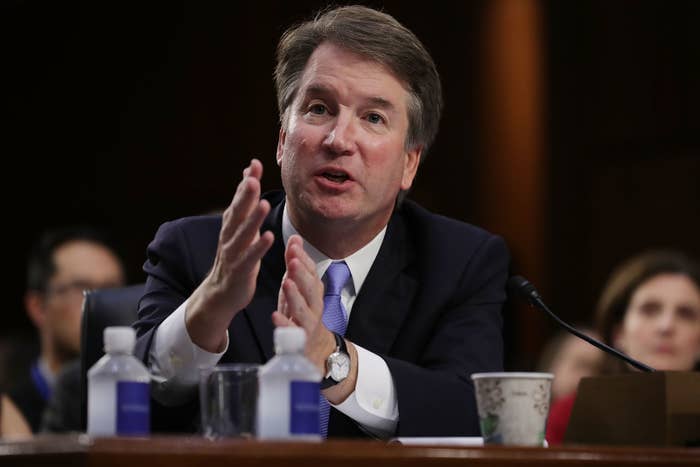 The woman accusing Supreme Court nominee Brett Kavanaugh of sexual assault wants the FBI to investigate before she testifies before Congress, her lawyers wrote in a letter to Senate Judiciary Committee Chair Chuck Grassley on Tuesday.
Christine Blasey Ford had been invited to speak before the Judiciary Committee next Monday. In the letter to Grassley Tuesday, her lawyers called for "a full investigation by law enforcement officials to ensure facts and witnesses are assessed in a non-partisan manner," noting that the hearing "would include interrogation by Senators who appear to have made up their minds that she is 'mistaken' and 'mixed up.'"
"While Dr. Ford's life was being turned upside down, you and your staff scheduled a public hearing for her to testify at the same table as Judge Kavanaugh in front of two dozen U.S. Senators on national television to relive this traumatic and harrowing incident. … While no sexual assault survivor should be subjected to such an ordeal, Dr. Ford wants to cooperate with the Committee and with law enforcement officials," Ford's lawyers wrote.
Ford's lawyers, Debra Katz and Lisa Banks, said in the letter that an FBI investigation should be the "first step" before a hearing, but did not indicate if she would appear before the committee if the FBI declines.
Grassley said in statement that while Ford "deserves to be heard," there would not be a further delay because "nothing the FBI or any other investigator does would have any bearing on what Dr. Ford tells the committee." Additionally, he said the committee "offered her a public or a private hearing as well as staff-led interviews, whichever makes her most comfortable."
Grassley's office said there were no plans to have Ford sit at the same table as Kavanaugh and they had offered multiple dates.
There is so far no criminal investigation by the FBI. The Justice Department, which oversees the FBI, said Monday the bureau would not investigate Ford's allegation, citing precedent. "The allegation does not involve any potential federal crime. The FBI's role in such matters is to provide information for the use of the decision makers," a Justice Department spokesperson said at the time.
Asked for comment on Ford's request, the FBI said Wednesday morning they had nothing to add beyond DOJ's Monday statement.
"The FBI does not do investigations like this," Sen. Orrin Hatch, who sits on the committee, wrote on Twitter Tuesday night. "We should proceed as planed."
Fellow Republican Sen. Bob Corker also tweeted that if Ford and Kavanaugh cannot or will not testify on Monday, the committee should vote on his nomination as planned.
Sen. Lindsey Graham also pushed for a vote. "Requiring an FBI investigation of a 36 year old allegation (without specific references to time or location) before Professor Ford will appear before the Judiciary Committee is not about finding the truth, but delaying the process until after the midterm elections," he said in a statement.
Ford's lawyers said in the letter to Grassley Tuesday that though Ford has received "a stunning amount of support," she has also been the target of harassment, and Ford is willing to talk to committee leadership to sort out how she can cooperate while maintaining her own security.

Since coming forward this weekend, her lawyers said that Ford and her family have had to relocate from their home and she has received death threats, had her email hacked, and been impersonated online.
Republicans and Democrats are clashing over the scope of the investigation. Democrats want more fulsome hearings involving people potentially present during the alleged assault, which Ford says happened when she and Kavanaugh were both in high school.
Republicans are so far offering Ford and Kavanaugh the chance to testify, with staffers talking to other witnesses via phone. It was unclear Tuesday whether Ford would accept the invitation to testify.
Sen. Dianne Feinstein, the top Democrat on the Judiciary Committee, released a statement Tuesday night backing Ford.
"The decision to come forward or not come forward has always been Christine Blasey Ford's, and that includes her participation in a hearing," said Feinstein. "I agree with her 100 percent that the rushed process to hold a hearing on Monday has been unfair and is reminiscent of the treatment of Anita Hill. I also agree that we need the facts before senators — not staff or lawyers — speak to witnesses."
Ford's lawyer did not respond immediately to requests for comment.
UPDATE
This story has been updated with a statement from Sen. Chuck Grassley.