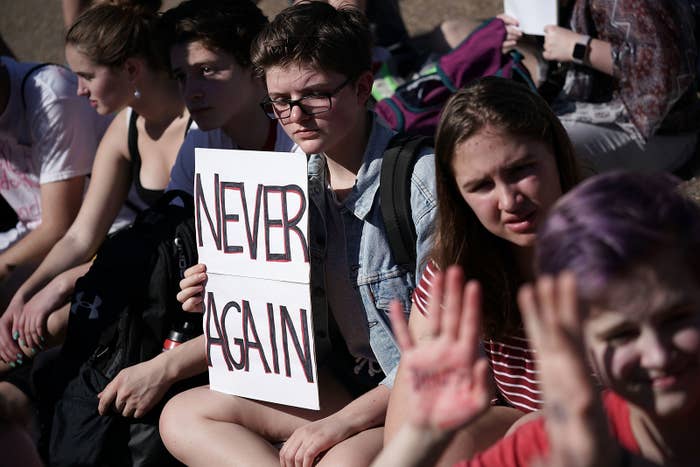 Democrats and some senior Republicans in the Senate are expecting votes on a variety of gun control proposals in the coming days.
The final decision will be up to Majority Leader Mitch McConnell, who has not said how he will proceed. But members of his leadership team say they expect an open vote process, in which both parties can offer their own legislation, as early as next week. This would open the door to vote on a series of gun control measures on the floor of the Senate, including potentially an assault rifle ban.
The details being discussed sound almost identical to the pivotal DACA vote two weeks ago, in which McConnell put forward a base bill and each party had the chance to propose two amendments. All four of them failed.
Senate Majority Whip John Cornyn, the No. 2 in Republican leadership, is among those pushing for an open amendment process.
"We've got to get started. What I can't comprehend is the idea, the possibility we might end up leaving this week without doing anything. I think that would be a big mistake," he said.
Sen. Roy Blunt, another member of Republican leadership, said he also expects an open amendment process to go forward. And Minority Leader Chuck Schumer told Democrats he anticipates the same thing at a caucus meeting Tuesday.
The DACA votes ended up coming to nothing, as no plan reached the 60-vote threshold to move forward. To prevent this exact scenario repeating, Cornyn is proposing that the so-called Fix NICS bill, which beefs up the federal criminal background check registry, be put forward as the base bill.
That bill has significant bipartisan support in the Senate; even if all amendments fail, it could pass on its own. "I don't want it to end up like DACA where we end up with nothing," said Cornyn.
Of course, anything passed by the Senate would still need to pass through the House and be signed into law by President Donald Trump. As ever, Trump's position has been hard to gauge. On Monday, he urged Republicans to push back against the National Rifle Association, saying, "we have to fight them every once in a while — that's OK."
But one of the main proposals pushed by Trump, arming some school teachers, is in line with an NRA proposal. Trump has also spoken about increasing the age requirement to purchase certain kinds of high-powered guns, changing the background check system, reopening shuttered mental health institutions, and banning bump stocks.
Sen. Chris Coons said Democrats still feel burned by Trump after his reversal on DACA. The president initially directed Congress to pass a bipartisan bill and promised to "take the heat" for signing it into law. In the end, his administration actively torpedoed a bipartisan bill in the Senate. Trump's own preferred bill failed as well, earning just three Democratic votes.
Trump is meeting with lawmakers on Wednesday to discuss gun control. Republicans also seem unsure what to expect from him. "You don't know where he's going to end up," said Arizona Sen. Jeff Flake, a Republican Trump critic.
One amendment likely to come from Democrats is to expand the background check system to make them universal when purchasing a weapon, including closing the loophole that does not require checks at gun shows. The "Fix NICS" bill that could be put forward as a starting point is a narrower measure to boost enforcement of existing background check laws, and does not expand the current system.
Democrats would then have to decide which other measure they want to put to a vote. Many have signed on to an assault weapon ban, but it would have little chance of getting to 60 votes.
The proposal that has the best chance to get to 60 is legislation banning bump stocks, devices that allow semi-automatic weapons to fire like automatic weapons. Bump stocks were used in the shooting at a Las Vegas country music concert last fall. The shooter killed 58 people and hundreds more were injured.
Banning bump stocks has had bipartisan support since the Vegas shooting, but nothing has passed. Many in Congress and Trump himself have said the White House can deal with bump stocks unilaterally through regulation.