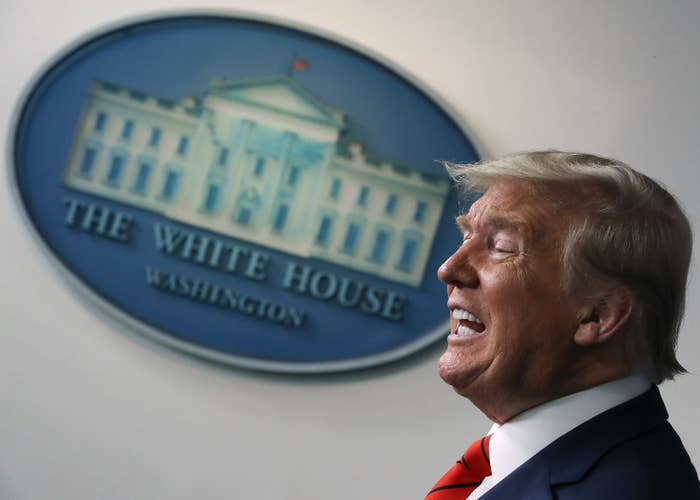 The journalists at BuzzFeed News are proud to bring you trustworthy and relevant reporting about the coronavirus. To help keep this news free, become a member and sign up for our newsletter, Outbreak Today.

WASHINGTON — The Trump administration has shelved its plan to level strict work requirements on people using food stamps, at least for the duration of the coronavirus outbreak.

As of April, 1 the White House's new rules would have required people without a disability or children to work 20 hours per week to qualify for SNAP, the Supplemental Nutrition Assistance Program (colloquially known as food stamps). As businesses are shutting down all across the country to stop the spread of COVID-19, the disease caused by the coronavirus, millions of people were projected to lose this support.
But over the weekend, US District Court Judge Beryl Howell blocked the rule changes, finding them to be "arbitrary and capricious." Then, on Wednesday, Trump signed a coronavirus response bill into law that explicitly reverses the Trump rule change — but only during the coronavirus outbreak.
The Department of Agriculture won't say whether it will continue to fight the court case.
On Wednesday, a department spokesperson told the Associated Press the department "disagrees with the court's reasoning and will appeal its decision." But on Thursday, the department changed course. It refused to say one way or another whether it would appeal the ruling, and released a statement to BuzzFeed News saying, "we are going to comply with the legislation which really pauses that during this public health emergency."
Do you have questions you want answered? You can always get in touch. And if you're someone who is seeing the impact of this firsthand, we'd also love to hear from you (you can reach out to us via one of our tip line channels).
The injunction blocked the rules changes, but Congress's bill goes much further. It authorizes $400 million for the SNAP program through September 2021 and sets up a nationwide waiver on work requirements.

"We are going to be as flexible as we can, and we have issued waivers already," said the Department of Agriculture statement. "States are out here doing what they do to keep people fed."
One concern with the legislation is that the SNAP waivers only last as long as a public health emergency is declared. That means if the administration appeals the court ruling and wins, the expanded work requirements could be leveled as soon as the coronavirus outbreak ends, even if the economy is still in recession.
"It's not going to trigger off with the economic indicators, it triggers off with the public health indicators," said Brookings Institution fellow Lauren Bauer. "It's going to be really hard for states to keep people on the SNAP rolls if they turn off that public health emergency before the economy recovers."