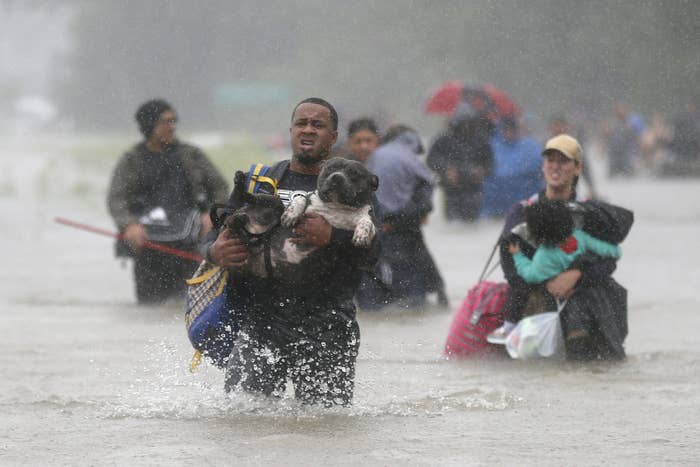 As Texas faces its fifth day of the worst floods in its history, the National Flood Insurance Program is set to expire on Sept. 30. While Congress is likely to reauthorize the program, major reforms to the debt-laden program are, for now, being put aside.
The NFIP has over 5 million policyholders insured for flooding damage and is already burdened with $24.6 billion in debt, largely from the damaging and expensive aftermath of major natural disasters like Hurricanes Katrina and Sandy. That number is sure to rise dramatically due to the mass flooding in Texas, where some places have already seen 42 inches of rain. Meanwhile, there are complaints that policies are unaffordable as a tiny number of homes rack up huge bills from repeat claims.
Both Republicans and Democrats in Congress agree the insurance program needs major reforms, and several competing proposals have been floated across the House and Senate. But Senate Banking Committee staff told BuzzFeed News that dealing with the fallout from Harvey is pushing back those discussions.
"There really isn't any path that's ahead of the other right now. There's a lot of discussion right now, but they've been kind of put on the backburner," a Republican staffer said.
According to staff, the plan now is to pass a short-term reauthorization to keep the program funded for at least a few more months, then work out the major changes. Multiple Senate staffers said they believed the issues are too complex to fast-track reforms, despite the worsening situation in Texas.
But on the House side, Texas Rep. and Financial Services Committee Chair Jeb Hensarling is pushing Congress to move immediately to pass his committee's reform plan, which would raise premiums and shrink the scope of the insurance program while extending it for five years.
Hensarling argues that because there is not enough money in the insurance program to pay out claims, taxpayer bailouts become inevitable and private insurers cannot provide competition. "The devastation caused by Hurricane Harvey is a clear example of why Congress should pass our committee's bill as soon as possible," Hensarling said in a statement.
Speaker Paul Ryan's office wouldn't say whether a decision has been made to pursue full reform or short-term reauthorization. "Details are still being worked through, but the flood insurance program will be reauthorized," spokeswoman Ashlee Strong said.
Before Harvey struck, talks on overhauling the program had already stalled in both chambers. That's primarily due to major differences among lawmakers in how to fix it and other hot-button items taking priority, such as repeal of Obamacare.
With Congress facing a crowded agenda once session restarts in September due to budget and debt ceiling talks, sources tracking the insurance program's fate were not anticipating much motion on the issue. Now it appears Harvey is ensuring these discussions will be delayed.
"I can imagine any movement occurring is a lot harder now," Robert Verchick, an environmental lawyer at Loyola University New Orleans, told BuzzFeed News, because Congress will likely soon debate a massive relief package for the thousands of Harvey victims in the Gulf Coast.
"It's a huge footprint of damage in Texas," Verchick said. Pictures and videos reveal entire neighborhoods under water in Houston and the surrounding region. And the number of displaced people seeking shelter across Texas keeps going up, reaching about 30,000 by Tuesday. He later added: "People who don't have a lot of savings are going to need some kind of help along the way and they are going to rely on the federal government, I'm sure, for that."
Only about 20% of homeowners in Texas have flood insurance, Mark Hanna, a spokesman for the Insurance Council of Texas, told BuzzFeed News. There are about a quarter of a million flood insurance policies taken out in the Houston area, he added.
For the people who do have insurance, coverage mostly comes from the federal program. But the coverage may not be enough for some folks. Take homeowners, for example, "they are going to get just pennies on the dollar on the payout because the flood insurance is not going to pay them everything they need to build back," said Verchick. "There's a $250,000 cap on it anyway for people with more substantial homes … and damage can add up fast."
Even still, Verchick and others say this storm could cause NFIP to surpass its current borrowing limit of $30 billion, requiring a new appropriation from Congress to access any money above that limit from the US Treasury.
"I would like to think that raises concern about the long-term stability of the program and increases interest it," R.J. Lehmann, cofounder of the libertarian free market group R-Street, told BuzzFeed News. R-Street has called on Congress to address NFIP's problems in Harvey's wake.
The high price tag expected from Harvey-triggered claims highlights some of the basic problems of the federal flood insurance program: Current policy rates do not accurately reflect flood risk, the flood maps used by the program are outdated, and not enough people are covered by the program, among other reasons.
One major hurdle to fixing NFIP, however, is that it will be expensive. Forgiving the NFIP's debt would essentially equate to a bailout of predominantly coastal states paid in part by taxpayers in landlocked areas.
There are multiple proposals for how to reform the program. Senators Kirsten Gillibrand (D-NY), Bill Cassidy (R-LA), and Shelley Moore Capito (R-WR) have put forward a reform bill. A bipartisan group of Senators on the Banking Committee have also put out a proposal. Banking Committee Chairman Mike Crapo (R-ID) and ranking Democrat Sherrod Brown (D-OH) have been in talks and will quite possibly come up with their own plan.
Meanwhile, several other proposals to overhaul NFIP have already passed the House Financial Services Committee and await a vote on the House floor.
Related Stories:
Here's Why We Didn't See Harvey's Torrential Rain Coming Sooner
Trump Just Struck Down An Obama-Era Climate Rule That Protected Against Flooding