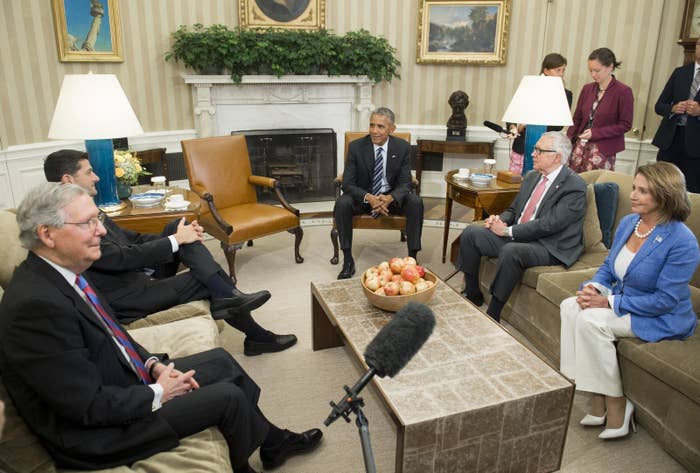 WASHINGTON — Congress has passed a short-term measure to fund the government, averting a shutdown with relatively low-drama deal-making this week, ensuring vulnerable incumbents will be able to go campaign back home.
The House passed the funding bill 342-85 on Wednesday before adjourning until after the Nov. 8 election. The Senate approved it 72–26 earlier in the day before also leaving town.
The measure, which funds the government at existing levels through Dec. 9, also includes $1.1 billion to combat the Zika virus and provides flood relief for Louisiana, Texas, Maryland, and West Virginia. It doesn't include some measures that Democrats had previously opposed, including a proposal attached to Zika funding that would target Planned Parenthood.
With government funding running out Sept. 30, the bill had been stalled since last week as Democrats refused to vote for a continuing resolution that didn't include funding for the water contamination crisis in Flint, Michigan.
Republicans accused them of playing "election politics" and dragging out negotiations to keep vulnerable GOP incumbents from campaigning. But on Tuesday night, Speaker Paul Ryan and Minority Leader Nancy Pelosi struck a deal to include $170 million in funding for Flint in a separate water infrastructure bill, allowing enough Democratic support to pass the continuing resolution on Wednesday.
"We did about 48 hours of work in 12 hours yesterday," said Democratic Rep. Dan Kildee, who represents Flint.

Kildee didn't get everything he wanted. He was hoping for $170 million to be specifically allocated to Flint. The Senate wording only advocates $120 million to Flint, with another $100 million going to a more general infrastructure fund.
"To be clear, it's not the path ultimately that I would have chosen. But I can't come here just to make rhetorical points. I've got to get this help to Flint," he said.
Although the continuing resolution ultimately made it through, not everyone is celebrating.
The funding bill still includes a campaign finance proposal that many Democrats oppose. The measure would keep the Securities and Exchange Commission from finalizing a rule requiring publicly traded companies to disclose their political spending.
Advocacy groups are already pushing for the SEC language to be excluded from the funding bill in December. "It is unfortunate that one price of avoiding a government shutdown was the inclusion of a poison-pill rider that will help to keep corporate political spending secret," said Lisa Gilbert, co-chair of the Corporate Reform Coalition. "It must be taken out of the final government funding package to be negotiated later in the year."
Sen. Ted Cruz was one of 14 Senate Republicans to vote against the measure. Cruz opposed it because he had been pushing for the inclusion of a provision that would block the US from ceding control of an international internet oversight body, arguing that the transfer would allow other countries such as China and Russia to censor free speech online.
"Glaringly absent from this legislation is any action by Congress to stop President Obama's internet giveaway," Cruz said in a statement Wednesday. "Like Jimmy Carter gave away the Panama Canal, Obama is giving away the internet."
Conservatives in the House and influential outside groups also opposed the short-term bill.
The House Freedom Caucus saw their push for a longer-term spending bill come to nothing. North Carolina Rep. Mark Meadows made a last ditch amendment to extend the CR for 40 days but it failed. He predicted that outcome hours earlier.
"I think everybody is anxious to get home," he said.
And Club for Growth, which urged its members to vote no, said in a statement that short-term funding bills "represent a dereliction of duty on behalf of Congress."
"This is because there is very little debate, few (if any) opportunities to amend the language, and very little time to even read the proposal," the group said in a statement, adding that this particular one was "even worse."
"This deal also extends government funding only into a lame duck session of Congress, providing ample opportunity for more unaccountable mischief to occur after the November elections."