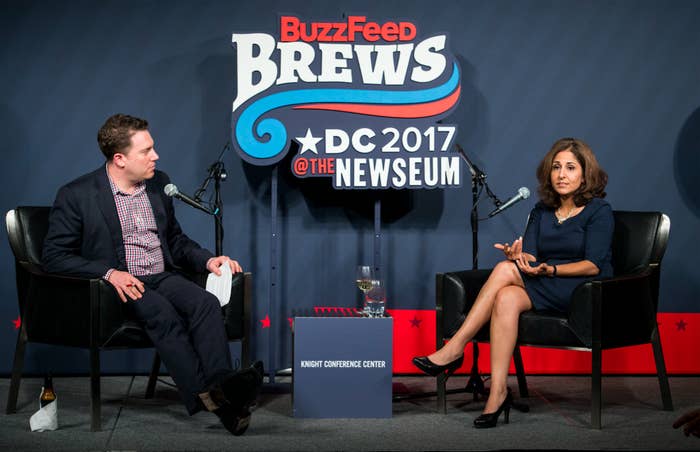 WASHINGTON — It's only a matter of time before an email hack hits you as well, Center for American Progress President Neera Tanden warned Republicans Thursday.
"That is a snake that will bite you in the
future," Tanden said to BuzzFeed News editor-in-chief Ben Smith at a BuzzFeed Brews event at the Newseum in Washington, DC.
"This is going to happen to them eventually too."
Tanden, a longtime Clinton confidante and advisor, had many of her personal emails released as part of the Wikileaks hack of Clinton campaign chairman John Podesta. In one she wrote profanely about her dislike of lawyer Lawrence Lessig. In another, she called David Brock an "unhinged soulless narcissist." In another, she expressed concern that Hillary Clinton's inability to show remorse was becoming a character problem.
She has repeatedly refused to verify the authenticity of the emails but said Thursday the ordeal has been painful.
"It's been a tough experience. My kids names are in these emails," she said. "I'd like to make a joke about it but it's honestly been a pretty horrible experience."
She said that since the leak people have reached out via social media to her 14-year-old daughter. Tanden described the email hack as "deeply disturbing" psy-ops by the Russian government against Americans.
On a wide-ranging conversation, Tanden also spoke about Trump, Israel, the minimum wage, and the state of American democracy. Here are some highlights.
On Trump: "You can't live in a world where so many people
feel like they don't have a stake and not have elections like this," said Tanden. She said that many Americans feel removed from the system and powerless, and Trump has prayed on their fears that the system is rigged against them. She said that if the underlying caused of disconnect aren't addressed, "Donald Trump won't be the end, he'll be the
beginning."
On the future of the Republican Party: Tanden said Republican leaders have been so willing to propagate anti-establishment lies among its base that the party has now gotten away from them. "A party that is the Donald Trump party is not going to be a party that lets an incumbent office holder like Paul Ryan be their leader," she said. "So they have a judgment to make after this election."
On a Clinton transition: Tanden said it would be very different transitioning from Democrat to Democrat than when Obama transitioned from George W. Bush. "We're not rooting through the justice department
to find the people who are going to undermine civil rights laws."
On minimum wage: Tanden said she expects Hillary Clinton will absolutely act to raise the federal minimum wage. She also proposed $15 per hour as what the goal should be across the country.
On the sharing economy: Tanden said that labor laws need to be revamped to accommodate the new wave of independent contractors, such as Uber and Lyft drivers. She said labor laws were written in the 1930s when independent contractors were doctors and lawyers, but that doesn't apply to today's workforce full of people who don't have benefits or the power to bargain for higher wages.