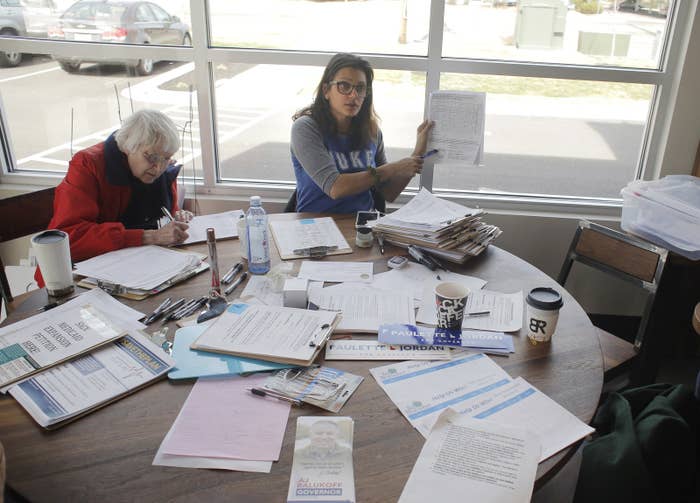 WASHINGTON — On a typical Thursday morning at the Jericho Way day shelter in Little Rock, Arkansas, in early October, a few dozen people are milling about, playing dominoes or watching The Price Is Right on the single TV in the main hall.
Every day, around 100 to 150 people come to use the shelter's services, but recently they've have been facing a new phenomenon — people are showing up saying their Medicaid cards were rejected.
Shelter director Mandy Davis says just yesterday a client tried to get her insulin prescription renewed and had no idea why it didn't work. It's because, they suspect, of the state of Arkansas's new Medicaid work requirements. Over 8,000 people have already been kicked off of Medicaid rolls and another 12,500 people are set to lose insurance by the end of the year. But because some low-income Medicaid recipients don't have fixed addresses or email, they don't know about the work requirement system or what it's cost them.
"These are people way below the margin," says Davis. "Middle-class America knows. But the poor, they didn't get the memo. They didn't get the email, they didn't get the paper. They don't know."
Before the Medicaid expansion came with the Affordable Care Act, Davis's job involved a lot of asking medical providers to help people for free. "Health care as a favor," she describes it. Often times she couldn't find doctors to fill those favors. That all changed with the Medicaid expansion, as organizations like Jericho Way were able to get their clients insured. But now, as the work requirements kick in, Davis is going back to the old days of asking for favors.
On the micro level, this is what Medicaid expansion means. People with little to no wealth are able to go and get an insulin prescription filled or a wound treated or a tooth pulled. But it's at the macro level that Medicaid is set to be transformed by the midterm elections next week, one way or the other.
Two competing forces are at work. Four states will vote directly on expanding Medicaid and a half dozen close gubernatorial races are between candidates who are either for or against expansion. The stakes are high: In Florida alone, 1.3 million people could gain health insurance through expansion. The candidates there, Republican Ron DeSantis and Democrat Andrew Gillum, are on opposite sides of the expansion argument.
Other states are moving in the opposite direction, instituting work requirements that boot people from Medicaid if they don't work, train, or volunteer for a certain number of hours every week. In 2018, these two movements have come to a head.
People in Idaho, Nebraska, and Utah will vote on ballot initiatives to expand Medicaid for the first time. Montana has a ballot initiative to keep its expansion, which is currently set to expire. Democratic candidates for governor in close races like Florida, Georgia, Kansas, and Wisconsin are running on expanding Medicaid.
But if the election swings toward Republicans, the spread of work requirements may instead be the dominant trend of the next two years. The states of Arizona, Kansas, Michigan, Maine, New Hampshire, Ohio, and South Dakota all are currently in the process of leveling work requirements and have gubernatorial races this year.
Take Maine, where outgoing Gov. Paul LePage fought for years to block Medicaid expansion. It was finally pushed through against his will via a ballot initiative, but in a final act of defiance, LePage added 20-hour-per-week work requirements. LePage is term-limited out. If a Republican succeeds him, those work requirements are likely staying in place. A Democratic successor could drop them.
In Idaho, outgoing Republican Gov. Butch Otter surprised people by endorsing the ballot measure on Medicaid expansion, which would newly insure 60,000 people. In Georgia, Democratic gubernatorial candidate Stacey Abrams is making expansion there a central plank in her campaign. If every competitive state race breaks in favor of Medicaid expansion, as many as 2.7 million new people could gain health care, according to an analysis from health consulting firm Avalere.
In Wisconsin, a close race would lead to very different systems. A win for Democratic gubernatorial candidate Tony Evers could mean Medicaid gets expanded for 140,000 people. His rival, Republican incumbent Scott Walker, opposes full expansion and plans to enact work requirements (on Wednesday the Trump administration approved Wisconsin's work requirements plan but rejected a second request to begin drug testing Medicaid recipients).
Ever since the Affordable Care Act was passed by Congress and signed into law by Barack Obama, earning it the moniker "Obamacare," Medicaid expansion has been a heated and politically tricky legacy. States had the option of taking federal funding to expand health insurance to millions of low-income people. But many state governments vowed to fight Obamacare on all fronts and chose not to expand the program.
But as the years went on, it got harder for states to say no. Expansion states were slashing uninsured rates and gaining new resources to fight the opioid epidemic. Plus Washington was footing most of the bill. As more states expanded, the Republican focus shifted to work requirements.
Work requirements are broadly popular as a political issue and are a way to trim Medicaid costs. Polls show expansion is also increasingly popular. The four states with expansion ballot initiatives were won by Trump by between 18 and 32 points.
Both of these issues can be seen in Arkansas. Its Medicaid expansion allowed more than 300,000 new people to gain health insurance. This year it became the first state in the country to fully enact work requirements so that people without an exemption — such as physical disability or looking after a family member full time — must spend 20 hours per week working, training, or volunteering.
The early results show that far more people are kicked off of Medicaid rolls compared to those who are pushed to start new work. In Arkansas, over 8,500 people have been stripped of Medicaid compared to 669 people newly reporting work, volunteering, or other activities — a rate of 13 people losing health insurance for one work-requirements success story.
However, most Medicaid recipients are already working. The Kaiser Family Foundation estimates that 60% of Medicaid recipients are working and the majority of the rest have conditions like a disability or are looking after a family member full time. That leaves just 6% of recipients who are nondisabled but living in poverty who would be the subject of work conditions, according to Kaiser.
That population tends to be very low income and in many cases are without homes. Back at the Jericho Way shelter in Little Rock, Jenkins is grappling with both people losing their health insurance and the men's shelter across the street restructuring and closing 40 beds. The situation has gotten little attention by the electorate, as Medicaid work requirements haven't been a big topic in midterm races.
So, faced with shrinking resources and no sign of relief anytime soon, Davis is turning to one thing she can do: throw a pizza party at the shelter to try to cheer people up for at least a few hours.
"Beds have been cut, your health benefits have been cut. Let's just have all-you-can-eat pizza," she says, throwing up her hands. "Because I don't even know what to do. Let's just do something fun."
CORRECTION
The name of the Kaiser Family Foundation was misstated in an earlier version of this post.