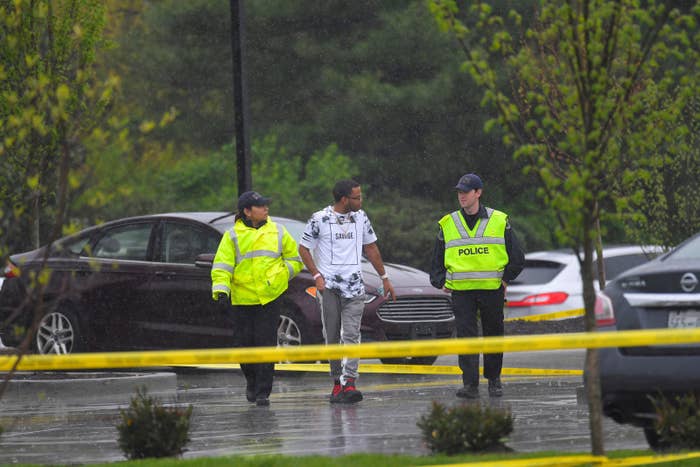 Authorities are searching for a 29-year-old man who opened fire at a Waffle House restaurant near Nashville early Sunday morning, killing at least four people and wounding at least three more.

The Nashville Police Department said Travis Reinking, from Morton, Illinois, opened fire with an AR-15 rifle at 3:25 a.m. local time in Antioch, Tennessee. The police added that the suspect was nude except for a green jacket. Authorities say they are still searching for a motive.
Authorities say Reinking got out of his pickup truck and shot and killed Taurean C. Sanderlin, a 29-year-old Waffle House employee who was standing outside, as well as 20-year-old Joe Perez. Once inside, the gunman opened fire and struck Akilah DaSilva, 23, of Antioch, who died at Vanderbilt University Medical Center. He also killed DeEbony Groves, a 21-year-old college student from Gallatin.

Belmont University, where Groves was a senior majoring in social work, released a statement calling her "an individual full of immense potential."
Two additional victims, Shanita Waggoner, 21, of Nashville, and Sharita Henderson, 24, of Antioch, were also wounded and remain hospitalized at Vanderbilt.
In a call to police dispatch, an operator says "there's a female at the location saying there's a male white who has no clothing on that's shooting at the location."

According to authorities, Reinking had been arrested by the Secret Service in July 2017 for entering a restricted area near the White House. A spokesperson for the Secret Service told reporters Reinking crossed a barrier and then refused to leave, saying he wanted to meet with the president.

Following the incident, Reinking's Illinois firearm authorization was revoked and four weapons were seized, said Don Aaron, a Nashville police spokesperson. Those weapons were returned to Reinking's father, who admitted giving the firearms back to his son, Aaron said.
Aaron said Reinking arrived at the Waffle House at 3:14 a.m. and sat in his pickup truck for around three minutes before exiting the vehicle wearing only the green jacket. Aaron said Reinking shot and killed two people outside the Waffle House before proceeding inside, where he continued shooting.

Police and witnesses at the scene say 29-year-old James Shaw Jr., a Waffle House patron who was hiding in the bathroom, tackled the gunman and wrestled the weapon away, preventing further carnage.
Reinking fled the Waffle House, also taking off his jacket, which was recovered along with two magazines of AR-15 ammunition. Authorities said he is still at large and presumed to have at least two more weapons with him.
"He clearly came armed with a lot of firepower intending to devastate the south Nashville area," Aaron said.
Police added that a man believed to be Reinking was last seen near the Waffle House wearing black pants but no shirt. They have advised anyone who sees him to call the police.
In a tweet, police said that murder warrants were "being drafted against Travis Reinking."

As of Sunday evening, authorities had still not found the suspect. More than 80 Nashville police officers continued to canvass the area, bolstered by agents with the FBI and the Bureau of Alcohol, Tobacco, Firearms, and Explosives.
Earlier that day, officers had conducted raids at the Discovery at Mountain View Apartments complex, where Reinking lived. Officers dressed in full SWAT gear and helicopters swarmed the wooded area near the complex, according to the Tennessean.
At a press conference Sunday, Nashville Mayor David Briley called for "comprehensive gun reform" so that "weapons of war" can be taken "off the streets of our country."

"Clearly, the victims of this shooting deserve our prayers and our thoughts, but they also deserve leaders who will step up and take action and do something to get these weapons off our streets," he said.
Tennessee Gov. Bill Haslam said in a tweet that he was "deeply saddened" by the shooting and that he and his wife "mourn the lives taken in this senseless act of violence."
Pat Warner, director of public relations for Waffle House, said the company was "deeply saddened by this tragic incident."
"We are sending our corporate team from Atlanta and heading to Nashville now. Our thoughts are with those affected," Warner said.

This is a developing story. Check back for updates and follow BuzzFeed News on Twitter.‏