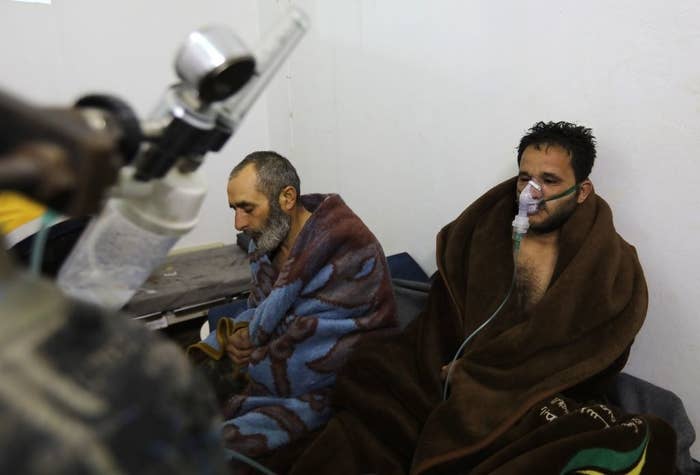 Banned chlorine gas was likely dropped on a rebel-held town in Syria in February, according to the global chemical weapons watchdog.
The Organisation for the Prohibition of Chemical Weapons (OPCW) said in a statement Wednesday that its fact-finding mission in Saraqib in Idlib province, southwest of Aleppo, had found that chlorine was released from two cylinders in an attack on Feb. 4.
The OPCW doesn't have powers to attribute blame, but the report echoes how Syrian opposition forces described the attack: Rebels said nine people were treated for gas inhalation after a helicopter dropped a chlorine-filled bomb in the town's al-Talil neighborhood.
Footage posted to social media at the time showed men being doused with water by first responders.
Investigators interviewed witnesses, health care workers, and those affected by the gas. Some witnesses who had been seeking shelter in a nearby basement shelter "reported a pungent odour and immediately developed shortness of breath, nausea, and a burning sensation in the eyes. Some of them reported losing
consciousness."

They reported smelling something similar to household bleach, but stronger.
The Syrian regime has yet to confirm or deny its involvement in this attack, but has dismissed previous accusations of chlorine gas use as "lies." An alleged chemical weapons attack in the Damascus suburb of Douma on April 8 killed 70 people and sparked international condemnation and a US-led missile attack, joined by the UK and France, on Syrian targets.
Amid the international outcry, Syria and its close ally Russia both strongly denied the use of chemical weapons in Douma and accused rebel forces of staging the attack.
Ahmet Üzümcü, director-general of the OPCW, said in a statement: "I strongly condemn the continued use of toxic chemicals as weapons by anyone, for any reason, and in any circumstances. Such acts contradict the unequivocal prohibition against chemical weapons enshrined in the Chemical Weapons Convention."

The OPCW has previously found evidence that suggests with "a high degree of confidence" the use of chlorine gas, mustard gas, and the nerve agent sarin in Syria.
More than 96% of chemical weapons stockpiles have been destroyed under OPCW supervision, the watchdog claims.