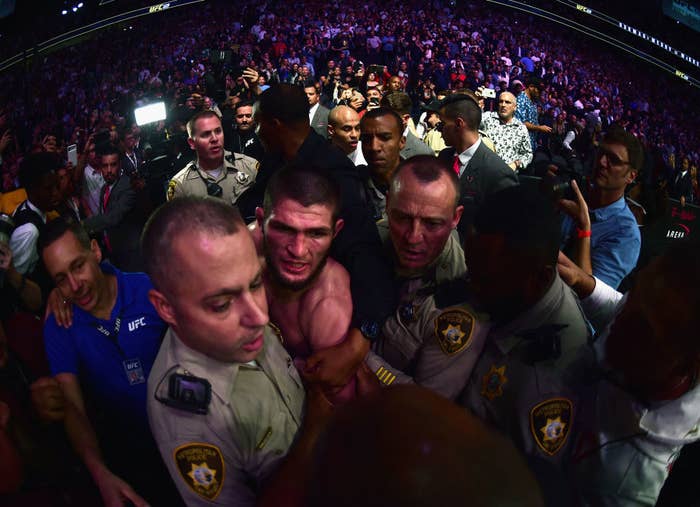 The most eagerly anticipated UFC matchup of recent years ended in chaos on Saturday as police arrested three people following a brawl that broke out seconds after the match had ended.

Russia's Khabib Nurmagomedov had just forced Irish champion Conor McGregor to tap out in the fourth round — but the winning fighter then leaped out of the octagon and headed straight for McGregor's team, where a fight ensued.
While this was happening, McGregor, still dazed from the fight, was punched by someone from Nurmagomedov's team.
UFC President Dana White could be heard in the aftermath telling Nurmagomedov that he wouldn't risk carrying on with the traditional belt-giving ceremony after the fight. The winner was then escorted out of the T-Mobile Arena in Las Vegas by police.

White said afterward that he was disgusted by the scenes and confirmed that three members of the Russian's team had been arrested and taken into custody — but he later confirmed that McGregor had declined to press charges and that the three suspects were released.
The Nevada State Commission has, however, withheld Nurmagomedov's payment while an investigation takes place.
"I know if we put the belt on him in the octagon there'll be things thrown. I just said let's just try and get him out of here," he told Fox Sports.

"Police officers were getting punched. Security guys were getting punched. I actually think police and security did an incredible job. Khabib jumped over the cage like one of those parkour guys. What are you expected to do?"
Nurmagomedov later apologized for the incident, but also said that he was provoked.
UFC fans were disappointed by the whole affair.
The match marked McGregor's return to the sport after a two-year absence. And despite the controversy surrounding the fight's finish, Nurmagomedov is now the lightweight champion and has a 27-match unbeaten record.