Washington Navy Yard Rampage Victims Identified
UPDATE: The names of all 12 victims in Monday's shooting spree have now been released. An investigation into the gunman's motive is underway.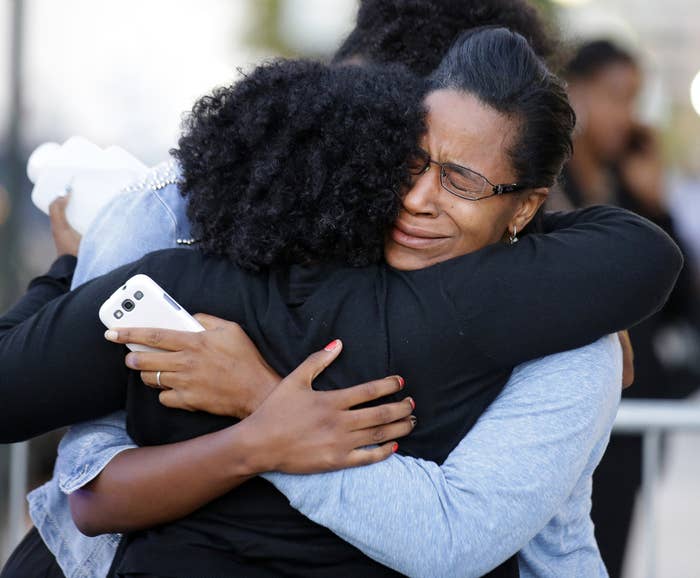 Police began releasing the names of victims killed Monday when a former Navy reservist opened fire at the Washington Navy Yard, killing a dozen people in the deadliest attack on a U.S. military installation since the 2009 Fort Hood massacre.
Officials said Sylvia Frasier, 53, Kathleen Gaarde, 62, John Roger Johnson, 73, Frank Kohler, 50, Kenneth Proctor, 46, Vishnu Pandit, 61, Michael Arnold, 59, Arthur Daniels, 51, Mary Francis Knight, 51, Gerald L. Read, 58, Martin Bodrog, 54, and Richard Michael Ridgell, 52, were shot dead by 34-year-old defense contractor Aaron Alexis.
All 12 people killed in the shooting were civilians with ages ranging from 46 to 73. Eight others were injured -- three with gunshot wounds, including a D.C. police officer.
Officials said Alexis used a valid pass to get into the Navy installation Monday morning and began firing inside a building with an AR-15 assault rifle, a shotgun, and a handgun before he was killed in a shootout with police. During the attack, the gunman gained access to the fourth floor overlooking an atrium and took aim at employees eating below in a cafeteria.
"It was three gunshots straight in a row — pop, pop, pop. Three seconds later, it was pop, pop, pop, pop, pop, so it was like about a total of seven gunshots, and we just started running," Patricia Ward, a logistics-management specialist, said.
Officials told NBC News they believed Alexis arrived with only the shotgun, which he bought last week from a gun dealer in Lorton, Virginia. He may have later taken additional weapons from his victims and used them to further carry out the rampage.
A motive has not yet been established and an investigation into the shooting is still underway. D.C. Mayor Vincent Gray said there was no indication it was a terrorist attack, but added the possibility had not been ruled out.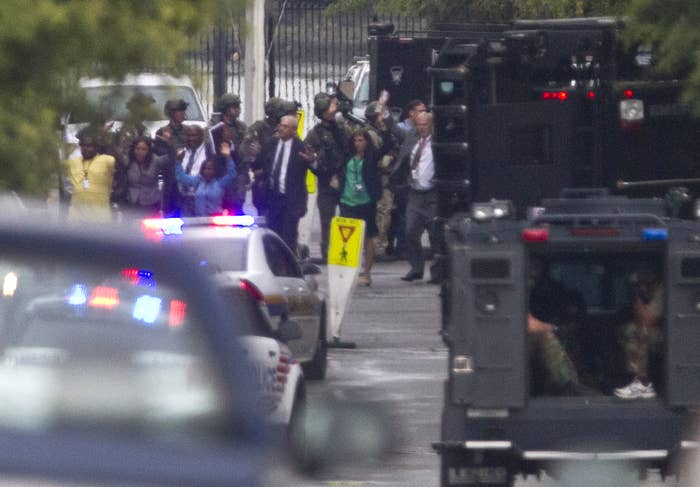 A close friend to Alexis told Al Jazeera America that the gunman was frustrated with his employer over unpaid wages and had became "obsessed" with violent video games.
Alexis' family, who lives in Brooklyn, New York, was "very distraught" by the news of the rampage, the suspect's brother-in-law told WNBC.
"It's a shocking experience, nobody expected this," Anthony Little said. "No one saw it coming, no one knew anything. So all of this is just shocking."
Earlier in the day Monday, there was confusion over how many suspects were involved in the shooting. Police initially said there were two other possible gunmen at large, then later cleared both of suspicion.
"We have the single and sole" suspect, D.C. Police Chief Cathy Lanier announced later.
Alexis was a full-time reservist in the U.S. Navy between May 2007 and January 2011 and had been awarded the National Defense Service Medal and the Global War on Terrorism Service Medal. He was discharged after multiple disciplinary infractions, the Los Angeles Times reported.
A convert to Buddhism who grew up in New York City, Alexis was previously arrested by Seattle police in 2004 for shooting out the tires of another man's vehicle in what he later described to detectives as an anger-fueled "blackout." Another incident occurred in 2010 when he shot through the ceiling of his Fort Worth, Texas, apartment, allegedly while he was cleaning the gun.
President Obama condemned the attack on the Navy Yard as a "cowardly act" while hailing the victims as "patriots."
"We are confronting yet another mass shooting, and today it happened on a military installation in our nation's capital," Obama said Monday. "These are men and women who were going to work, doing their job protecting all of us. They're patriots, and they know the dangers of serving abroad, but today they faced the unimaginable violence that they wouldn't have expected here at home."
A booking photo shows Aaron Alexis during a September 2010 arrest in Texas.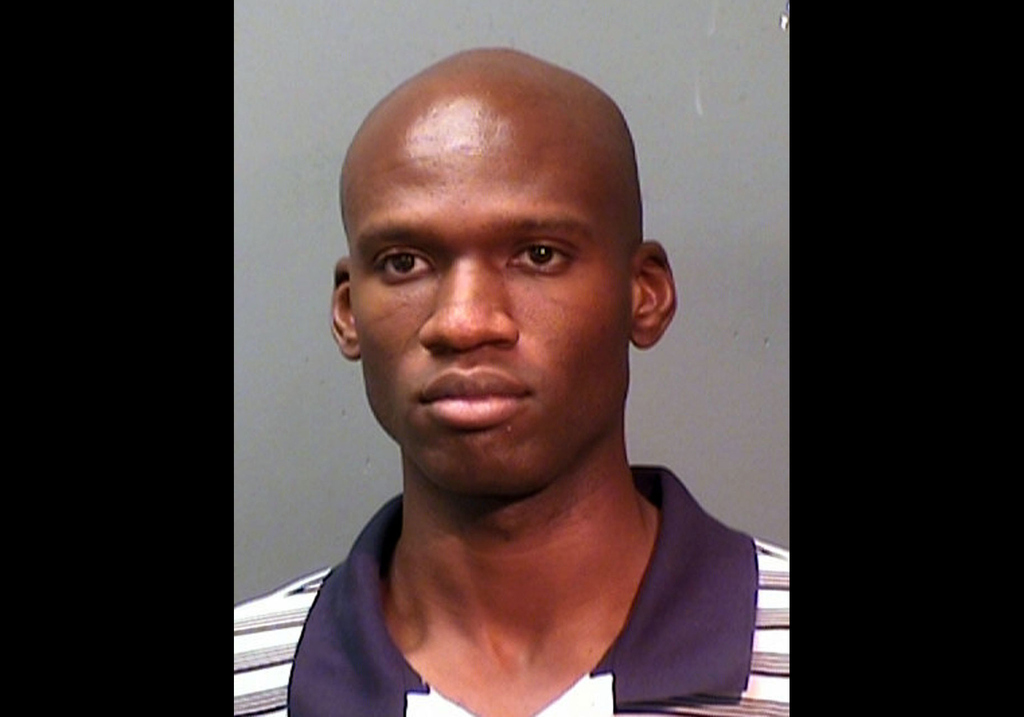 This map shows where the shooting occurred.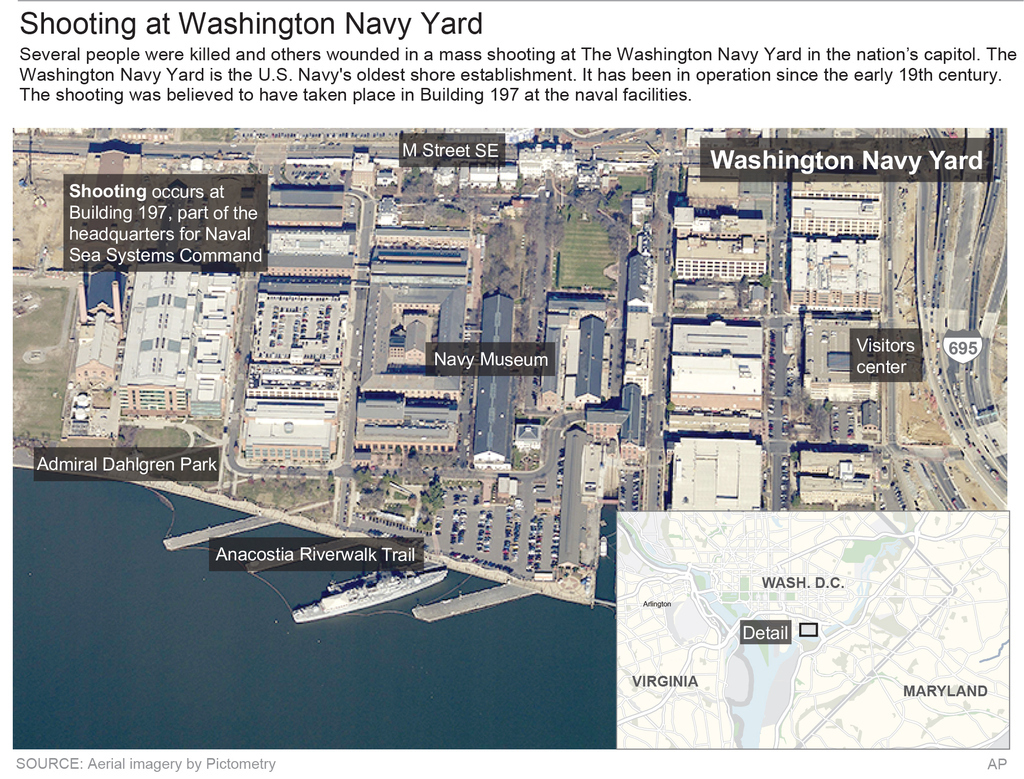 President Obama ordered Monday that flags be lowered to half-staff to pay tribute to the victims.