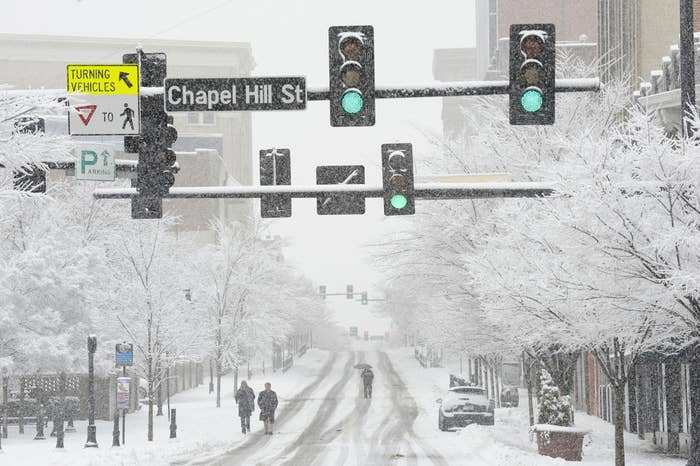 Update — Feb. 13, 7:30 p.m. ET:
A deadly winter storm that wreaked havoc on the South is marching through the Northeast on Thursday, dumping several inches of snow and ice on major cities.
More than 800,000 homes and businesses across 14 states and Washington, D.C. were without power, the Associated Press reported. More than 5,500 U.S. flights were canceled and more than 1,100 others delayed, according to Flight Aware.
In Brooklyn, a 36-year-old pregnant woman was killed after being struck by a privately owned construction vehicle clearing snow in a parking lot. Her baby boy was delivered by cesarean section, authorities said. At least 20 deaths were blamed on the treacherous weather.
Snow was expected to continue throughout Thursday night and into early Friday.
In the Philadelphia area, one official said the storm was worse than Superstorm Sandy.
"We get about 2,400 calls to our 911 center each day. We got nearly 8,000 calls from the storm last week. By comparison during Sandy, about 6,500 calls at the height," Josh Shapiro, chair Montgomery County Board of Commissioners, told CNN.
"We saw more damage, more power outage in this storm than during Sandy," Shapiro said.
The National Weather Service said thundersnow or thundersleet, a rare phenomenon, was possible Thursday evening from Washington, D.C., to New York, and some managed to capture it on video.
New York Gov. Andrew Cuomo declared a state of emergency for the Mid-Hudson, New York City, and Long Island regions Thursday morning, saying, "New Yorkers should stay off of the roads and remain in their homes until the worst of the storm has passed." It has been snowing since midnight in New York City where public schools remained open, Mayor Bill de Blasio's office announced.
In the Washington, D.C., area, Georgetown University, American University, Howard University, George Washington University, and others said their campuses would be closed Thursday. Mayor Vincent Gray said D.C. government offices would be closed as well. Baltimore awoke to 15 inches of snow, according to the Associated Press.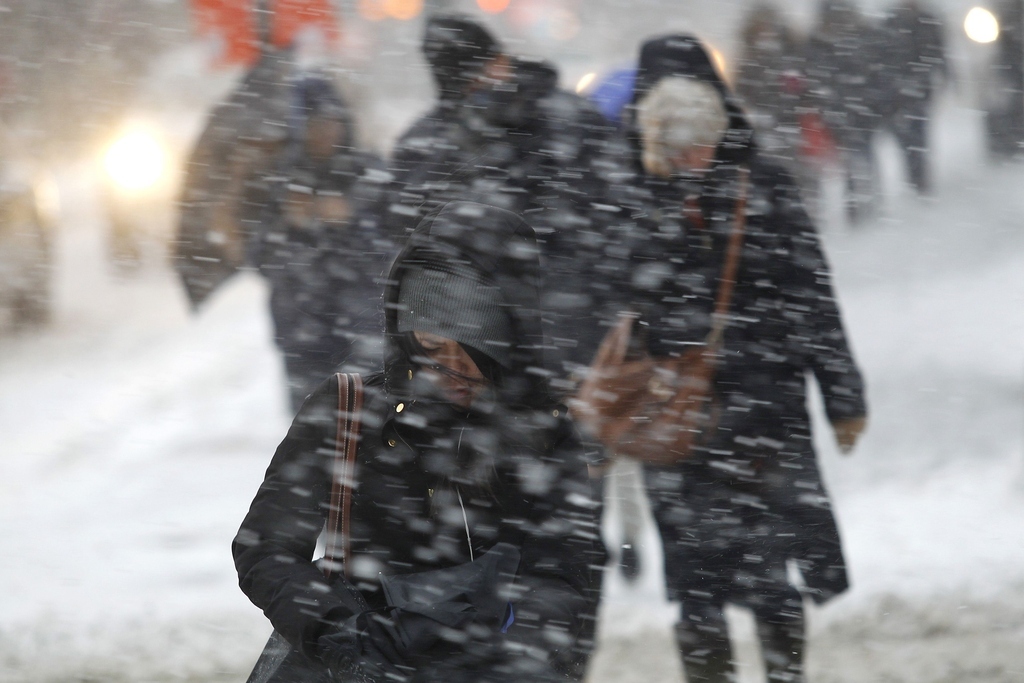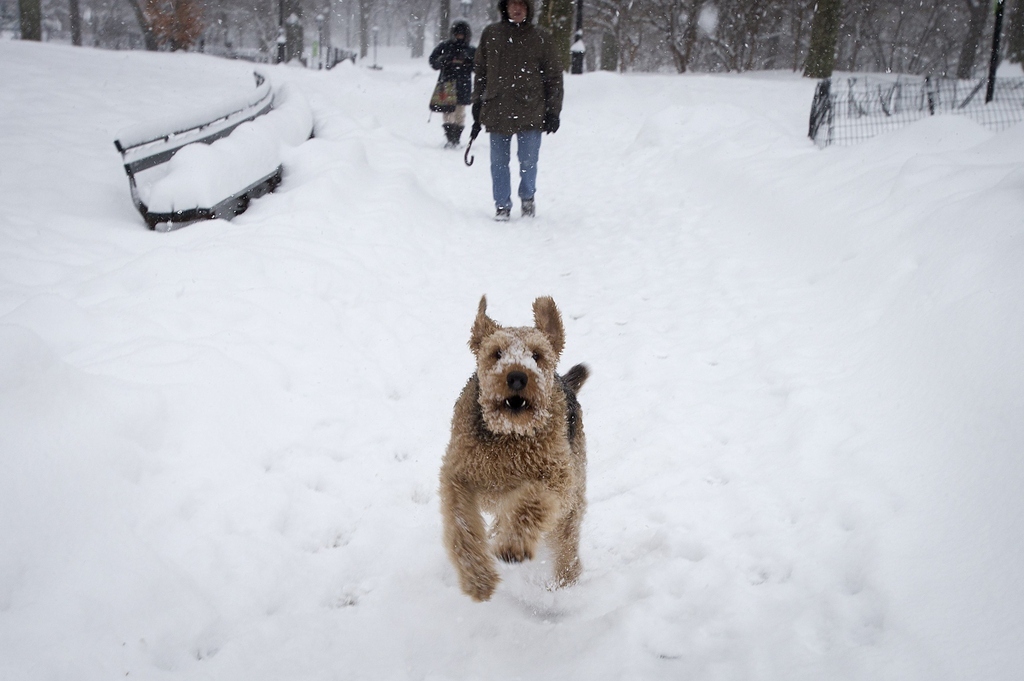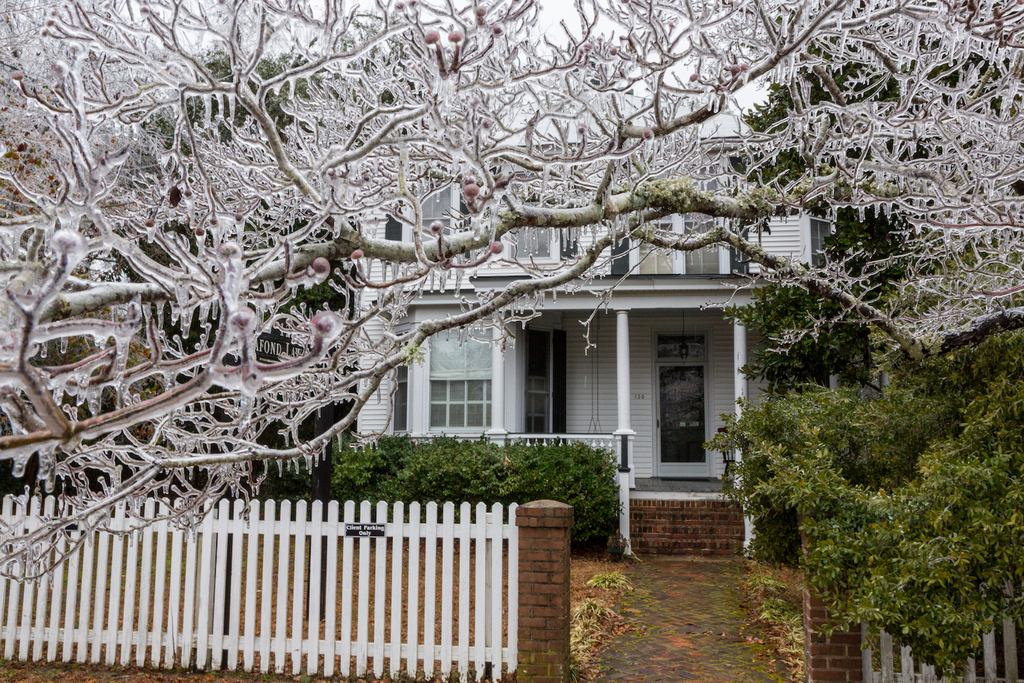 Update — Feb. 12, 9:55 p.m. ET:
Federal government offices in Washington, D.C., are closed Thursday due to the storm, the Office of Personnel Management announced on its website.
Nonemergency employees (including employees on preapproved paid leave) will be granted excused absence (administrative leave) for the number of hours they were scheduled to work, the agency said.
Update — Feb. 12, 9:15 p.m. ET:
An ice buildup on a West Virginia pipeline caused 108,000 gallons of coal slurry to spill into a creek, officials there said Wednesday evening.
The spill at Patriot Coal's Kanawha Eagle Prep Plant in eastern Kanawha County affected six miles of Fields Creek and flowed into the Kanawha River, the Associated Press reported. A state mining official said it could take 10 to 14 days to clean the creek.
Meanwhile, air travel was quickly becoming all but impossible Thursday along the East Coast as more than 4,000 flights were canceled.
Update — Feb. 12, 8:15 p.m. ET:
Nearly half a million customers were without power Wednesday afternoon across the South as a destructive ice and snow storm caused havoc across the region.
Two storm-related deaths were reported in North Carolina, bringing the total number killed from the system to 11 across four states, the Associated Press reported. More than 3,300 flights were canceled across the U.S., according to FlightAware, and Raleigh-Durham International Airport canceled all flights Wednesday evening.
Countless cars were seen stuck in gridlocked traffic on snow-covered North Carolina highways, and many were abandoned as drivers looked to escape the massive jam, a situation that was eerily similar to one that occurred less than two weeks ago in Atlanta.
Gov. Pat McCrory encouraged residents to stay home if possible. "Stay smart. Don't put your stupid hat on at this point in time. Protect yourself. Protect your family. Protect your neighbors," he said.
Wednesday night's Duke-North Carolina game was postponed to a later date due to the storm as many roads became impossible to travel and President Obama signed an emergency declaration to provide federal aid to South Carolina.
In New Jersey, Gov. Chris Christie declared a state of emergency as the storm approached and closed state government offices. Philadelphia Mayor Michael Nutter declared a snow emergency beginning at 8 p.m. ET and closed city offices Thursday. Six to 12 inches of snow were expected across the area.
In Washington, D.C., where up to 10 inches of snow was expected, a snow emergency went into effect at 6:30 p.m. and public schools were closed Thursday.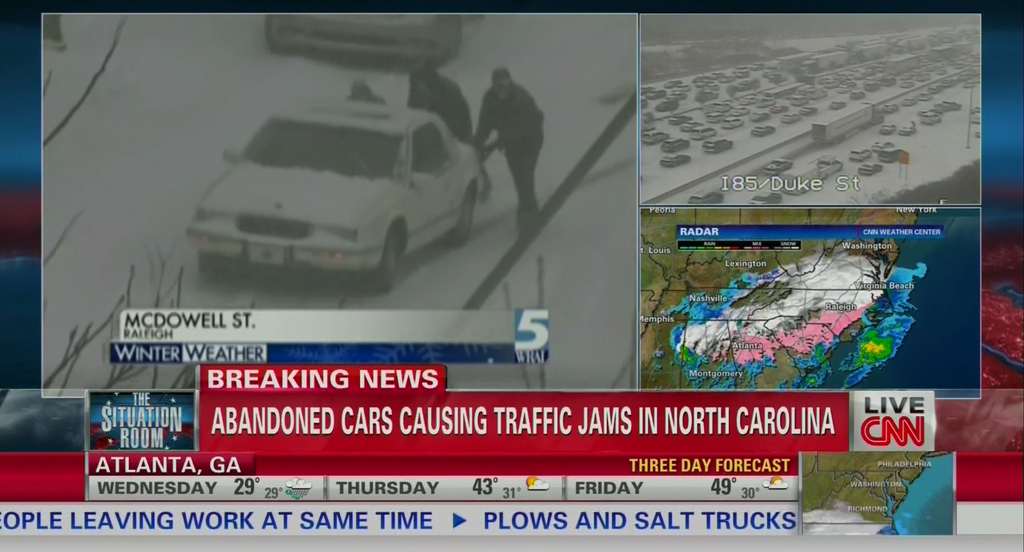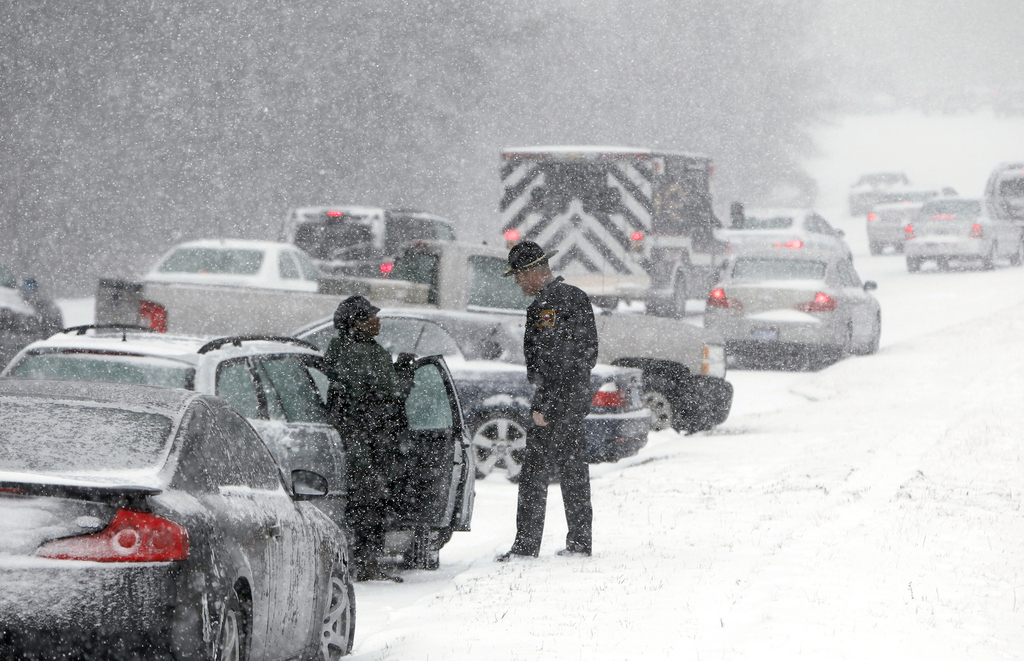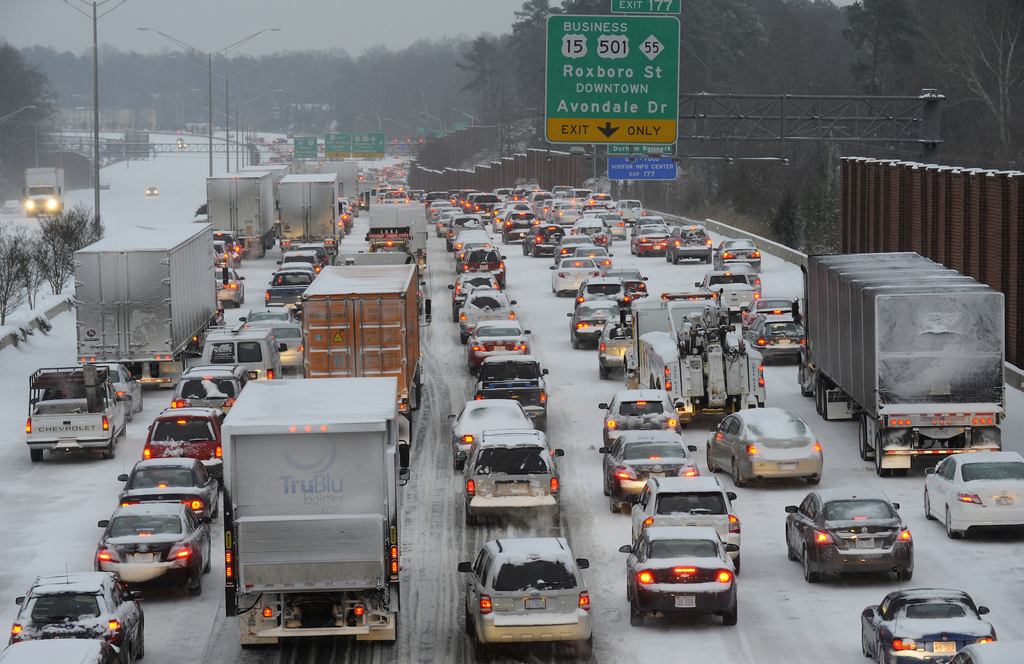 N.J. Gov. Chris Christie declared a state of emergency ahead of the storm's impact in the region.
Several inches of snow were forecast for most major cities in the Northeast through Friday morning.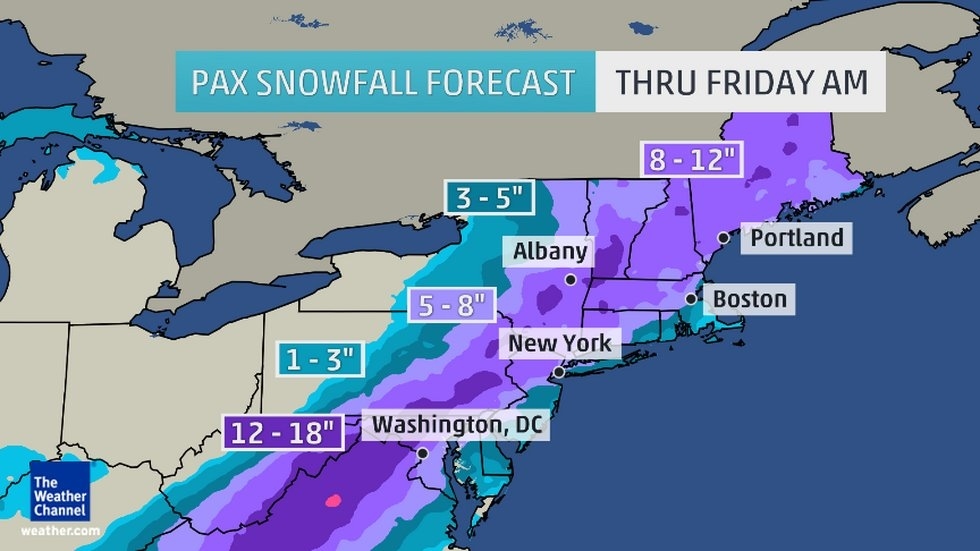 This interactive map from Google shows current weather alerts, open shelters and traffic conditions.
Updated — Feb. 12, 11:30 a.m. ET:
A winter storm of "historical significance is beginning to unfold" across the Atlanta area, the National Weather Service said in a statement early Wednesday.
"Catastrophic ... crippling ... paralyzing ... choose your adjective," the NWS said.
There were numerous reports overnight of freezing rain beginning to coat the area in about three-quarters of an inch of ice. "If residents have not completed preparations, it may be too late," forecasters said.
Eli Jacks, a meteorologist with National Weather Service, said that an inch of ice would be catastrophic anywhere, but that the South and Atlanta area are particularly vulnerable. There are many trees and limbs that hang over power lines, and when ice builds up on them, limbs break fall, shutting off power.
More than 100,000 homes and businesses between Texas and the Carolinas were without power on Wednesday. At least 3,700 customers are without power across the Atlanta area, Georgia Power reported, as temperatures hovered near 32 degrees. Here are some tips if your power goes out.
In Mississippi, two weather-related deaths were reported. In North Texas, at least four lives were claimed in traffic accidents on icy roads, the Associated Press reported, including a Dallas firefighter who was knocked from an Interstate 20 ramp and fell 50 feet.
Also in Texas, an accident involving about 20 vehicles was reported Tuesday along an icy highway north of Austin. Police dispatchers said no serious injuries were reported.
As of Wednesday, Delta canceled about 2,200 flights.
Update — Feb. 11, 11 p.m. ET: A civil emergency was issued late Tuesday in South Carolina as the winter storm approached, threatening power outages and dangerous travel conditions, the National Weather Service said.
Separately, Southwestern Electric Power Company reported some 25,000 customers were without power in East Texas and Louisiana as the storm moved moved across the area.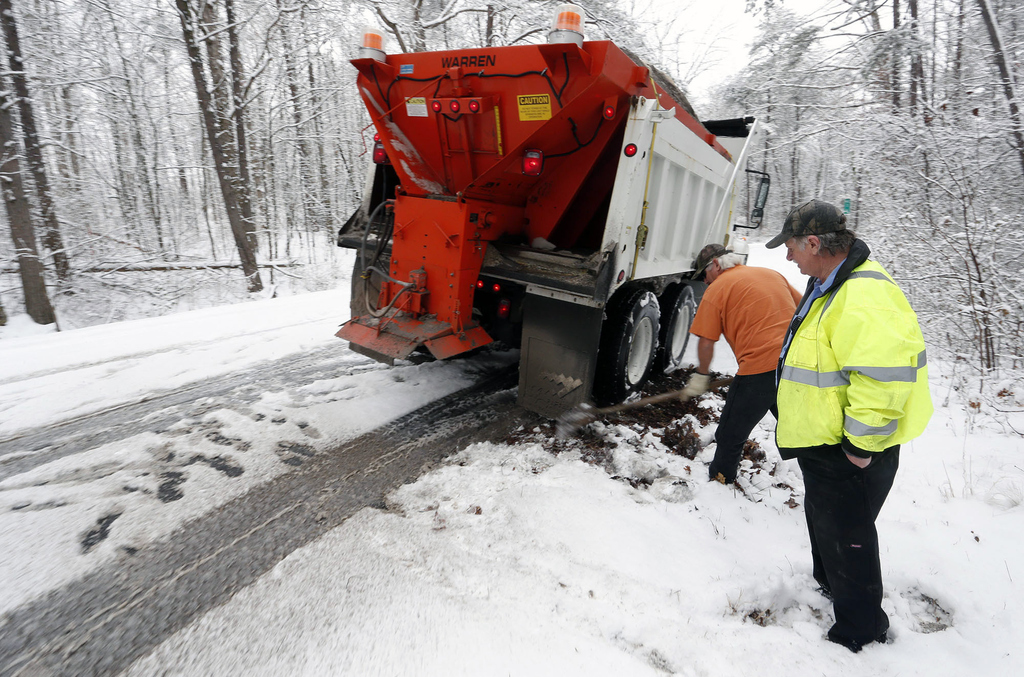 Weather forecasters said Tuesday a winter storm of potentially "historical proportions" threatened to coat Georgia and other parts of the South in a thick layer of ice, making travel all but impossible and bringing widespread power outages that could leave thousands in the cold and dark for days.
Across the region, governors from Louisiana to Maryland took no chances, declaring states of emergency as meteorologists issued dire forecasts. President Obama also declared a state of emergency in Georgia, ordering federal agencies to help the state during the storm.
"This is one of Mother Nature's worst kinds of storms," Georgia Gov. Nathan Deal said Tuesday afternoon while declaring an emergency for 91 counties. "We're not kidding. We're not crying wolf."
The National Weather Service issued ice storm and winter storm warnings and predicted several inches of snow and up to an inch of ice across parts of Georgia. "This has the potential to be a catastrophic event," officials said.
"Widespread and extended power outages are likely as ice accumulates on trees and power lines and brings them down," the weather service said. "Please prepare to be without power in some locations for days and perhaps as long as a week."
Atlanta was hammered less than two weeks ago by a snow and ice storm that left the city paralyzed, forcing thousands of students to spend the night at schools and leaving countless others trapped in their cars for more than 12 hours in the frigid conditions.
Forecasters said this week's storm would be even worse than the last event when many were caught by surprise.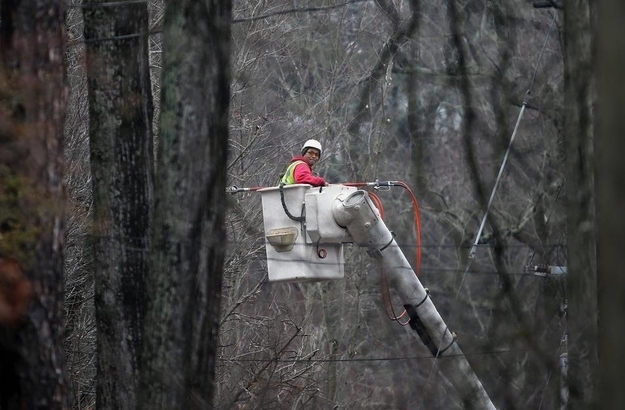 "This is a whole different ball game," Glenn Burns, chief meteorologist at WSB-TV said. "What we had two weeks ago was a minor event. This is likely to be a major event."
Schools and government offices across the region announced they would close before the storm even hit and thousands of flights were canceled, according to FlightAware. Delta Air Lines and Southwest suspended most operations into and out of Atlanta's Hartsfield-Jackson International Airport in advance of the storm, representatives said.
"There is no doubt that this is one of Mother Nature's worst kinds of storms that can be inflicted on the South, and that is ice. It is our biggest enemy," Deal said.
The storm is expected to exit the area Thursday and impact the mid-Atlantic and Northeast, including the I-95 corridor, with up to a foot of snow from Washington, D.C., to Boston.
The National Weather Service warned of significant snowfall and crippling ice in the Atlanta area.
The Weather Channel predicted widespread snowfall across the South, stretching from northern Alabama to Washington, D.C.