NASCAR Upholds Suspension Of Kurt Busch For Allegedly Strangling Ex-Girlfriend
Kurt Busch can make one last appeal to NASCAR, but it must be filed by Saturday evening, officials said .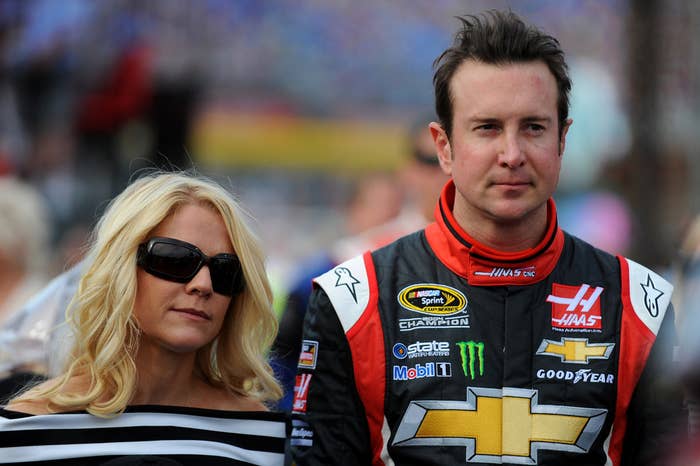 NASCAR's indefinite suspension of Kurt Busch was upheld Saturday, despite an appeal submitted by the driver days before the Daytona 500 race, NASCAR announced.
The suspension was handed down a day after a Delaware judge found Busch strangled his ex-girlfriend, Patricia Driscoll, and smashed her head into a wall.
Busch's appeal was heard, and ultimately denied, by a three-member panel.
According to NASCAR, he can make one last appeal on the decision to the Final Appeals Officer, who has said he would hear the appeal this evening if Busch requests it.
Meanwhile, the Dover Police Department in Delaware has turned the case over to the county's attorney general's office, which is considering the case.
NASCAR announced Friday it had indefinitely suspended driver Kurt Busch just days before the Daytona 500 race.
The suspension came hours after a judge in Delaware said the racing champion strangled and smashed ex-girlfriend Patricia Driscoll's head against the wall of his motor home after the couple broke up the week before.
"It is more likely than not that on Sept. 26, 2014, (Busch) committed an act of abuse against (Driscoll) by manually strangling (Driscoll) with his left hand on her throat while placing his right hand against her chin and face, causing her head to forcefully strike the interior wall of (Busch's) motor home, thereby recklessly causing physical injury to (Driscoll),' commissioner David Jones said.
Busch, who has 25 career wins, is the first driver to ever be suspended by NASCAR for domestic violence, the Associated Press reported.
"I reported a crime, just like anybody else who has been abused should do, because no one is above the law," Driscoll said. "I'm very encouraged that NASCAR is taking steps to recognize that domestic violence is a serious issue, and I hope that we see them develop a very clear policy on it."
The suspension was effective immediately and forbids the 36-year-old from racing or participating in any NASCAR activities until further notice, including the Daytona 500, which is scheduled for Sunday.
The judge in the case ordered Busch to stay away from Driscoll, stating there is a "substantial likelihood" he could commit acts of domestic violence in the future. Busch has denied committing the alleged assault.
"Kurt Busch and his Stewart-Haas Racing team are fully aware of our position and why this decision was made," a NASCAR spokesman said in a statement. "We will continue to respect the process and timetable of the authorities involved."
Chevrolet also suspended its relationship with Busch over the allegations.