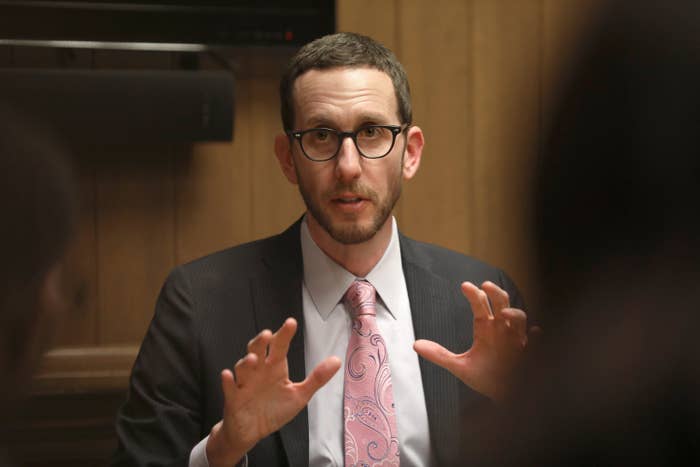 California state Sen. Scott Wiener received a death threat on Tuesday from someone calling him a "pedophile" and a "groomer," which the San Francisco Democrat is attributing to "homophobic lies" promoted by far-right YouTuber Charlie Kirk and Republican Rep. Marjorie Taylor Greene.
"Early this morning, I was informed by the San Francisco Standard and the police that someone had issued a bomb threat against me, listing my specific home address and also threatening to shoot up my Capitol office," Wiener, who is gay, said in a statement posted to Twitter. "The email said 'we will fucking kill you' and called me a pedophile and groomer."
According to the San Francisco Standard, someone using the name Zamina Tataro emailed the paper and said that they had placed bombs at Wiener's San Francisco home and threatened to shoot up his Sacramento office.

"In 20 minutes, I am willing to die," the email read, according to the Standard. The email's subject line was "Scott Wiener will die today," and in the email, the author called Wiener a "pedophile" and said he groomed children. The Standard did not have a comment.
On Tuesday morning, San Francisco police searched Wiener's home but did not find any explosive devices, police told BuzzFeed News. "The incident was determined to not have any merit," police said.

In Wiener's statement, he said he believed the threats were inspired by Kirk, who last month tweeted that the lawmaker had reduced jail time for people who molested children, as well as Greene, who has called him a "groomer."
"This latest wave of death threats against me relates to my work to end discrimination against LGBTQ people in the criminal justice system and my work to ensure the safety of transgender children and their families," Wiener's statement reads. "Rep. Marjorie Taylor Greene and MAGA activist Charlie Kirk recently tweeted homophobic lies about me, falsely accusing me of supporting pedophiles and child 'mutilation.'"
Since taking office, Wiener has worked to protect LGBTQ civil rights, and he recently was behind the passage of a California law that protects families traveling from places where it's illegal for children to receive gender-affirming care.
"We are going to provide them with refuge, and we're not going to send them back, and we're not going to honor subpoenas," Wiener told KQED in October. "And our law enforcement is not going to enforce the laws of Texas and Alabama criminalizing these families."
In November, Greene called Wiener a "communist groomer."
When asked about Wiener's assertion that Greene's rhetoric had inspired the threat against him, her communications director told BuzzFeed News: "That's ridiculous, he's ridiculous, and you're ridiculous for reporting it."
Kirk did not immediately respond to a request for comment.
Though there was no evidence of an actual bomb following Tuesday's threat, San Francisco has a history of political violence. In 1978, San Francisco Supervisor Harvey Milk, who was the first openly gay man to be elected in California, was assassinated along with Mayor George Moscone by Dan White, a former city supervisor, who the New York Times called the "defender of the home, the family and religious life against homosexuals, pot smokers and cynics."
In October, House Speaker Nancy Pelosi's husband was attacked by a man seeking to harm the Democratic leader for what he allegedly told the FBI were "lies told by the Democratic Party."