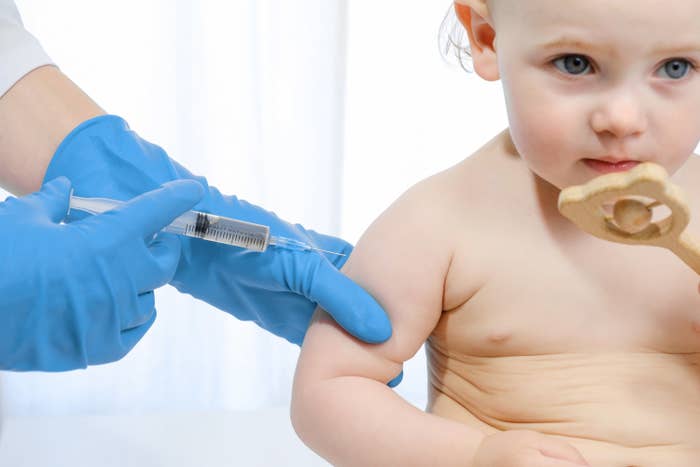 As if we don't already have enough to deal with, the announcement Friday that the virus that causes the potentially deadly disease polio was detected in New York wastewater has sent a lot of people scrambling to find out if they have been vaccinated. And that meant a whole lot of text messages to moms.
The fear of being unvaccinated against a virus that can cause permanent paralysis and, in some cases, death, is real, especially after a resident in Rockland County in New York tested positive for polio in July. Health officials also said that if it's spreading locally, for every case identified, there are likely hundreds more that go undetected.
Symptoms of polio can be mild and flulike, including fatigue, nausea, fever, headache, and muscle pain, which makes it hard to set it apart from other more common illnesses. It can take up to 30 days for symptoms to appear, and during that time the virus can be spread to others.
The best defense against polio is vaccination, according to health officials. There's a good chance you were vaccinated against polio as a child, so you might want to dig up old health records or ask your parents to confirm your vaccination status. If that isn't an option, you can create an account on MyChart, which lets you see your health records as a child. You just need to know what hospital you were born in and what doctor's office you went to.
If you are not vaccinated against polio, you should get three doses of a vaccine, according to the CDC. The first two doses should be separated by one to two months and the third dose should be given 6 to 12 months after the second dose.
Dr. Waleed Javaid, a hospital epidemiologist and director of infection prevention and control at Mount Sinai Downtown, told BuzzFeed News not to worry, though. He said most people should be vaccinated but to check with your doctor to be sure.
"We are living in a time where we have seen a pandemic of COVID, followed by a spread of monkeypox, and this has raised our awareness to a different level," he said. "We all are already worried about why are all these infections coming in our way and what I would say to that is that COVID and monkeypox, we really didn't have good vaccination plans or processes, but polio, we have successful strategy, successful vaccination that has eradicated for the most part polio in many parts of the world."
For more on what you need to know about polio, go here.
After health officials announced the polio virus is in New York's wastewater, people tweeted about their confusion over whether they had received the vaccine when they were young. And stories of the ensuing interactions with their parents quickly spread on social media.
The polio vaccine is part of the required school immunization for all school-aged children, so they should be vaccinated before starting.

But vaccination rates have fallen among children in New York City since 2019, according to the New York State Department of Health, which noted that only about 86% of children in the city between 6 months and 5 years old have received all three doses of the polio vaccine.
Polio reached its height in the United States in 1952, when more than 21,000 people were paralyzed because of it. Decades earlier and before he was elected president, Franklin D. Roosevelt contracted polio and was permanently paralyzed from the waist down.